Monday was our first day back with the kiddos. It's been an exhausting but fun couple of days. I'm popping on to share some classroom reveal photos with you. I have some FREEBIES for you along the way, too!
I'm all about keeping things clean, simple and effective. I'm in LOVE with the clean, crisp and openness my obsession with Vanilla Sherbet has brought to my room. It's just so happy in here!
This first picture was shot from my doorway. I am BEYOND excited to only have 23 kiddos on my roster to start off the year. This is a FAR cry from the usual 30. Although this number can and probably will go up, it is such a wonderful place to begin.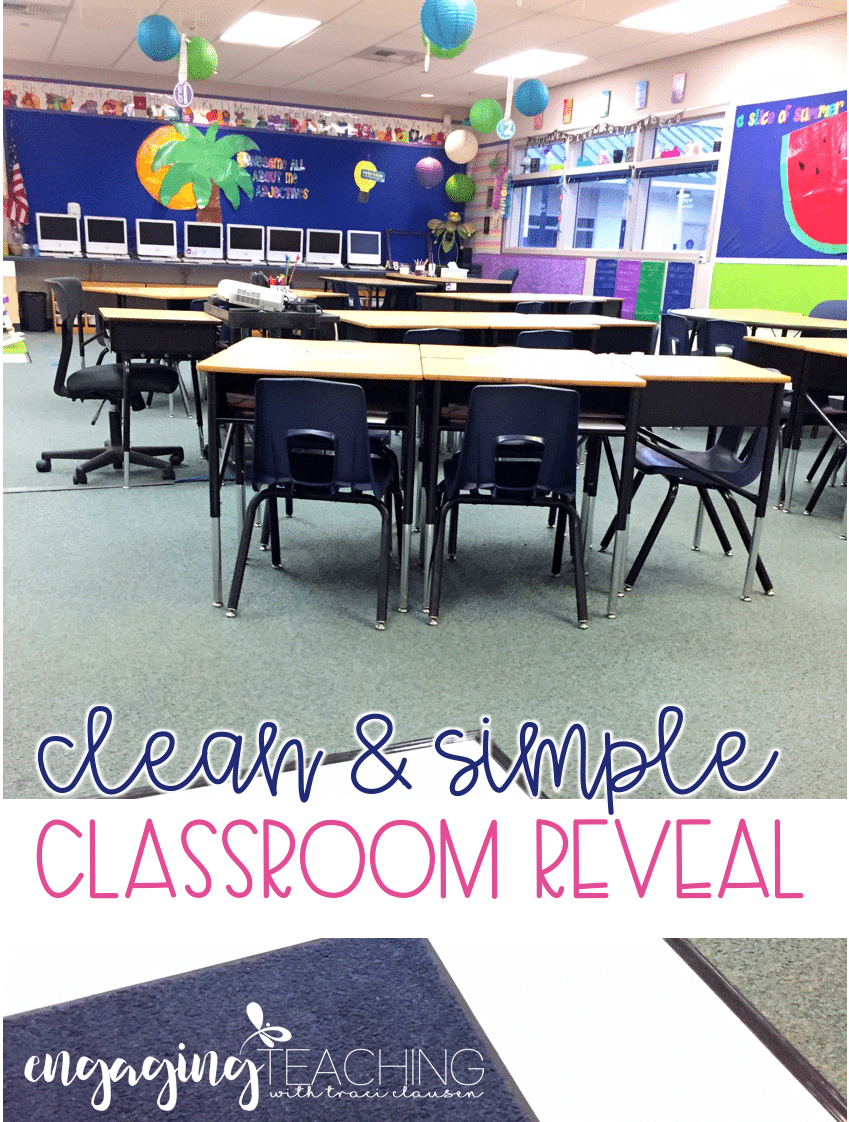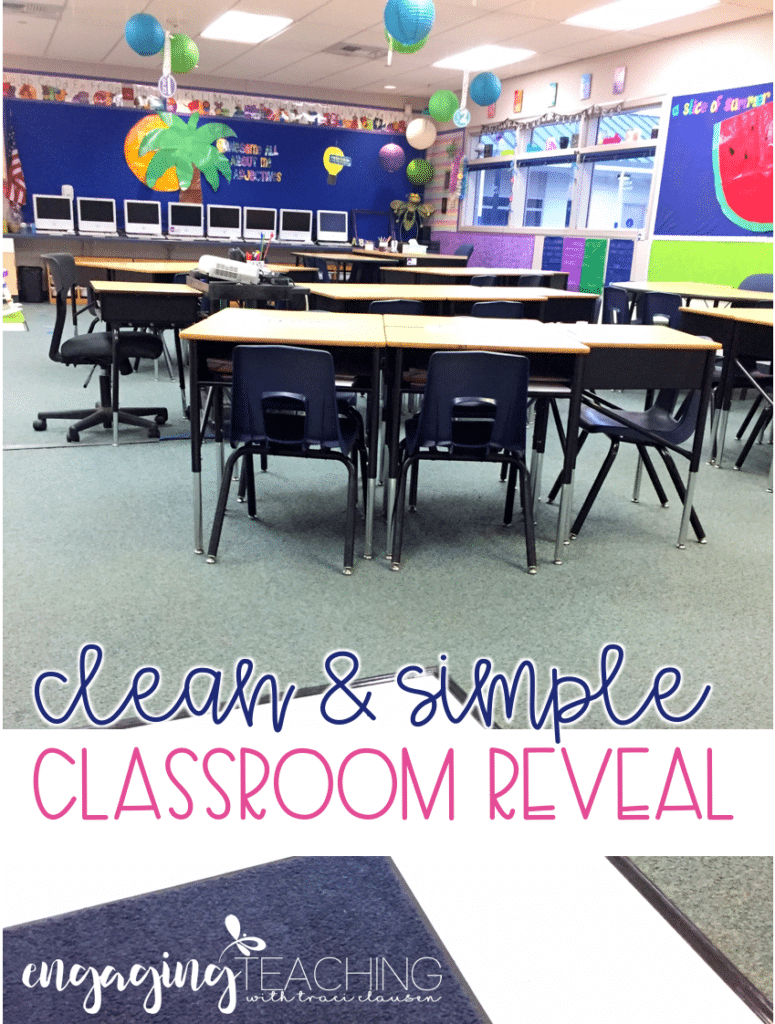 Having fewer desks and children to climb around has been fabulous. I haven't had this few students in many, many years.
Managing Papers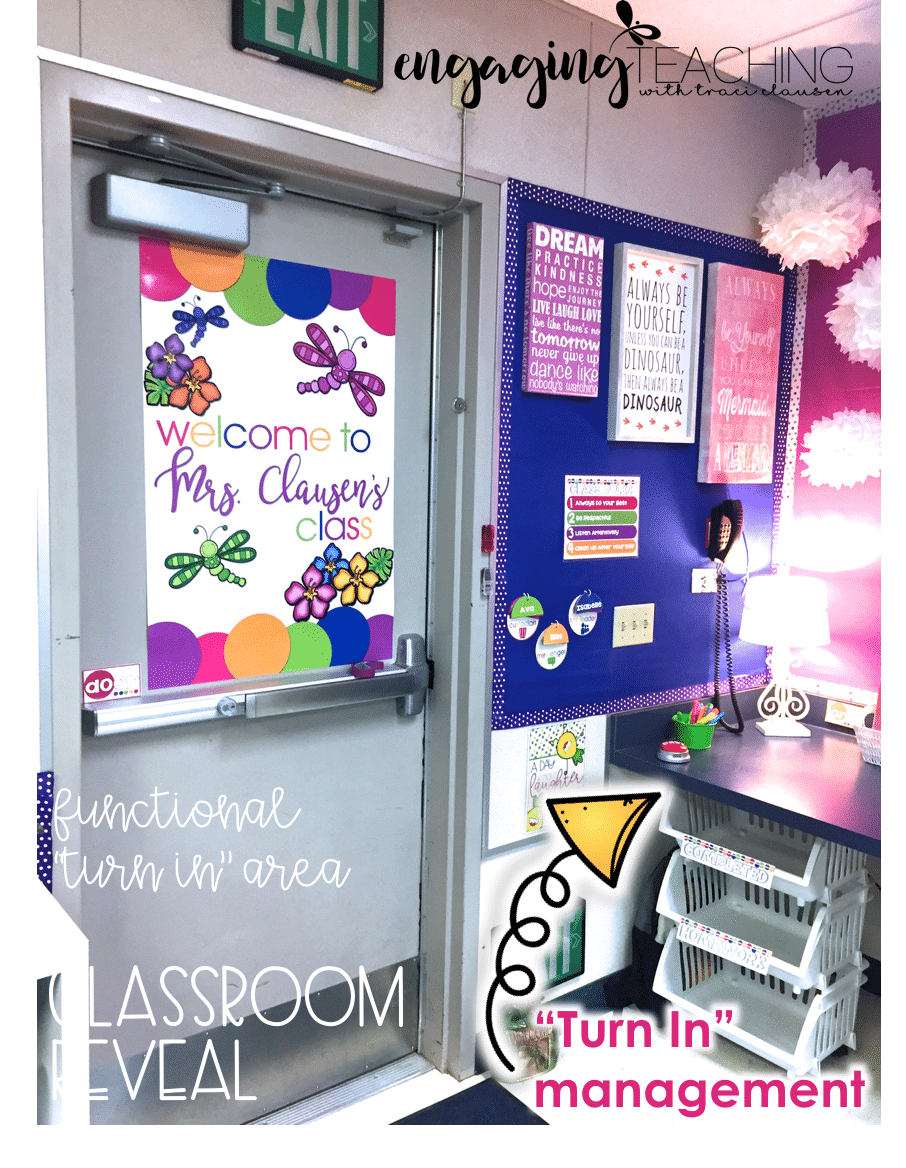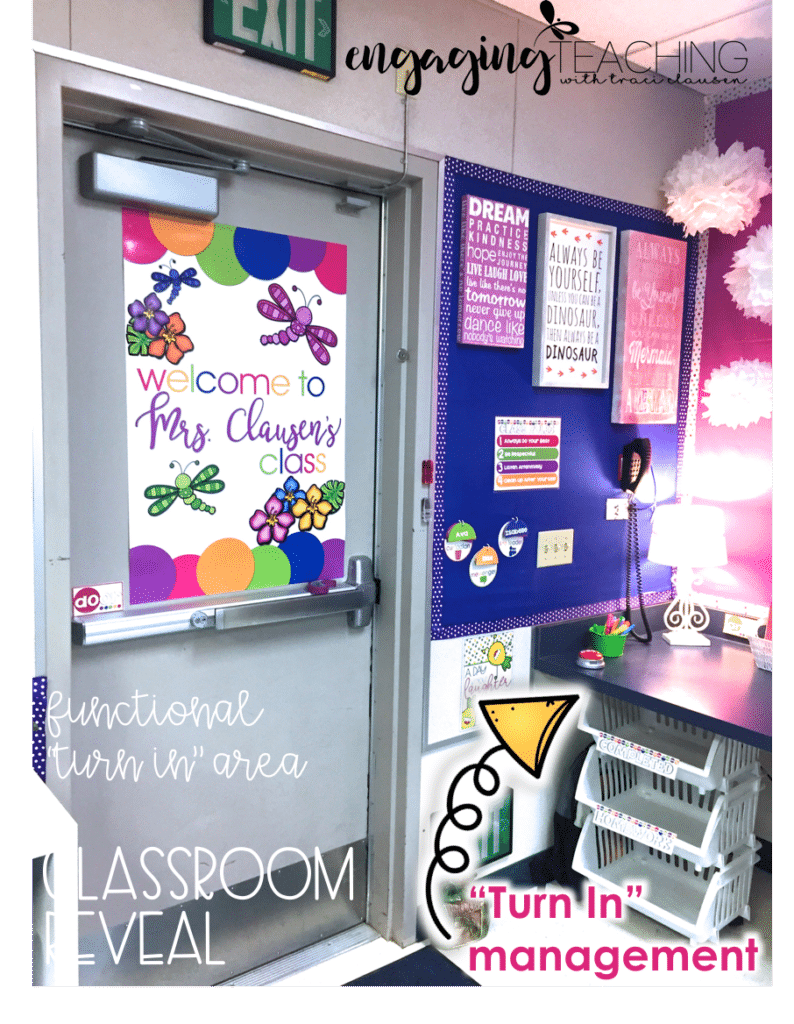 Wall Hangings – Hobby Lobby | Poster (designed by me, printed at Vista Print)
This area by the door is our pick up and turn in area. During independent work time, I place tubs on this counter for the kiddos to grab activities to take back to their desks.
The white "stacking/rolling cart" below the counter is where they place any items that must be turned in. They place those papers in the completed tub. Prior to doing that, they highlight their names – to ensure they wrote their names – and then press the easy button. Highlighters and easy buttons make doing work just a little more fun!
This is also where they turn in their homework on Fridays. Keep it simple!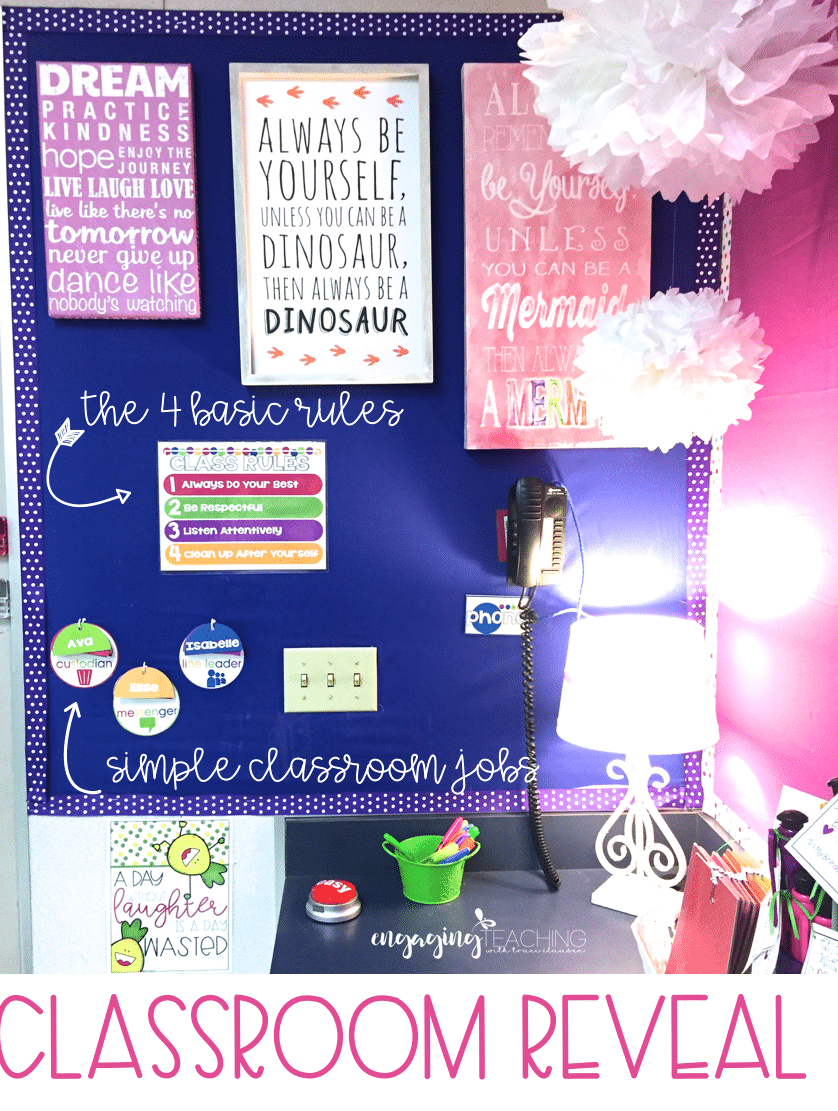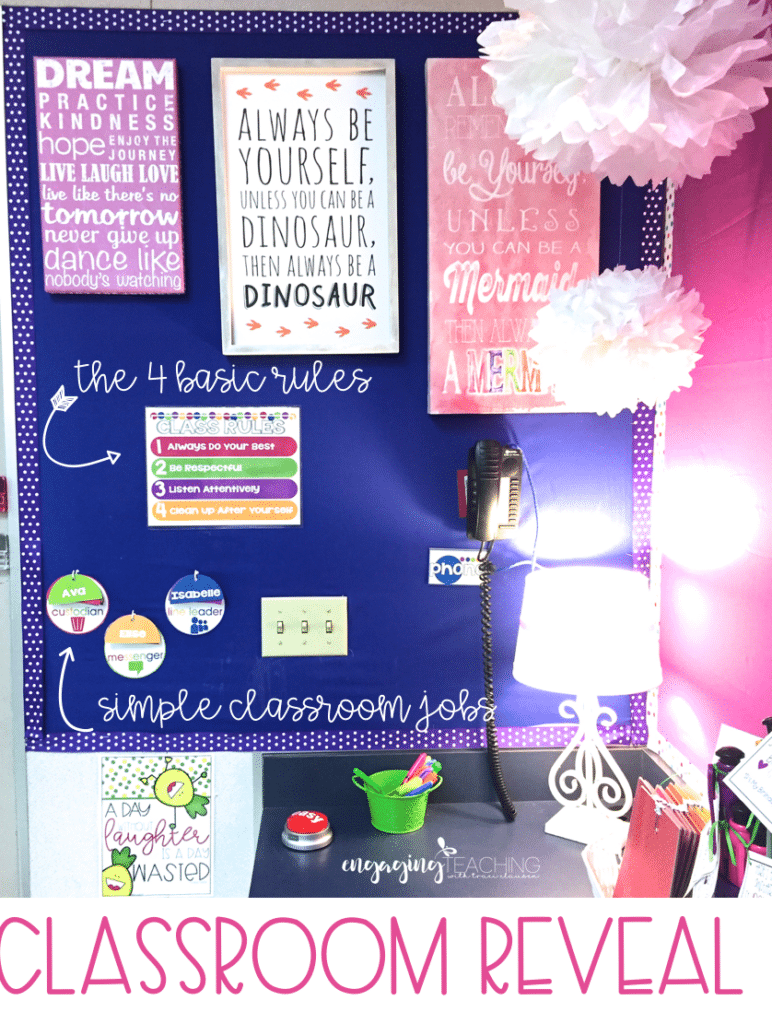 Class Rules and Class Jobs – Classroom Essentials – Vanilla Sherbet | A Day Without Laughter Poster – FREEBIE (link below)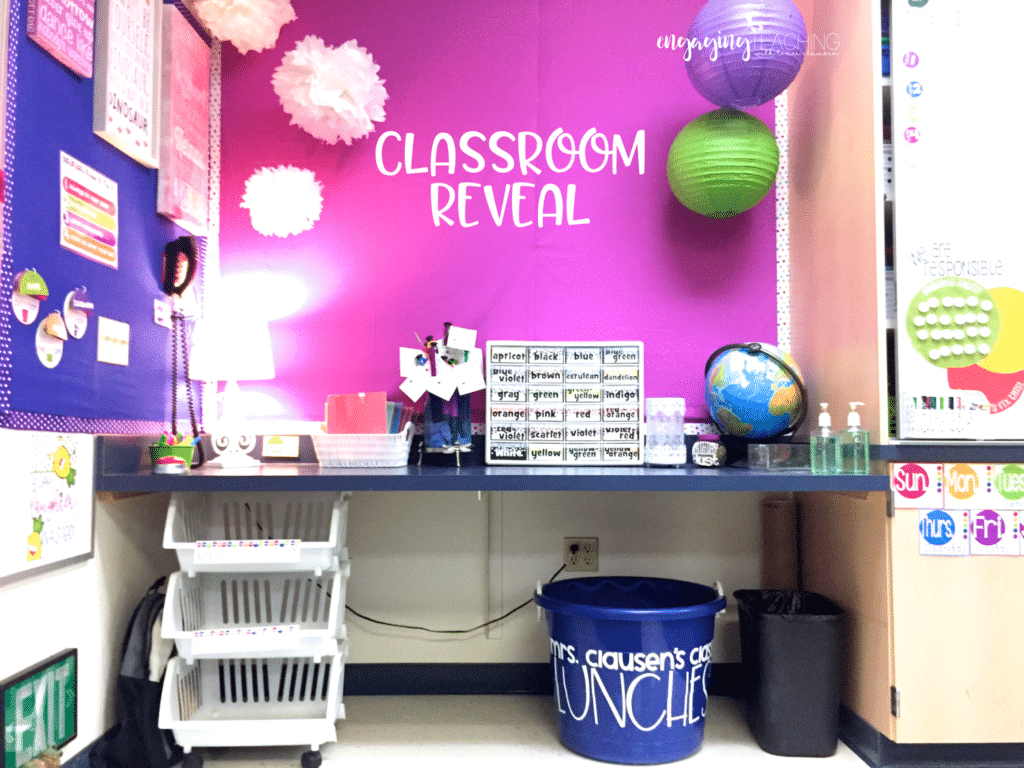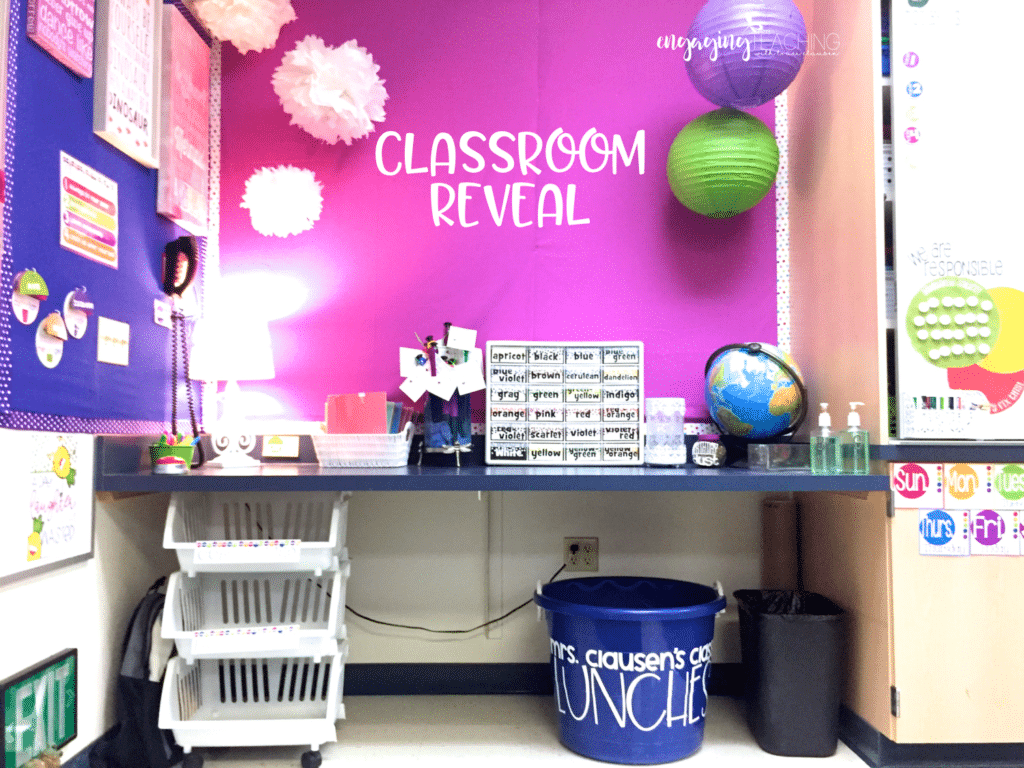 This counter also holds my clipboards, birthday pens, birthday dust, crayon cubbies, and bathroom pass hand sanitizer. The kids put their lunches in the tub below the counter (labeled using vinyl and my Cricut). Their backpacks stay outside on a rolling rack – which is AWESOME. The backpack by the white rolling cart is our EMERGENCY pack for use during fire and earthquake drills or actual emergency events.
You can read more about my crayon cubbies HERE!
Height Matters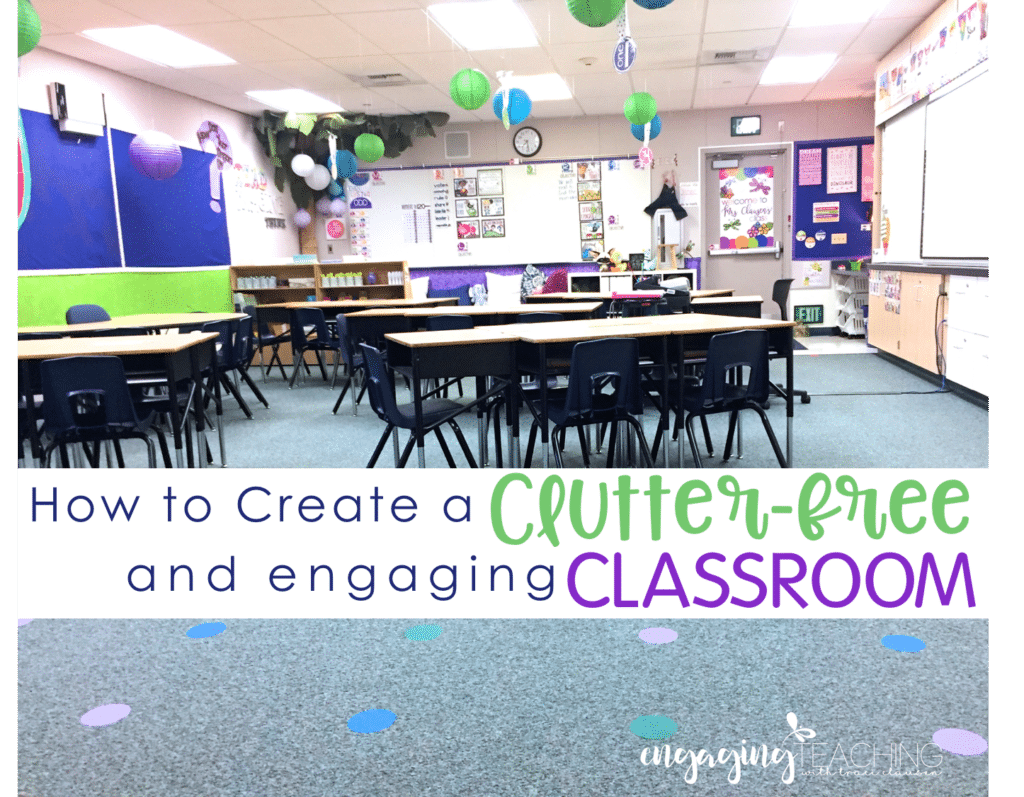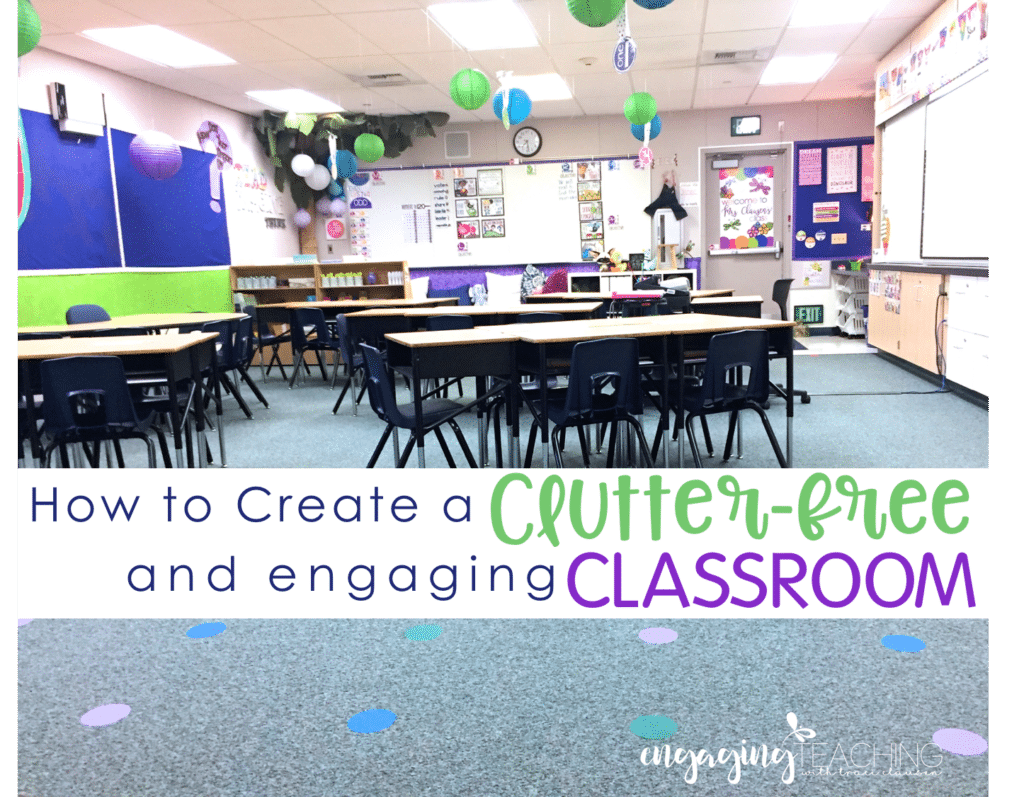 Opposite the door is our sink area. My white boards across the front of the room slide and have amazing storage behind, below and above them. I am BEYOND lucky with the amount of storage in this room.
When teachers ask about organizing their room and ensuring things look neat and clean and BIG, one of my big suggestions is to keep things around the same height. When you look out across the room, your eyes will be stopped by obstacles that are far above the others. In home decor varying heights can be a good thing. In my classroom, with all the hectic bodies and constant movement, the more expansive and OPEN it feels the better.
The same goes for bulletin boards. I always try to ensure that each board stops at the same height on the wall. That uniformity helps a lot in reducing visual chaos and creating a calm, clean space.
Beside the white boards are my tall cabinets which house all of my high engagement science and social studies-themed items (bulletin boards, games, books, etc.). Each month is on its own shelf. Our word wall goes on those cupboards.
Ditch the Pencil Box
The kids keep very little in their desks. I got rid of pencil boxes years ago because I couldn't tolerate the constant dumping them on the floor, trash stored in them. So, I made the switch to table caddies and I LOVE them!
Here's a post where you can read more about these caddies.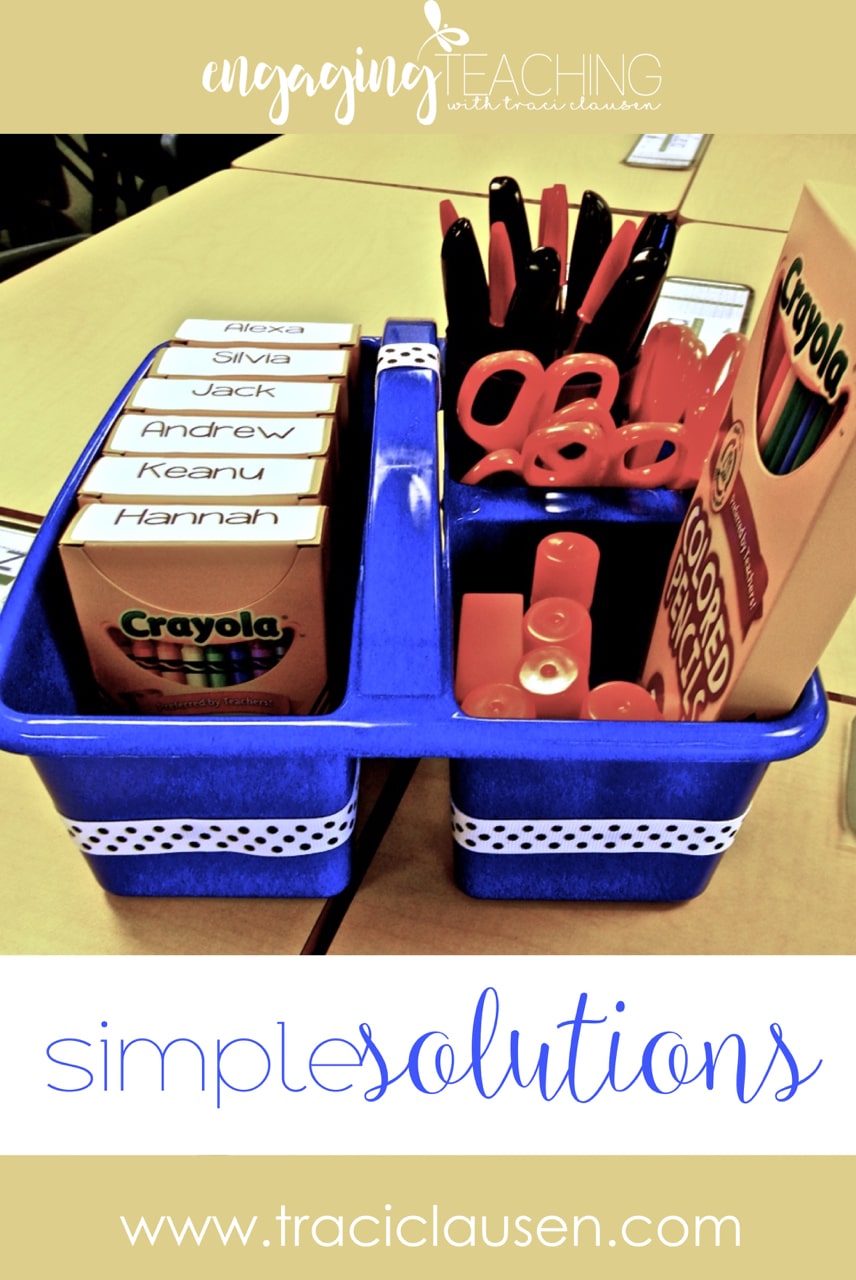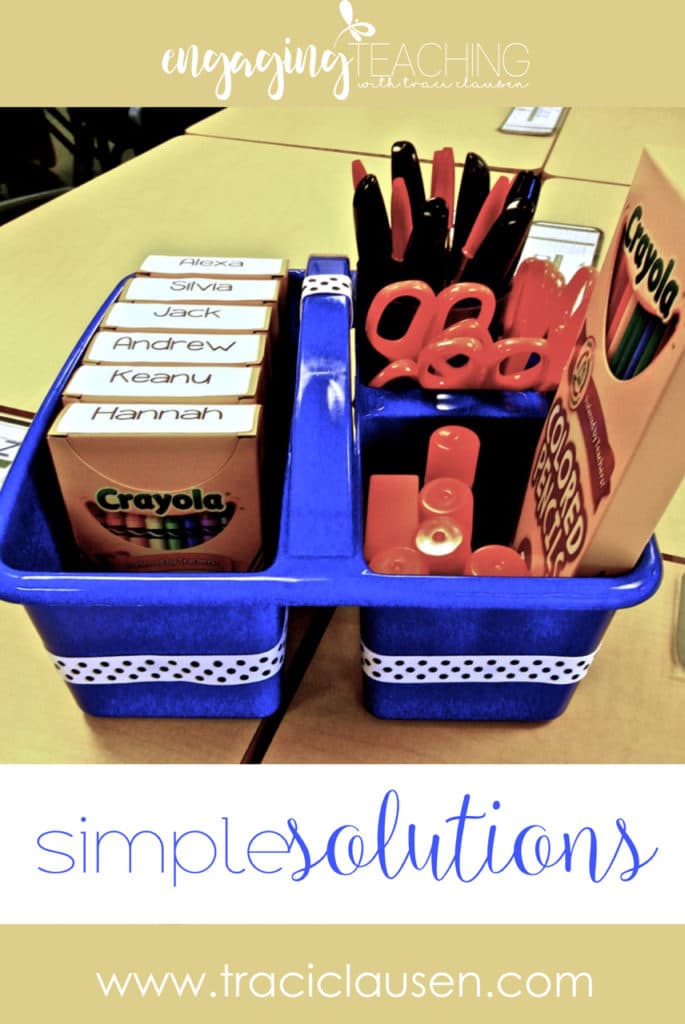 A Treasure Box Alternative
The kids line up along this wall. So on the short side of those closet, I have the behavior rewards menu posted.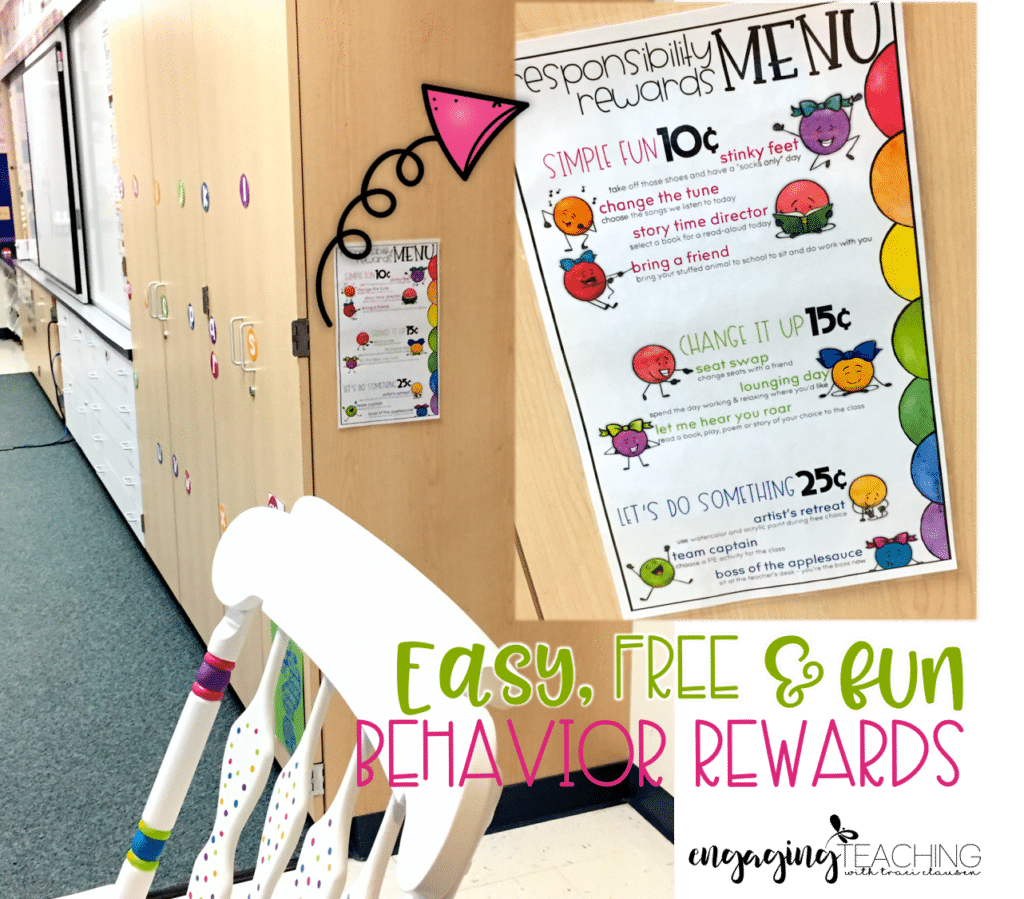 I do a variety of things in class for behavior management. A couple of those result in the kids earning class money (pennies I have marked with a dot of nail polish so I know they are mine and not brought from home). The kids save these coins in an empty film canister in their desk.
They can spend the money on going to the bathroom during class after we just got back from recess. OR they can save their money and buy a reward.
I love these types of rewards SOOOOO much and so do the kids. They don't cost a dime like the typical treasure box items. The kiddos work harder to earn these things. Win-Win!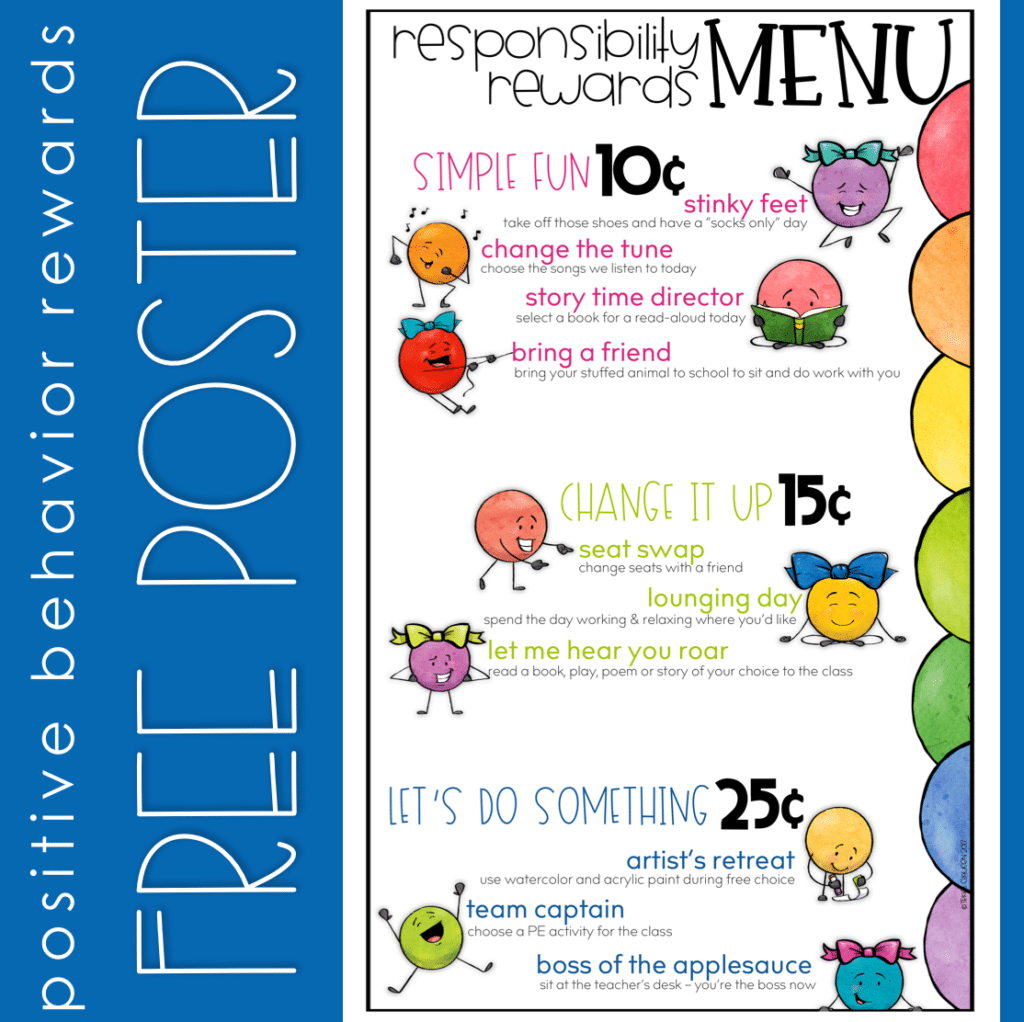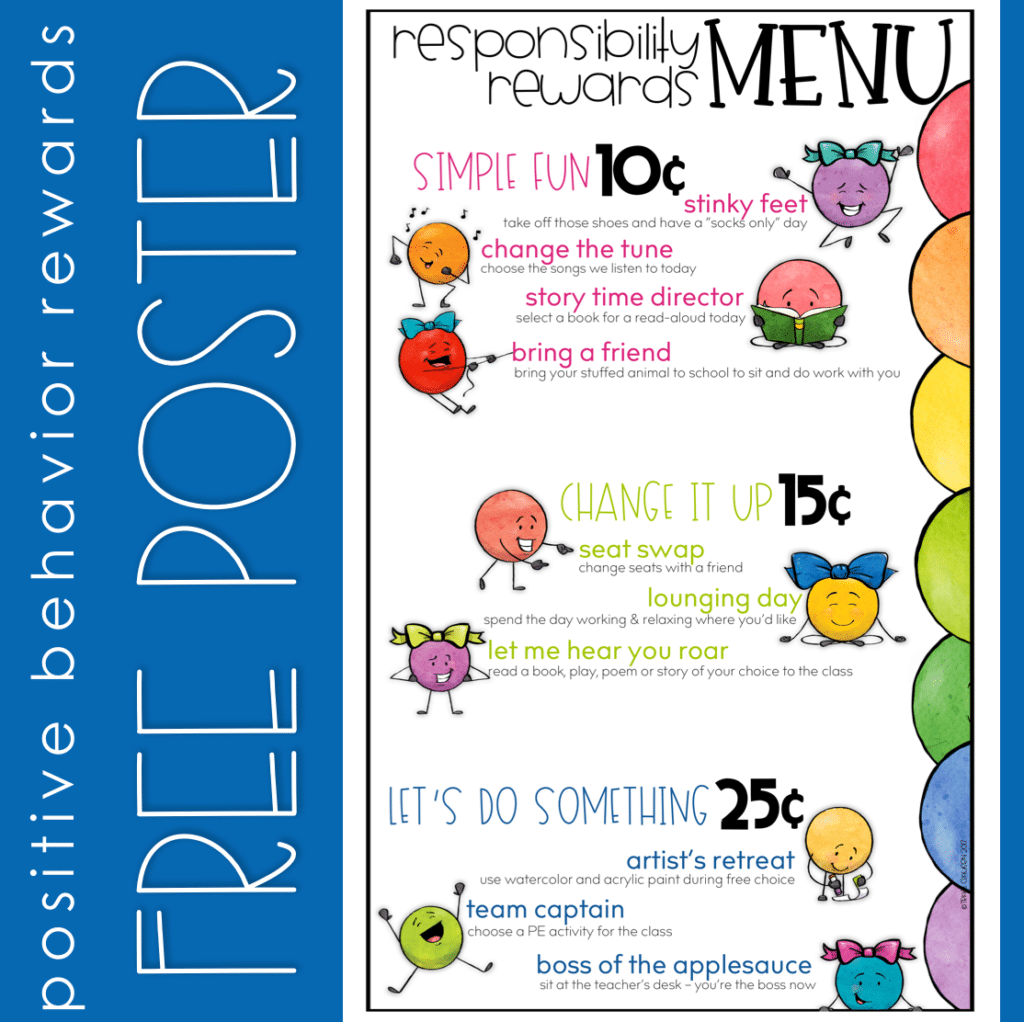 Enter your email below to have this awesome treasure box alternative sent directly to your inbox for FREE!
A Little Positive Inspiration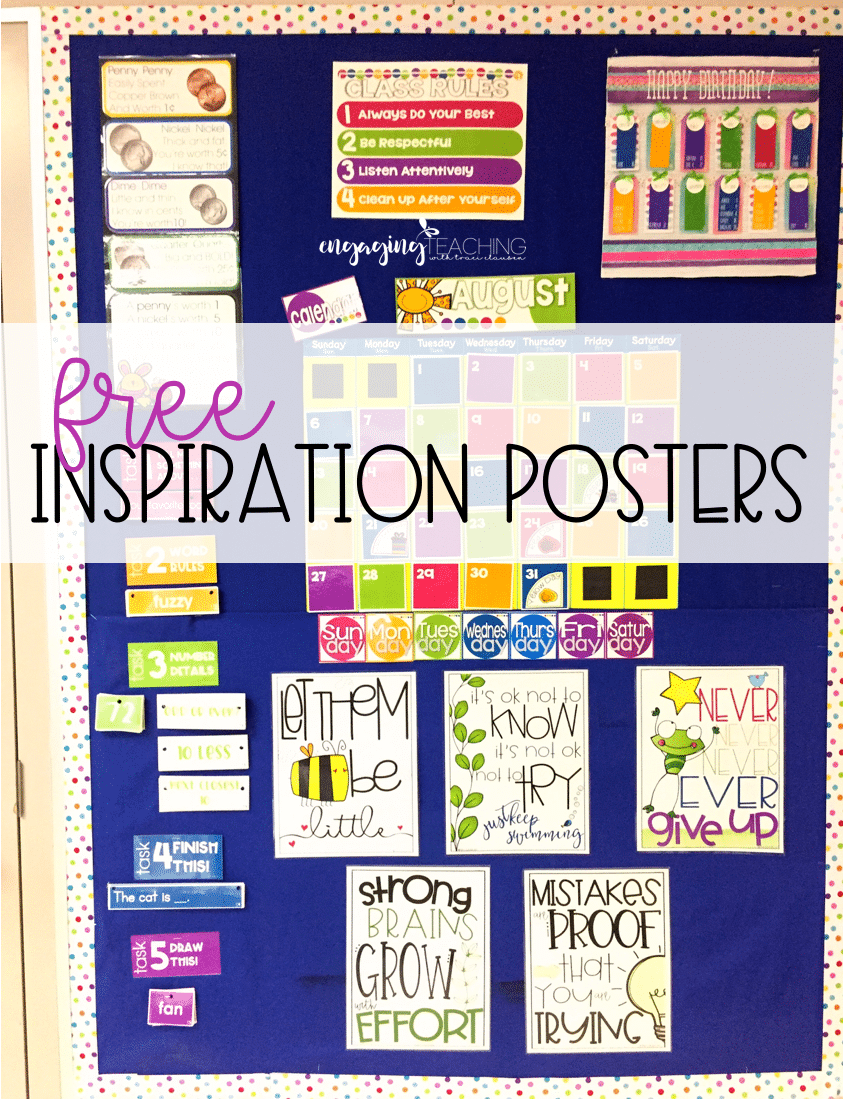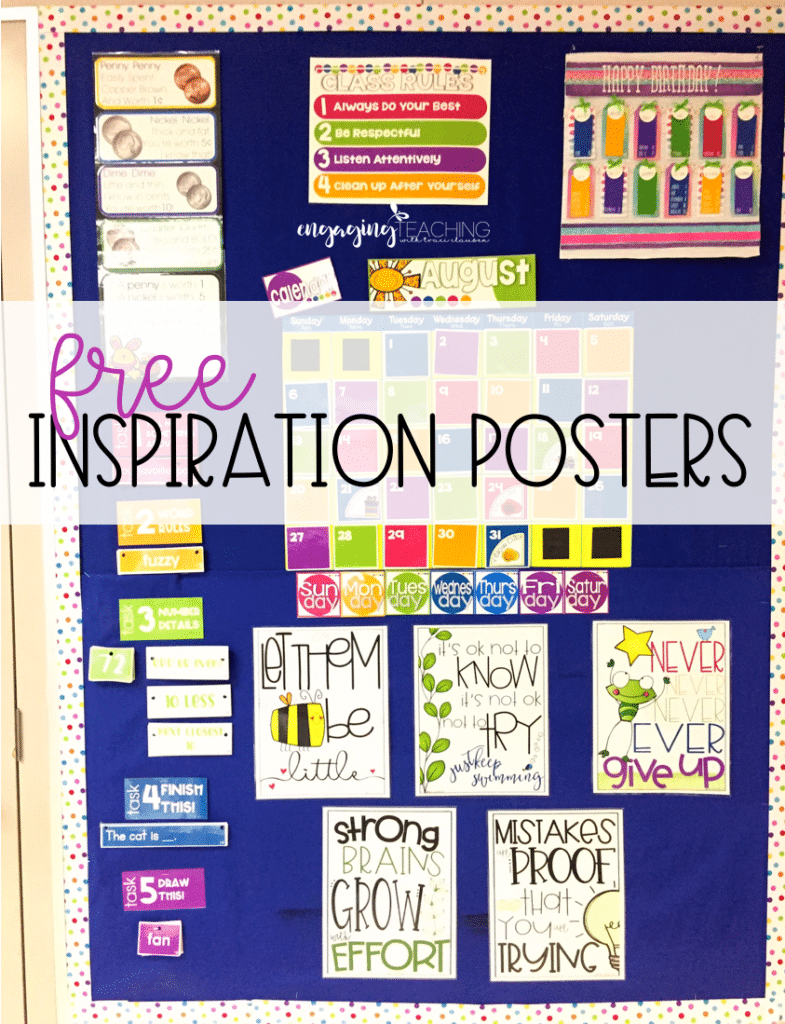 Money Poem Poster Freebie | Class Rules – Classroom Essentials Vanilla Sherbet | Birthday Calendar I made with scrapbook odds and ends | Daily Schema Review | Calendar Components – Classroom Essentials Vanilla Sherbet | Posters – Inspirational Posters FREEBIE (see below)
This little board is in front of our "rug" area. We discuss the Daily Schema Review components each day and as the year progresses, they will start recording answers about these items on an answer sheet.
I use cut business card magnets on my calendar pieces. Read more about that here. BEST.THING.EVER. It makes changing the calendar super quick and easy! These pieces are from the Vanilla Sherbet line. The other classroom essentials color combinations in my store have calendar components as well.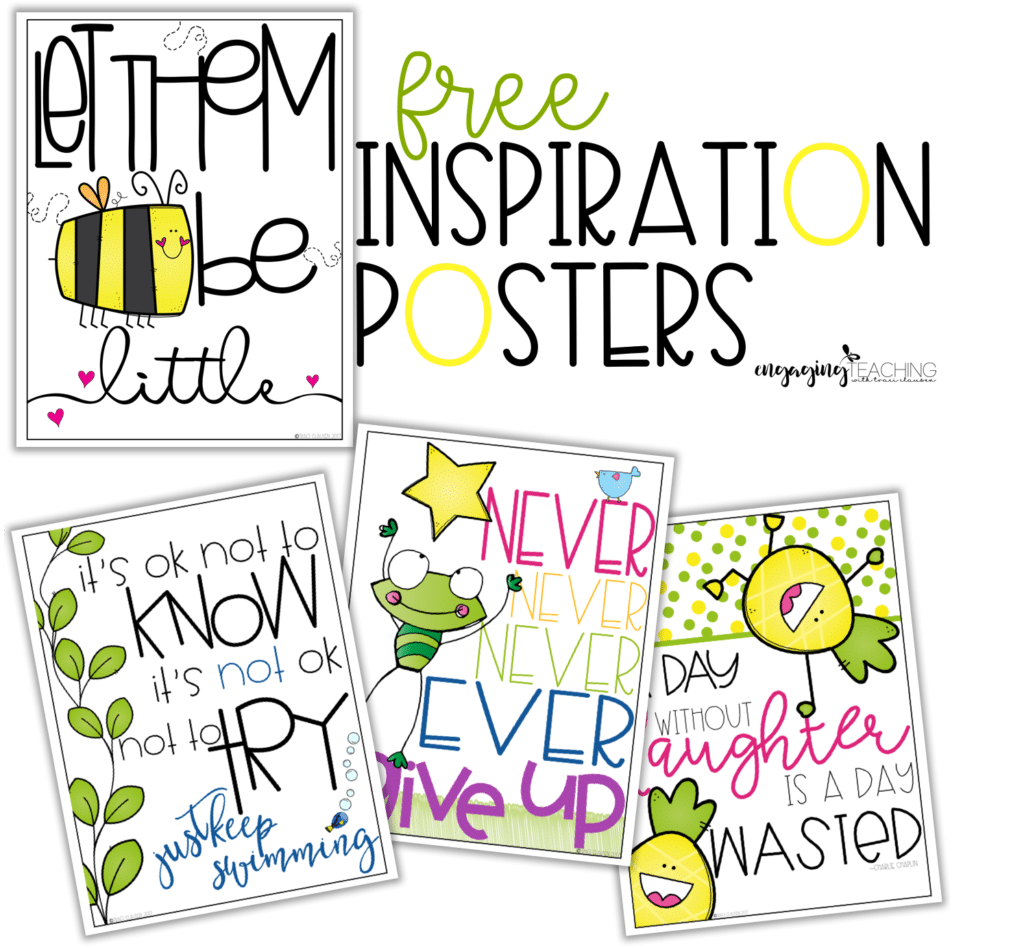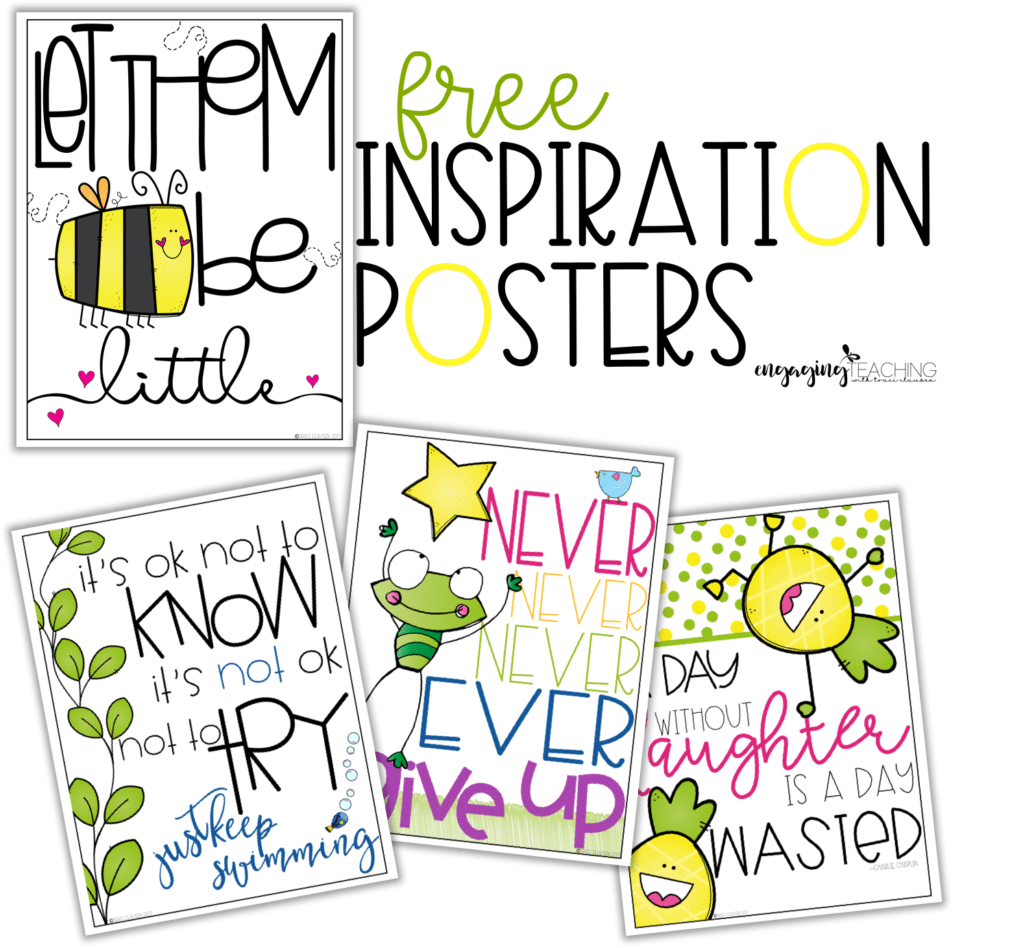 I love how much brightness and positivity these sweet, simple posters bring to the room. Leave me your name and email below and I'll send these to your inbox!
THE BEST Rug Alternative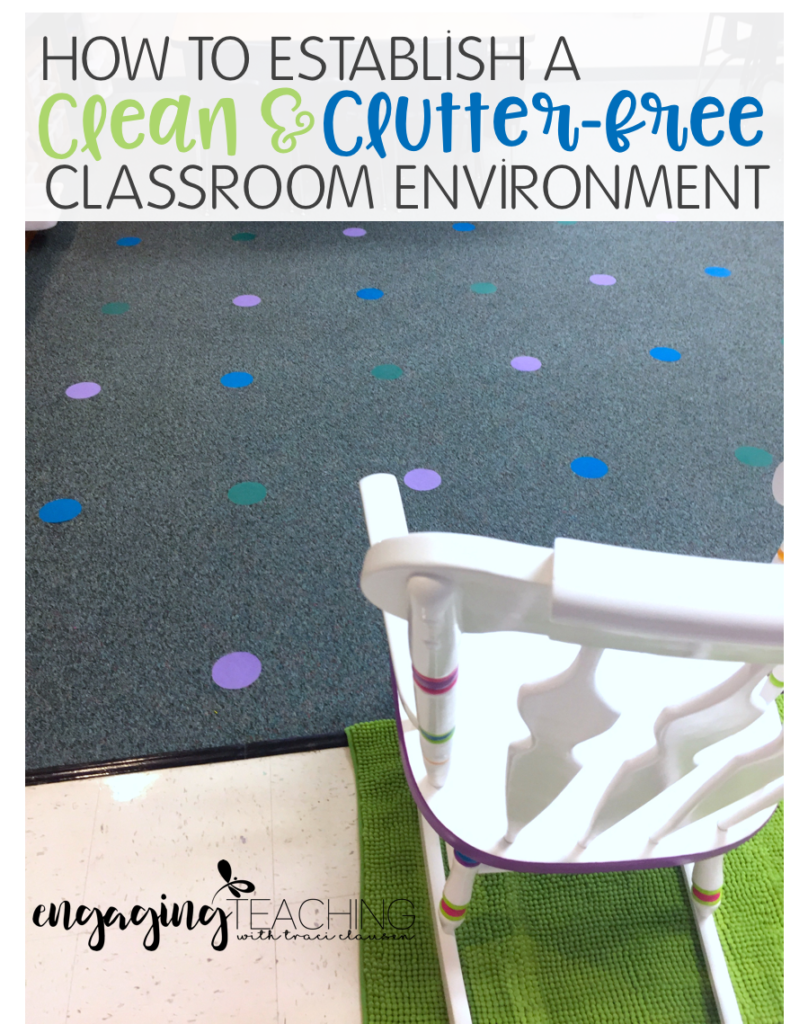 Teacher friends, I cannot say enough fabulous things about SitSpots. They are THE BEST. I love that I don't have a big bulky rug in my room yet still have a clearly defined and very cute "rug" space for my kiddos. The kiddos know where to sit and no one is touching anyone else. These spots play a huge part in keeping my room looking clean and clutter free. They are super simple and clean up amazing well (they stayed put while the carpet was cleaned and looked AMAZING afterward). SitSpots are less expensive than an area rug that would fill this area.
I just love them. That's all. I highly, HIGHLY recommend them!
Rocking Chair Heaven
Did you see that chair?
I am so lucky my husband LOVES doing stuff like this. He refinished a very old rocking chair that I had previously painted black and turned it into this beauty!!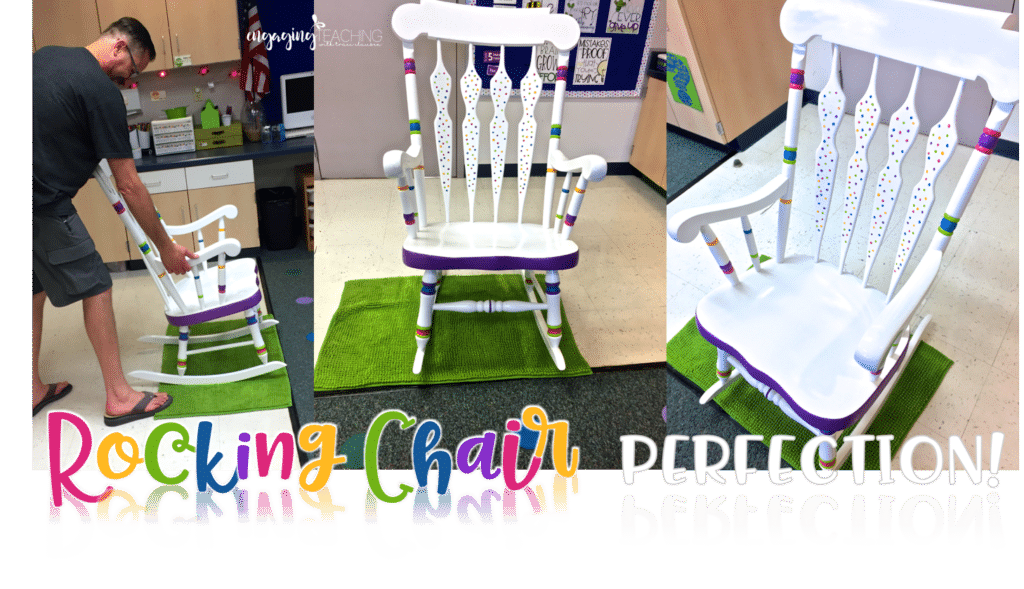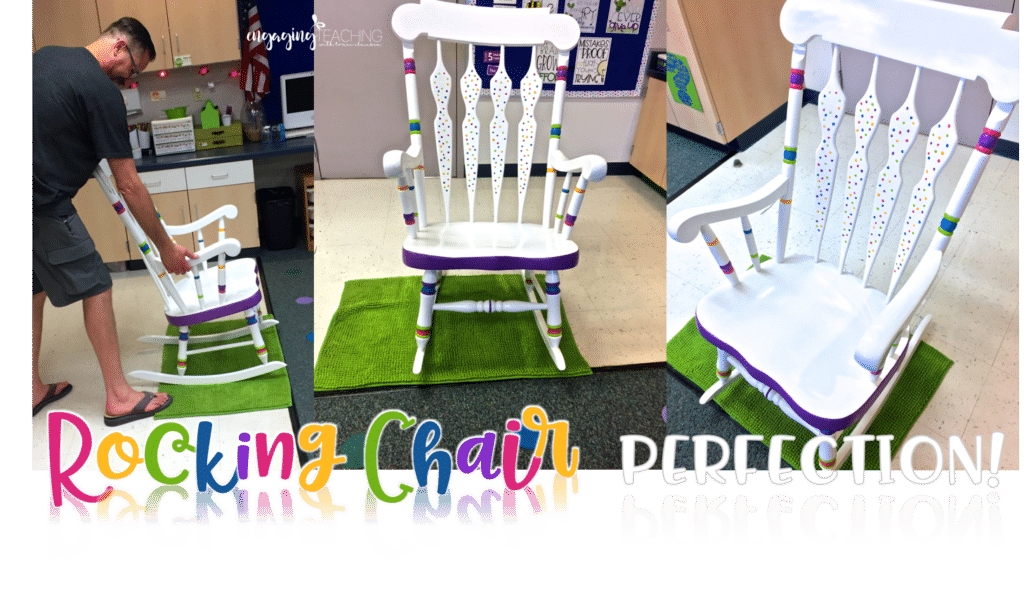 It is SO shiny, and smooth, and perfectly white. All of my little sherbet colors just pop on it. I wish you could see it in person. The photos do not do it justice. It is UH-MAZ-ING! Once he brought it in, the room felt complete.
IKEA to the Rescue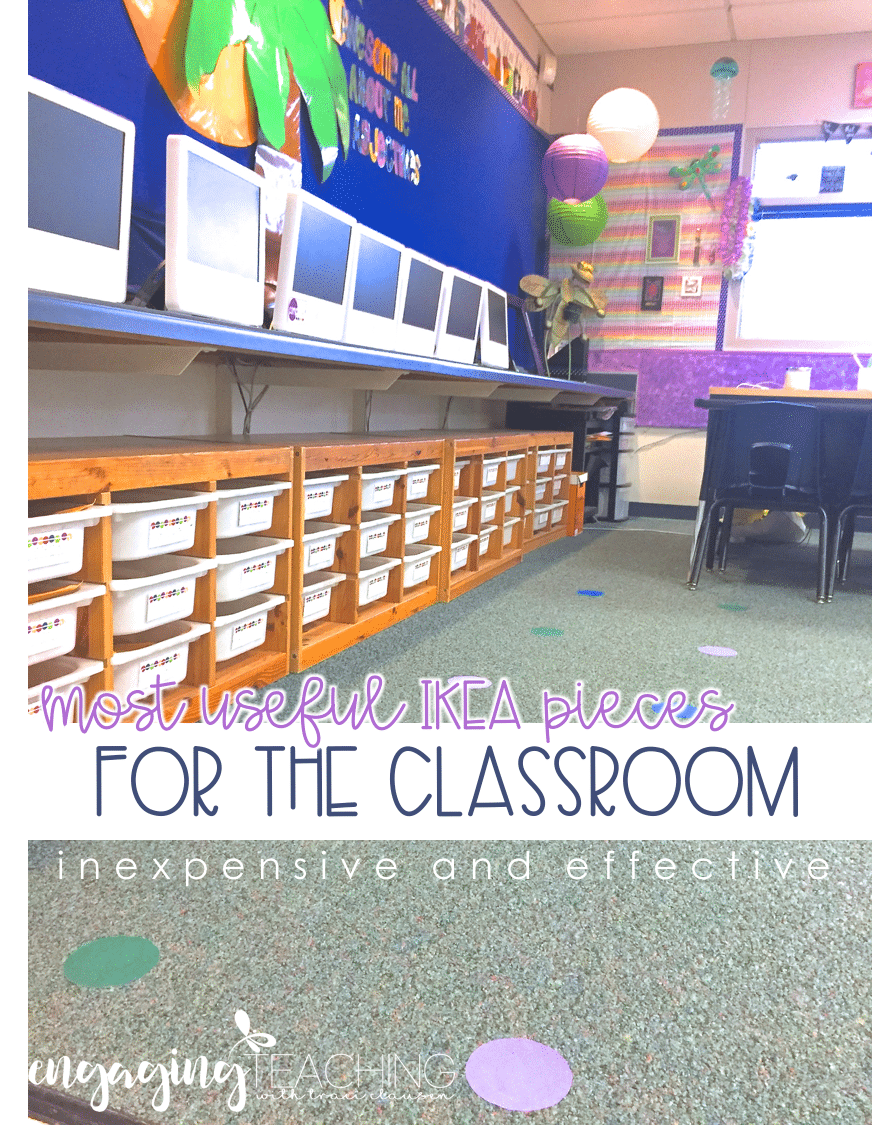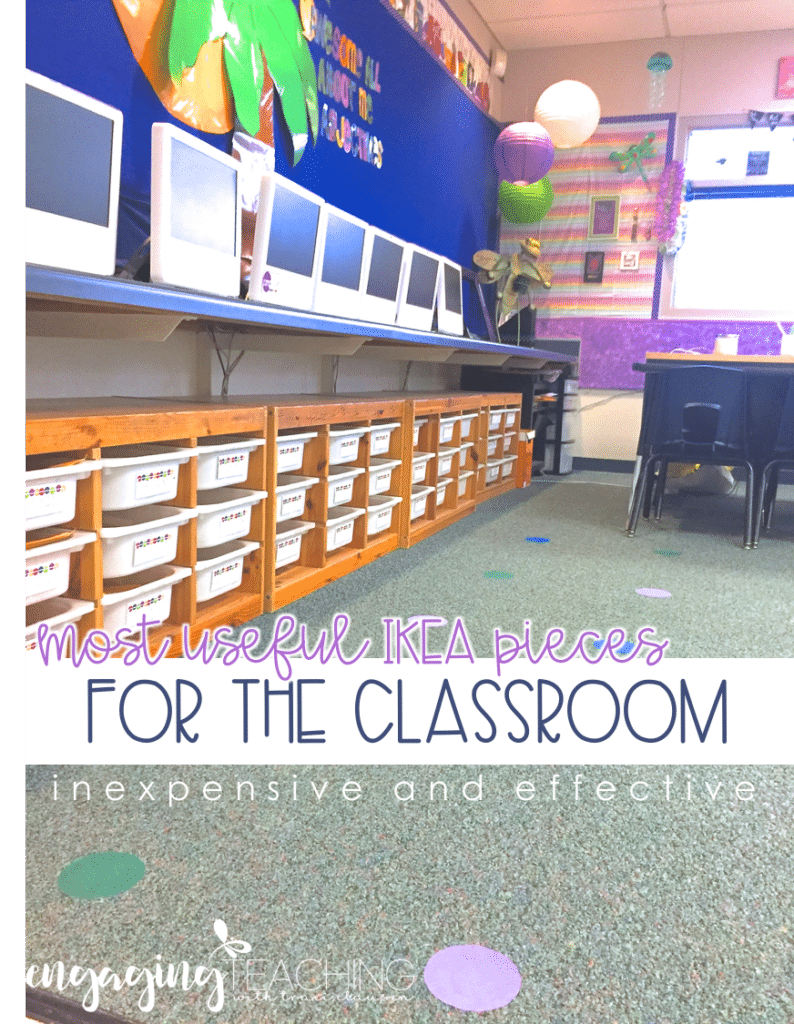 We needed seating for the computer counter and we needed cubbies. Ikea has carried this storage solution for a very long time. These are the IKEA TROFAST storage frames. The little IKEA TROFAST tubs are the perfect size. They hold a LOT of stuff. I put the kids names on them by using tacky putty on the back of laminated cards (again from the Vanilla Sherbet classroom essentials line). This is my 11th year using these. They are still in great condition.
Which is kind of a bummer.
Because now they have them in white. AND I REALLY want the white ones. But I can't justify getting them, because there is absolutely nothing wrong with these.
Maybe this should be a future painting project for Jeff. Hmmm. 😉
Why I Went with So Much White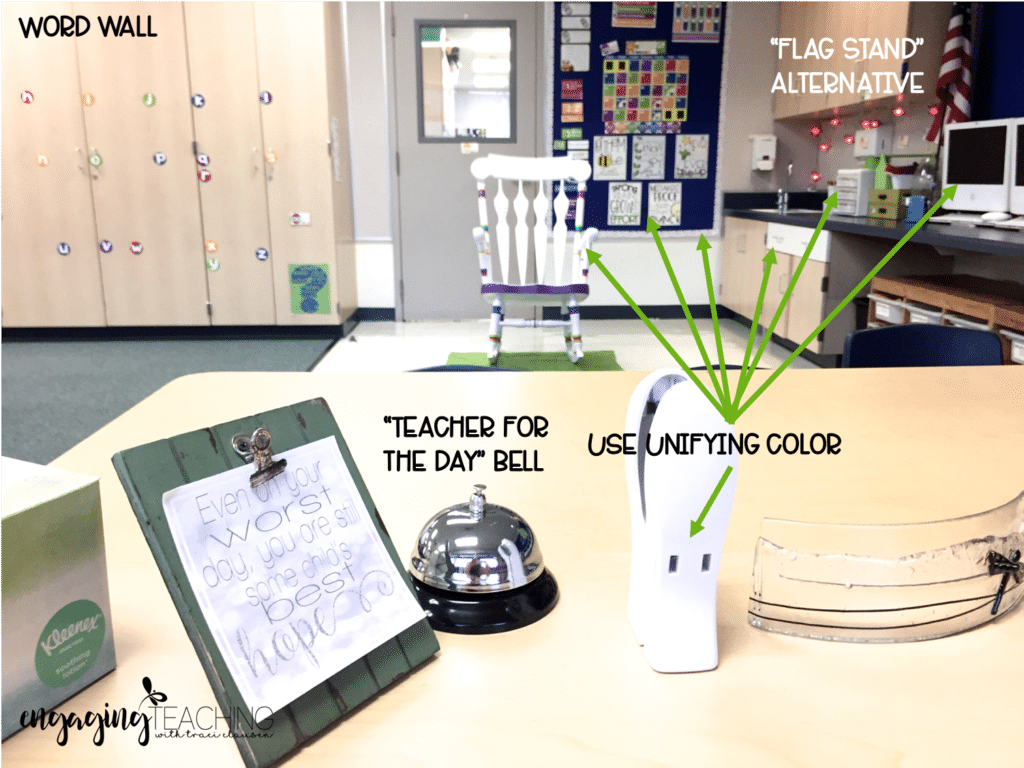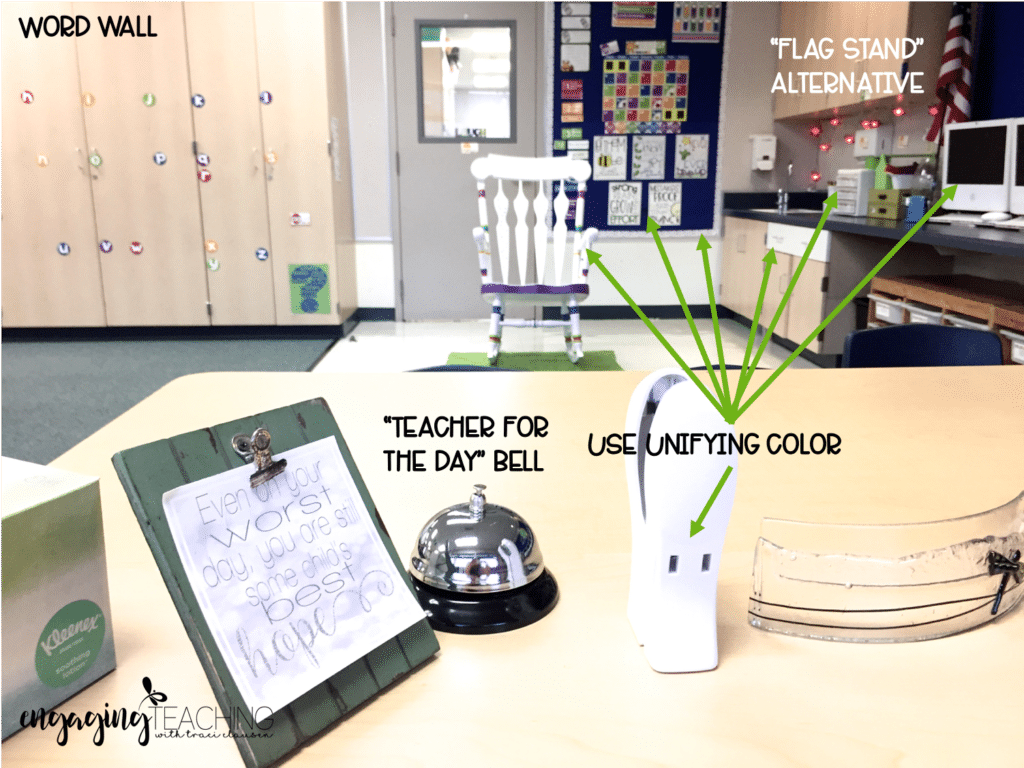 First of all, white really does open things up and makes things look larger. Secondly, the fixed items in my room are already white or light. All of the desk and wood cabinetry is very light grained. The walls are white and light gray. The drawers in the room are all white, too. Finally, I have white boards covering the majority of two walls in the room. There is just a lot of white.
To me, it made sense that white needed to be the unifying color. By using the super bright colors along with it, everything just pops.
A Few Simple Management Tricks
That bell on my desk is for the "boss of the applesauce" to use. When the student purchases that reward from our rewards menu, they get to sit at the teacher's desk. They also get to monitor the noise level. If things start to get too loud, he/she can tap the bell as a reminder. I use it, too – but I am usually not sitting there, so it I use the chimes (or chants) around the room a lot more often.
I like my flag standing straight up instead of jetting out into the room. I've filled a vase with sand so that the flag doesn't wobble. It works out perfectly and again, helps the room look open and clean.
That area between the sink and the flag is where MOST of my word work goes. It is held in drawers and a couple other containers on the counter. The kids know where to get it and how to put it away.
They seriously do a great job cleaning up after themselves and WANT to keep everything clean. It just takes some rules and procedures practice in the beginning and they are all set.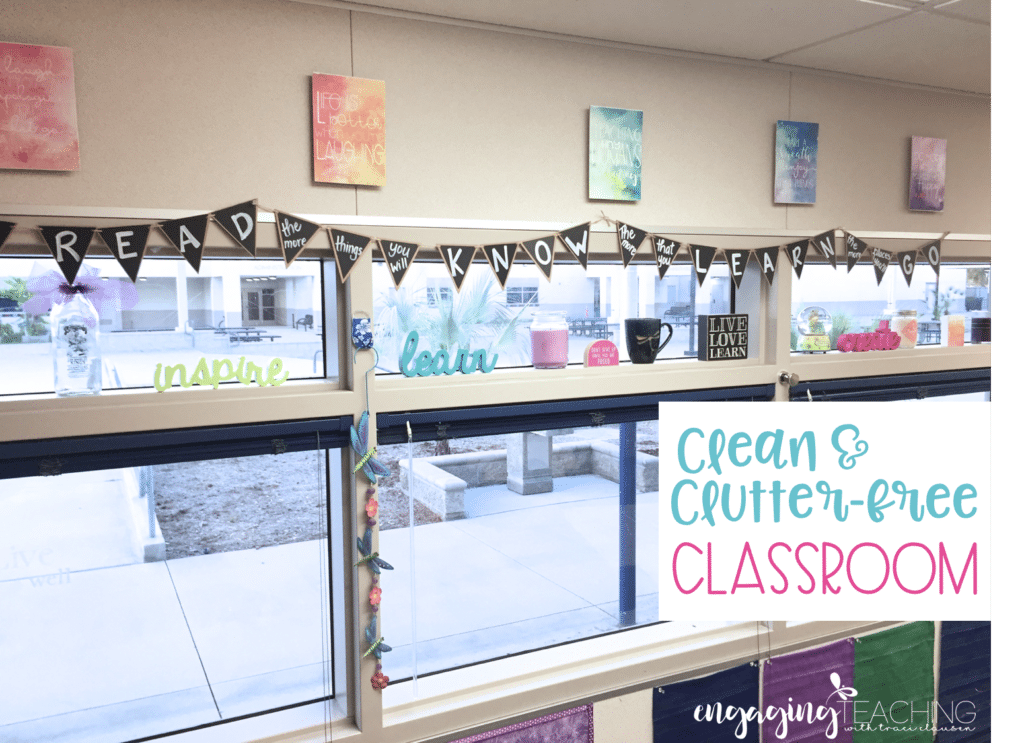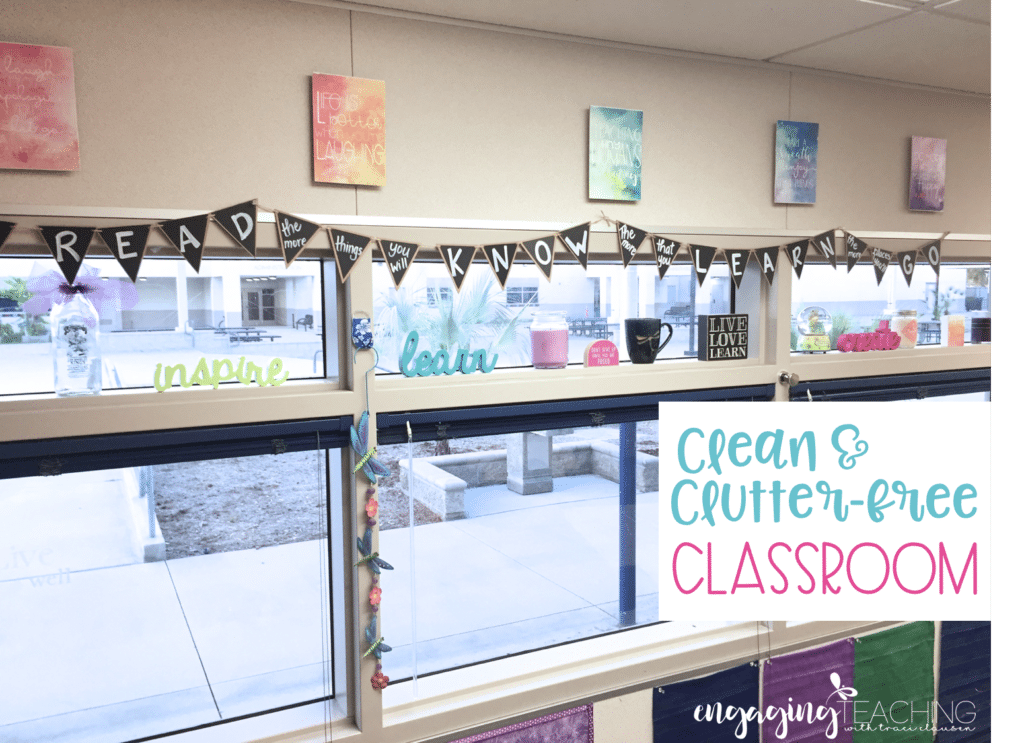 Inspire, Learn, and Create words – Target | Live Love Learn sign – Hobby Lobby | Chalkboard Banner – Target (I used chalk paint to hand letter it) Inspiration Posters Above Window – FREEBIE
I have these really nice windows behind my desk. The windows basically face north and are under an overhang, so the sunlight that trickles through them is pretty filtered. Currently, they are looking out onto our barren courtyard. The District says they are working on the drought resistance landscaping – it looks more like bark scattered everywhere to me – a very barren desert, but what do I know? We don't have hallways on our campus. All of our classrooms open right up to the outdoors.
I love that these windows have little ledges. They are a perfect place for sweet trinkets and a touch of color.
Bulletin Board Simplicity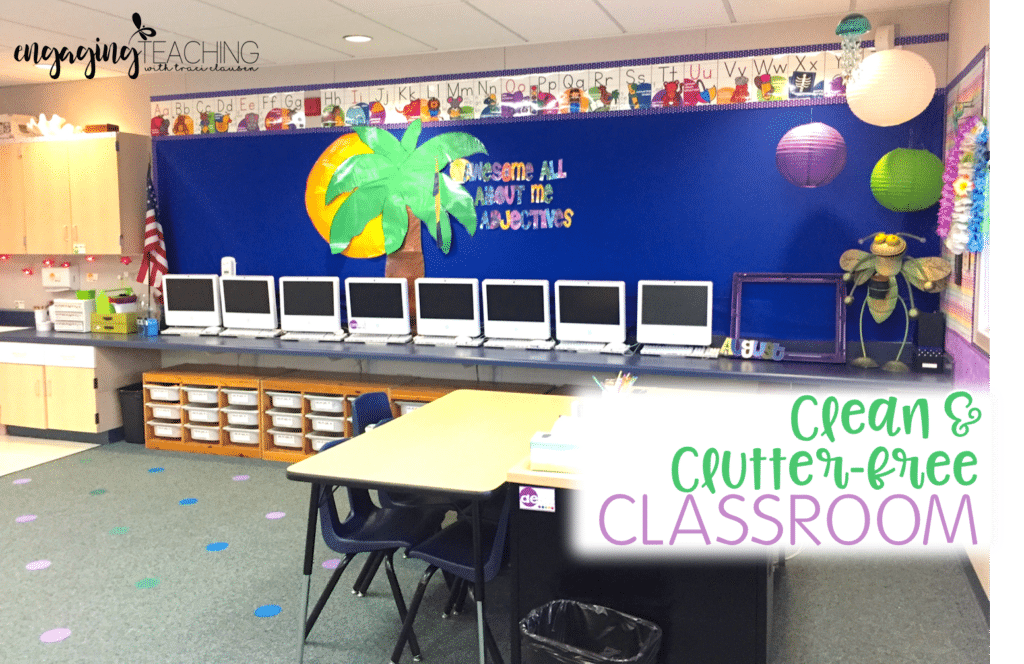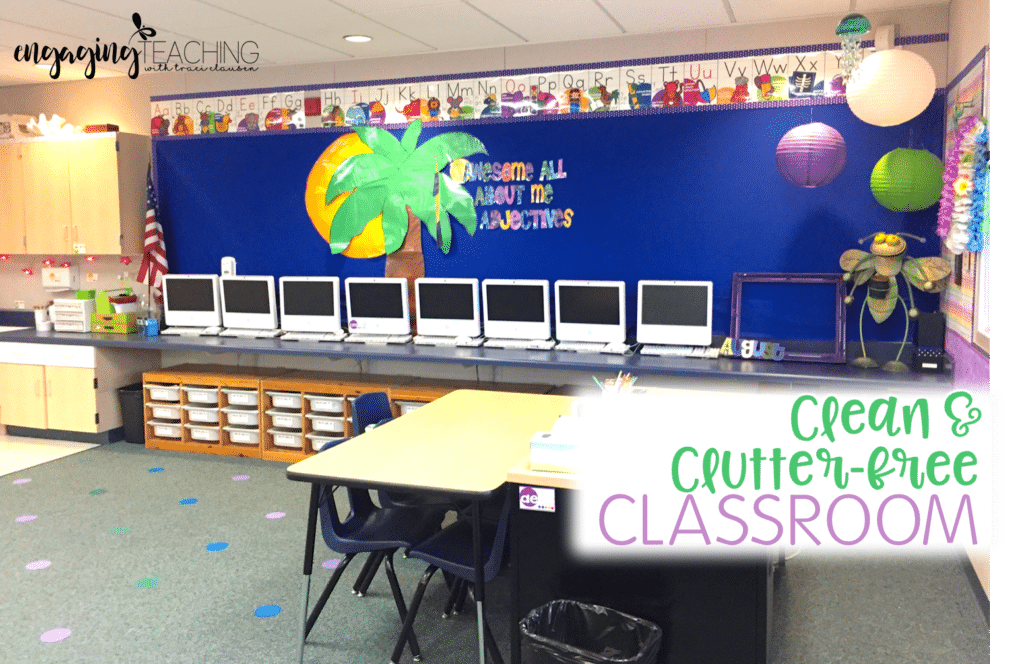 I keep my bulletin boards simple by covering the area with blue fabric and trimming it with ribbon. I never change this background, but I do change the bulletin board content each month.
The fabric works out great. It has lasted 11 years and will last way after I'm gone. The blue is a perfect background for anything we put up on the walls. Having the fabric up saves me time, too.
As I mentioned before, all of my bulletin boards are the same height. Those even heights are super easy on your eyes and eliminate a lot of chaos that you don't even realize bulletin boards add, until you make them all the same height. My boards are in line with the tops of my windows. Because nearly all of my walls are made from "bulletin board-ish" material, I can place my designated bulletin board space where I'd like.
Keeping It Organized with Community Supplies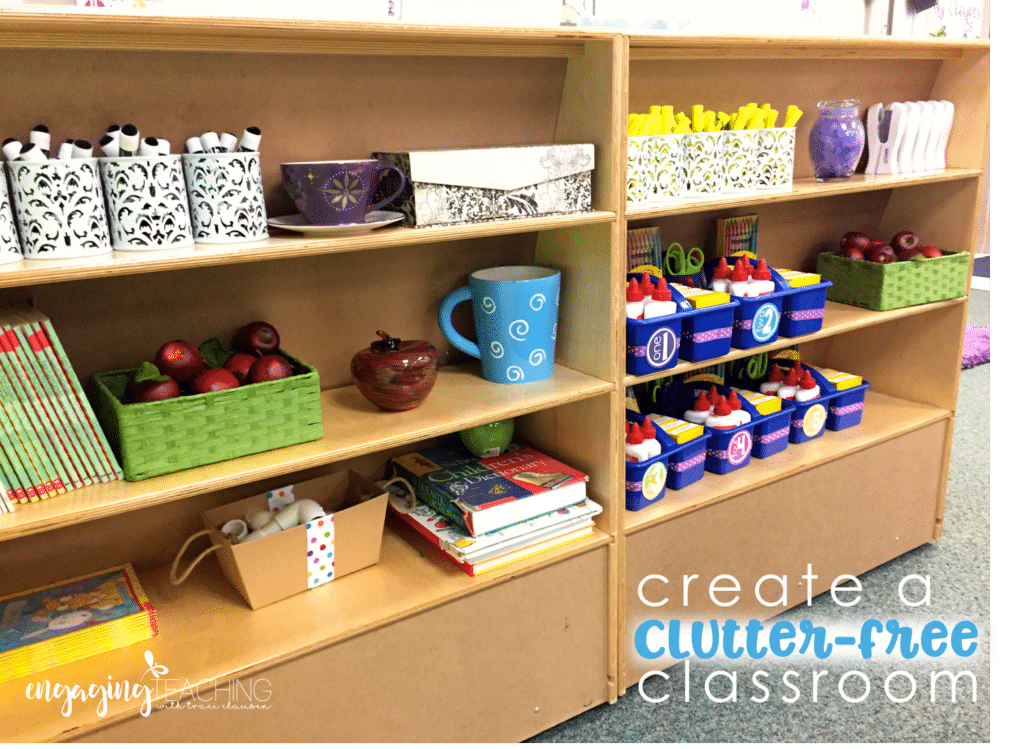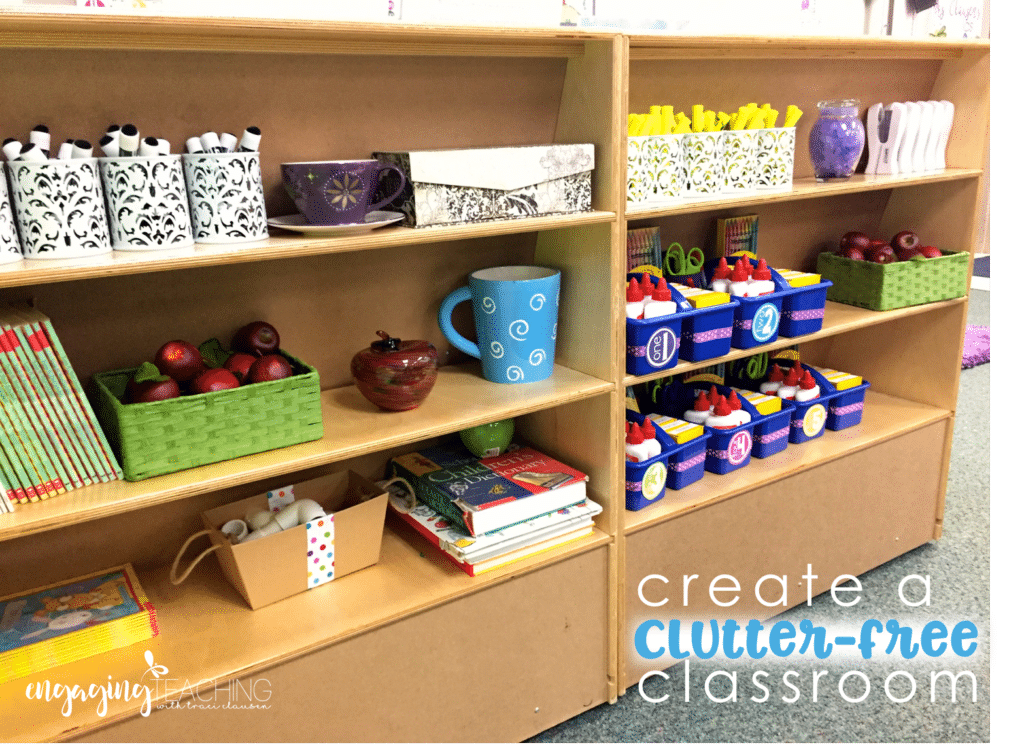 Hi, my name is Traci and I do not like pencil boxes. Have I mentioned that before? LOL
For YEARS I bought my kiddos pencil boxes. I bought them. Because they had to all match. They had to be the same color, brand, size, and type. Because I'm type A like that.
So I bought them by the caseload.
And those kiddos broke them. Quickly. Dropped their contents on the floor daily. Took all their crayons out of the crayon boxes and then smashed the crayons and the empty crayon box into the pencil box. Then they would drop them again. They'd store little pieces of trash in them. OH it all drove me nuts!
So… over the many, many years I used them, I grew to loathe them.
Bring on the fan fare for community supplies.
With some very clear and strict rules about these tubs and containers, my supplies now last far longer and the kiddos, under the ever watchful eye of their classmates, are way more responsible with their materials.
In those blue tubs in the picture above the kiddos have a box of crayons that are labeled with their name and taped on the bottom with duct tape so the crayons don't fall out the bottom. Each child has a red pen for grading morning wake-up and other papers, scissors, and a large eraser. The table group shares bottles of glue with amazingly fantastic special tops on them (lasts all year – truly 2 years! – unlike a glue stick). They also share an 18 count pack of twistable Crayola crayons. I replace the crayons halfway through the year.
For each table group I also have a can of white board markers (with pom-poms hot glued into the crevice at the bottom to be used as an eraser) and another can of highlighters. The markers in each of these cans usually last 2 years! Each table group has a daily captain who is in charge of taking out and putting away supplies. It takes moments and everything is always perfectly organized. Those table groups take pride in their supplies. It doesn't hurt that I give them positive behavior points for taking care of those things, either! 😉
Open Concept Reading Center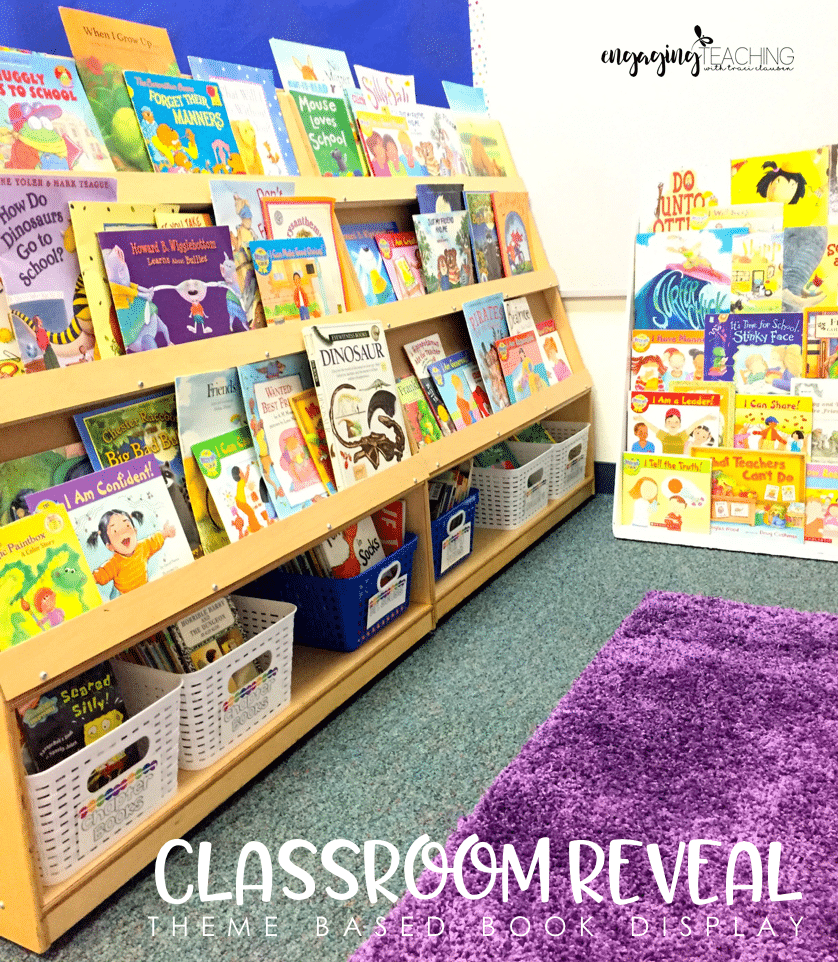 On the other side of those shelves holding our supplies is our reading center.
Each month I put out books that pertain to our theme. We are learning about responsibility and friendship right now, so our books are all about that. When the theme is over, I put those books into the cabinet on the corresponding shelf for the month. I replace them with the next month's theme books.
I also have a few tubs that stay out all year that hold chapter books and some generic fiction stories as well.
Some Rules
This rules poster is hanging in the reading center.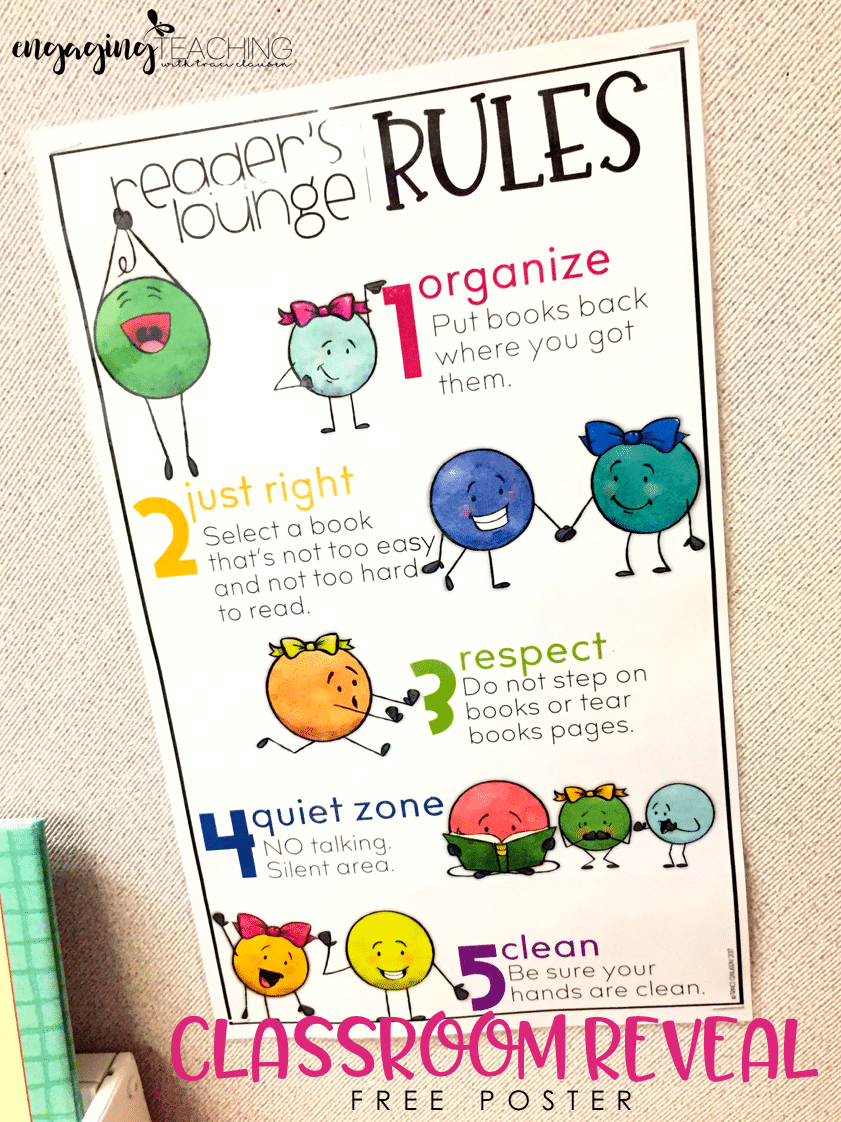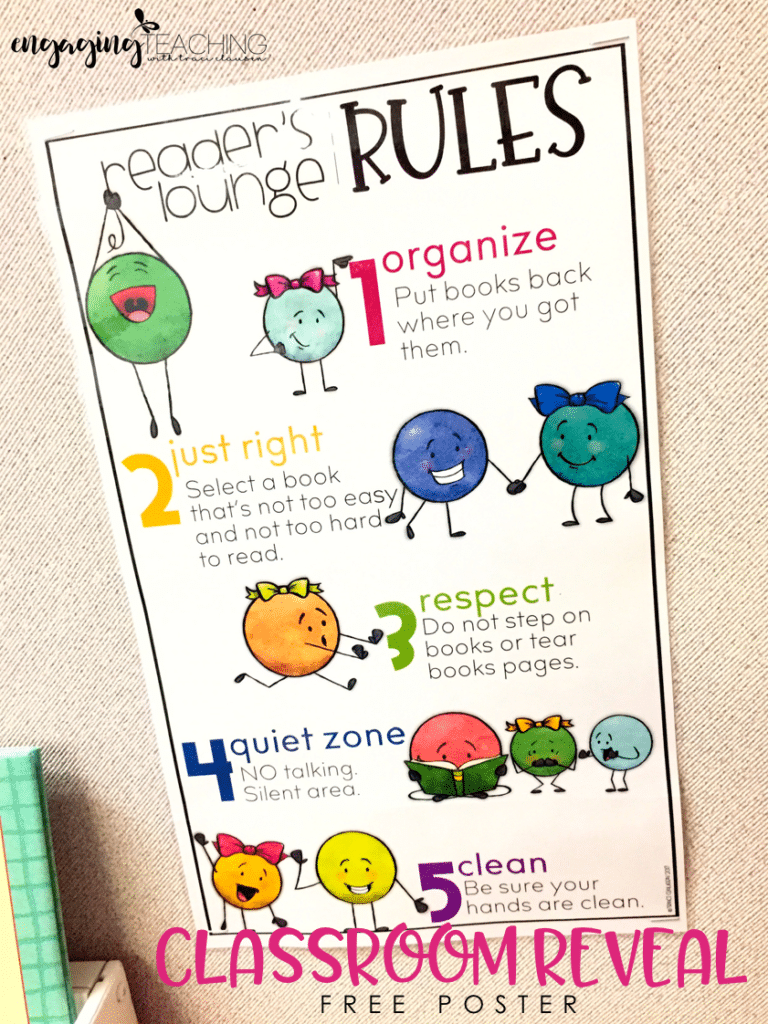 I don't let the kids go into the reading center until we've discussed and practiced these rules several times.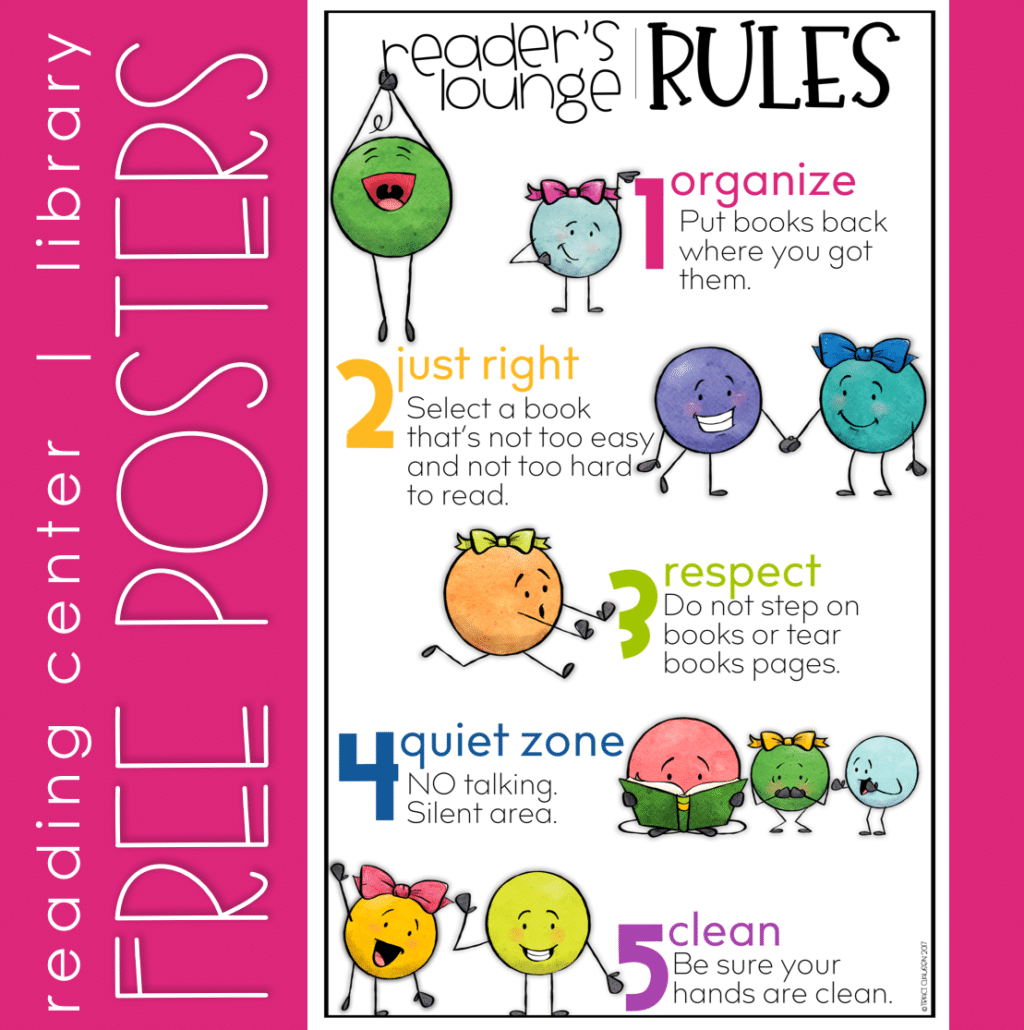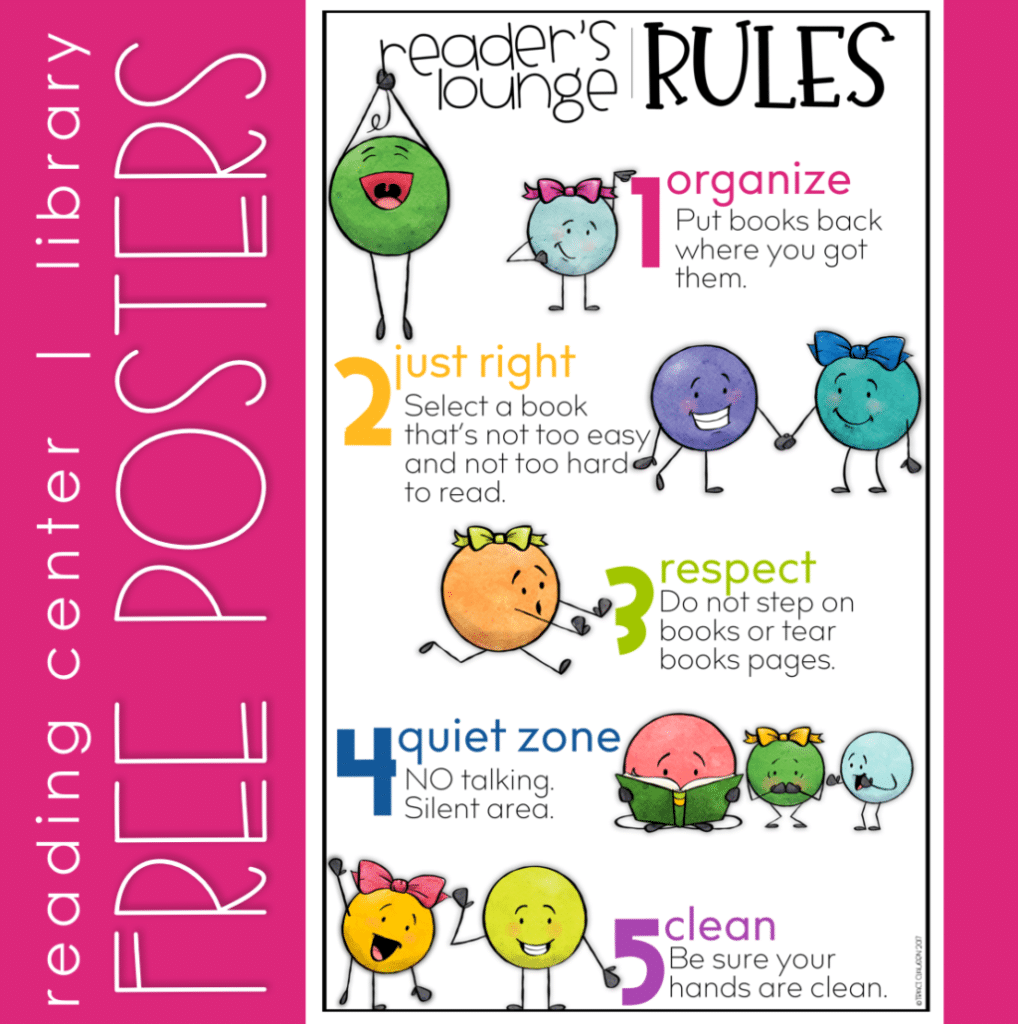 Want this one, too?! No problem. Enter your name and email and I'll send it over!
Changing Focus
The focal point of my reading center used to be a couch and a big black bookshelf. Although the bookshelf and couch served their purpose, they were both eyesores. The couch was old and had been repaired many times. The bookshelf was bulky. But I needed it to hold my leveled readers.
They also closed off the reading center/library in such a way that the it felt small and cramped.
Now this wall is the focal point of my reading center. The whole area is very open and relaxed.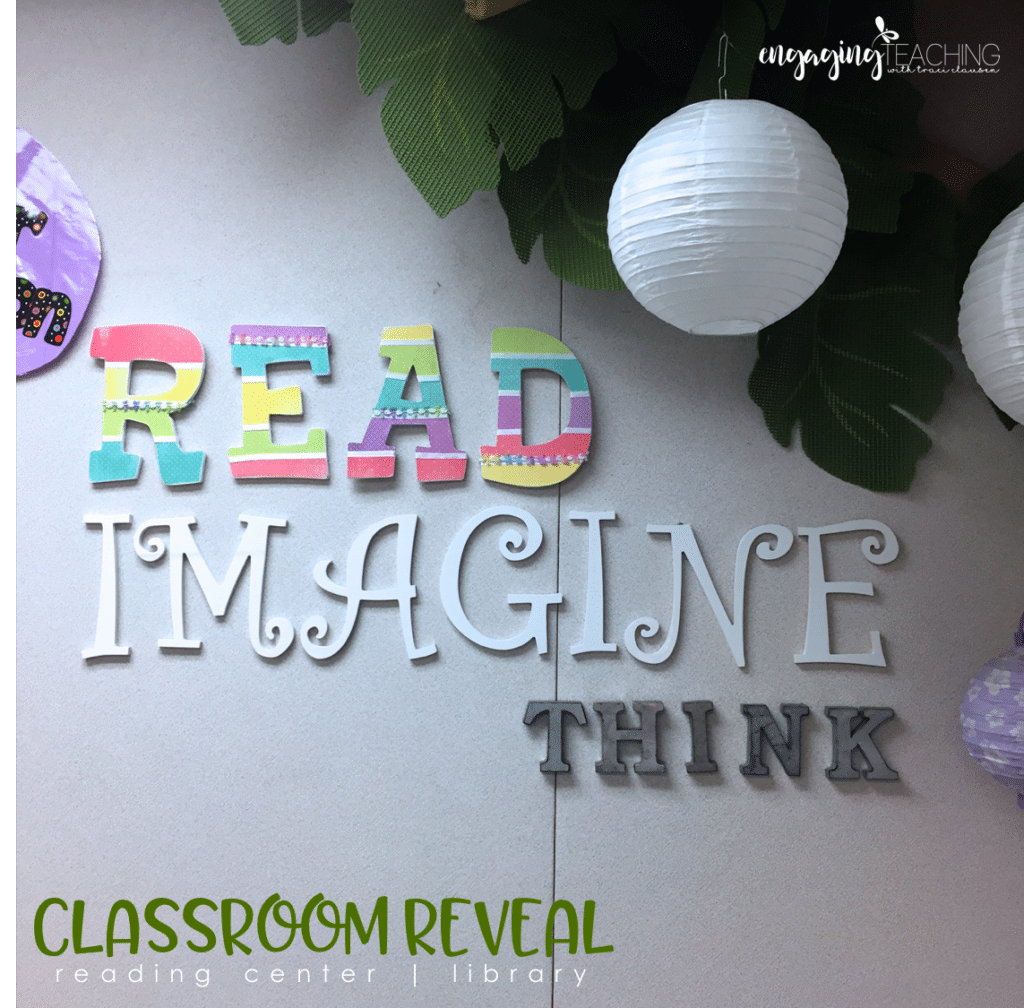 These letters are all from Hobby Lobby. There is Mod Podge and scrapbook paper on the READ letters, just some white paint on the IMAGINE letters, and the THINK letters are tin.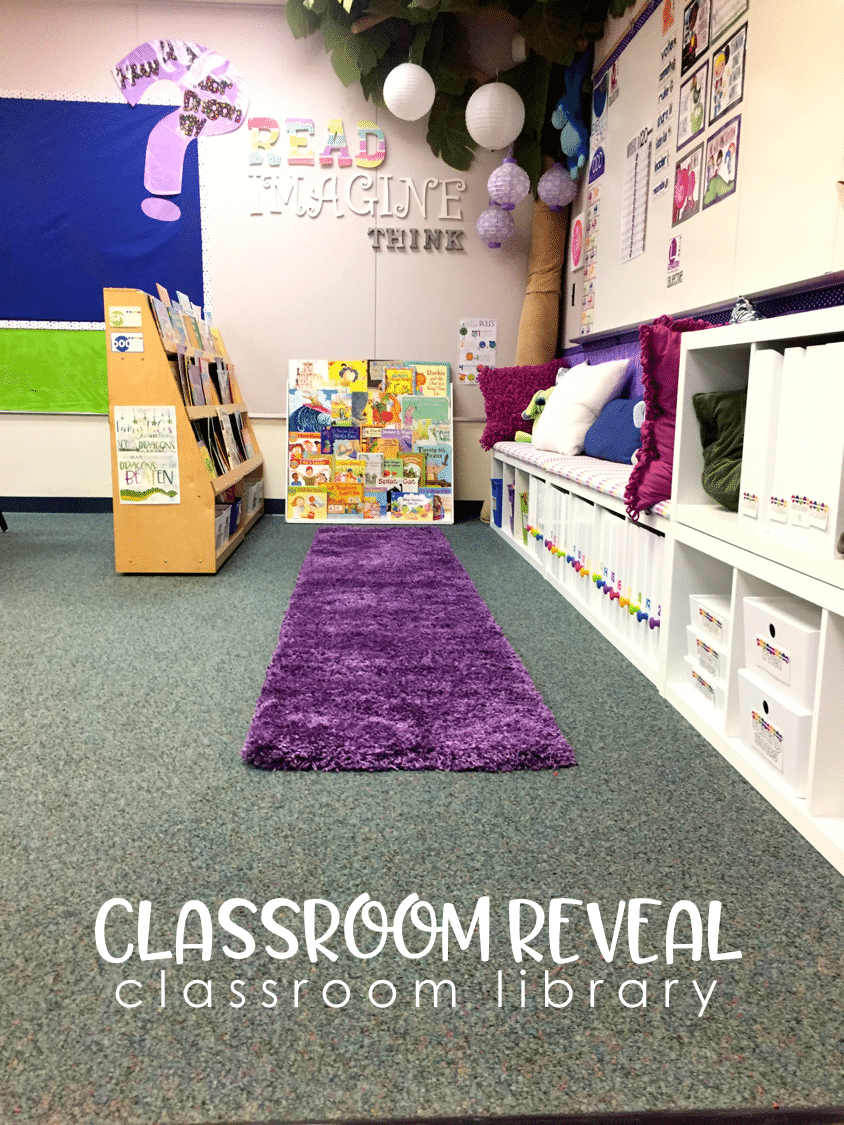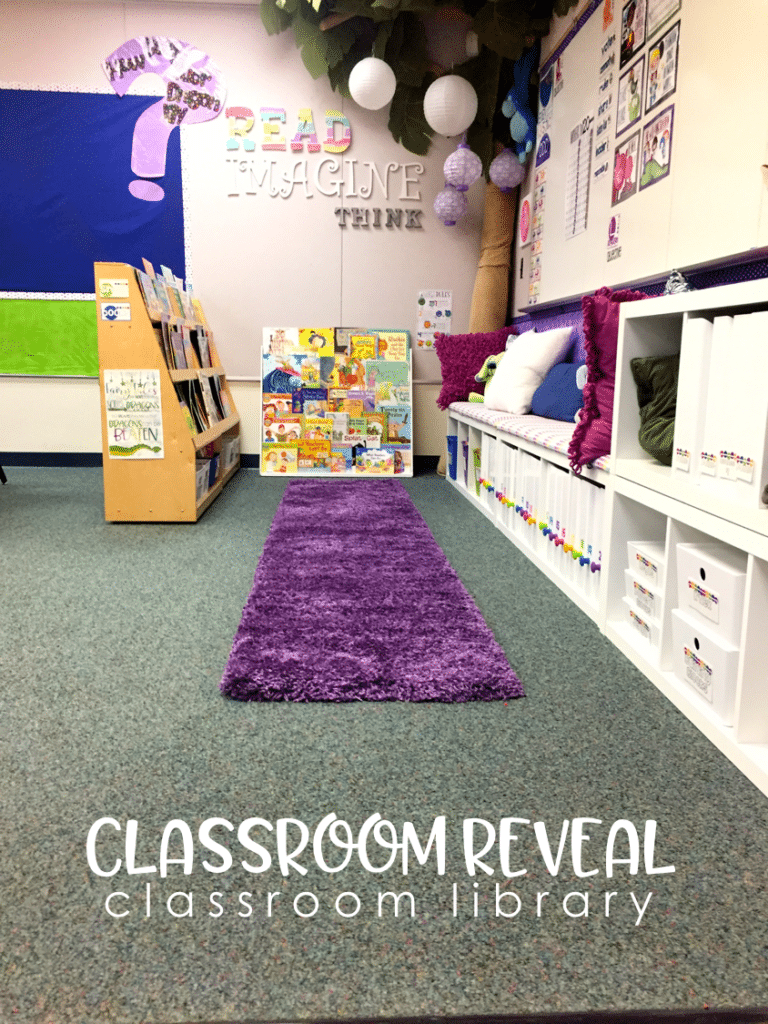 I'm obsessed with that back wall.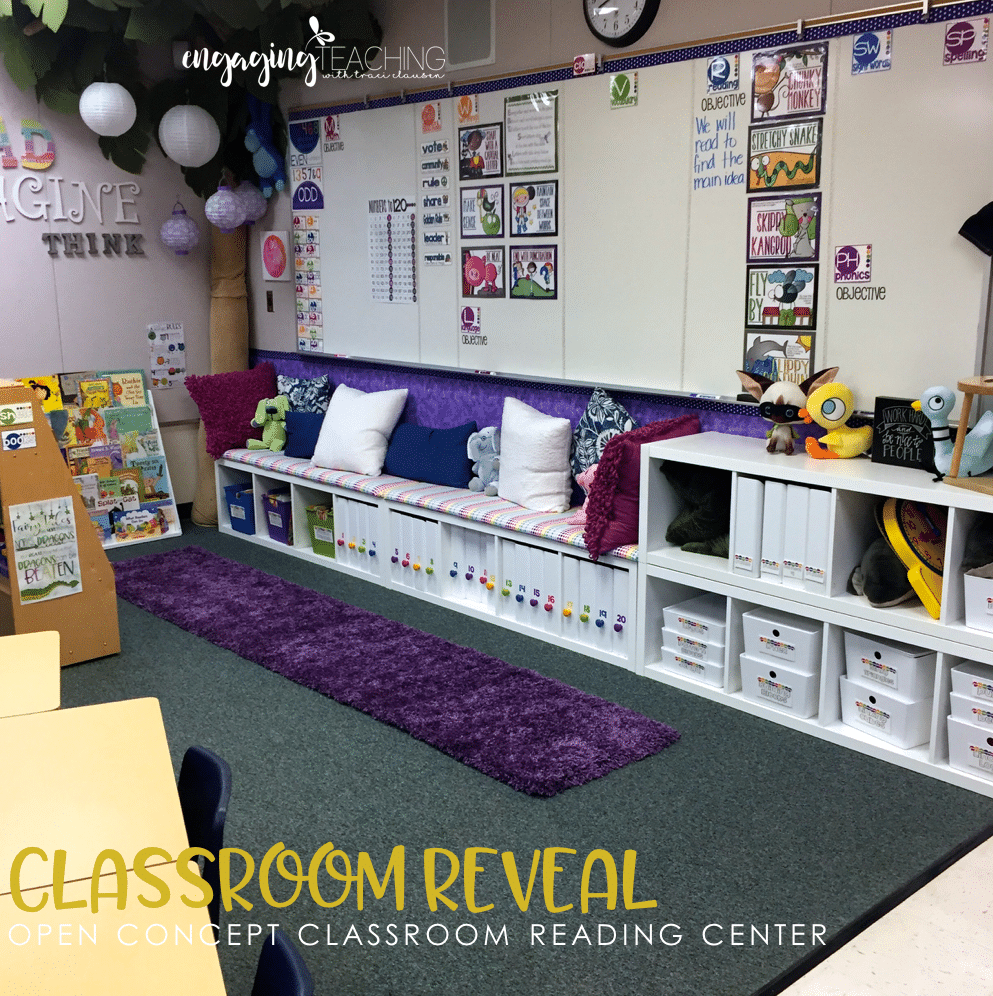 I wanted the reading center area to be as open as possible but still defined, so I got this purple runner from Overstock.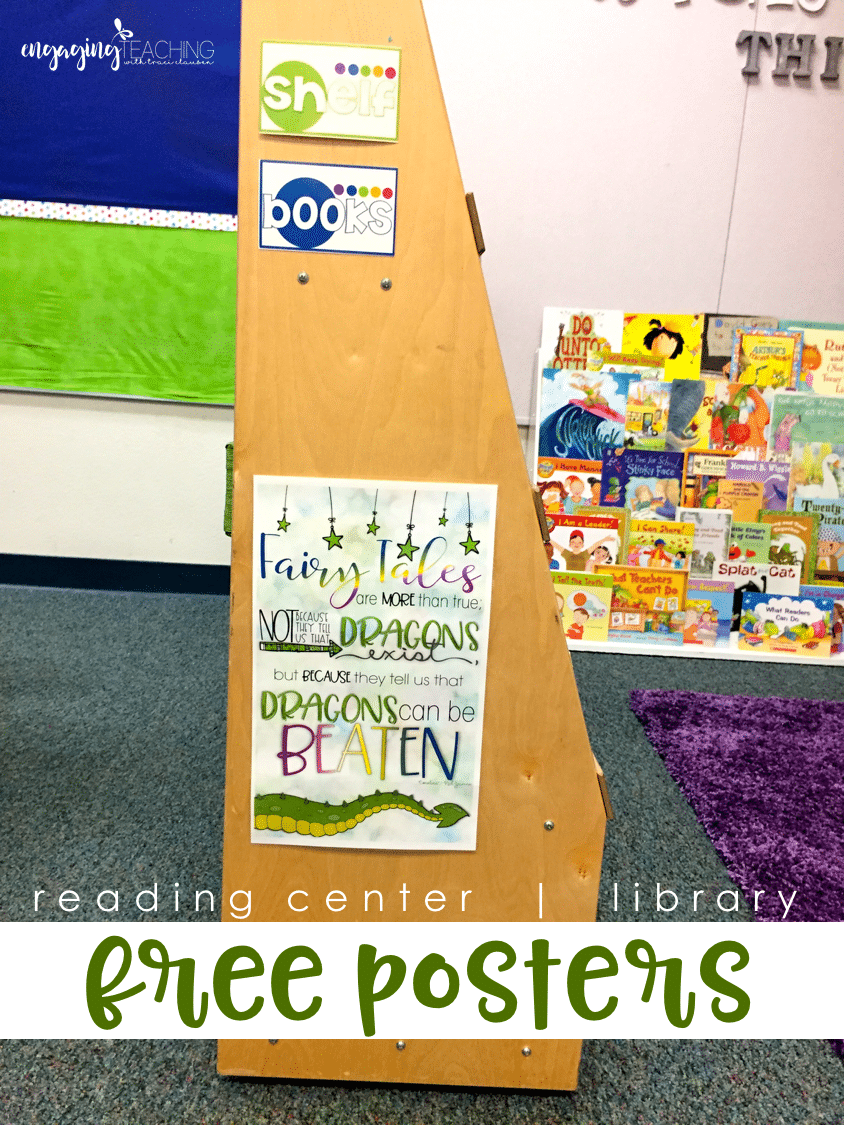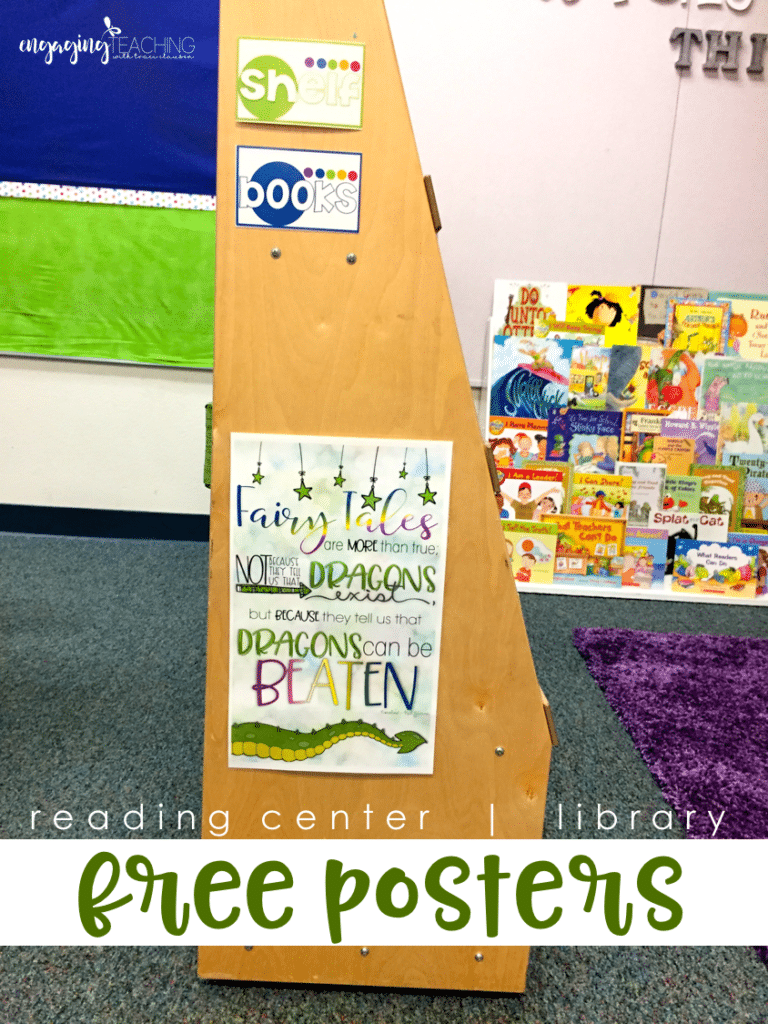 The 2-sided shelving units are perfect little barriers. They are nice and low, which suits my desire to maintain a low height to everything in the room. They are also on wheels, so I can move them easily. Their dual storage opportunities helps me store a lot of books and supplies in one easy to reach place. This is perfect since I let the kids run the room.
Don't you love this saying?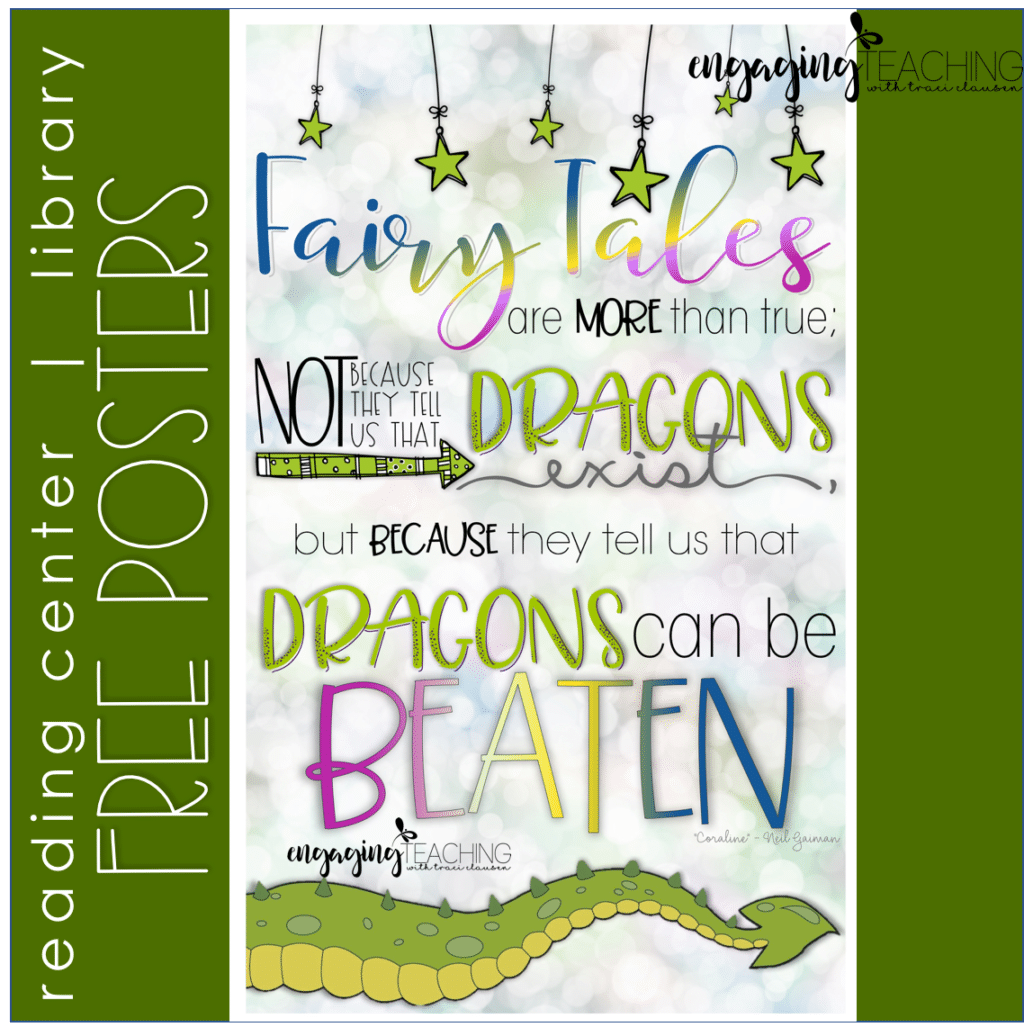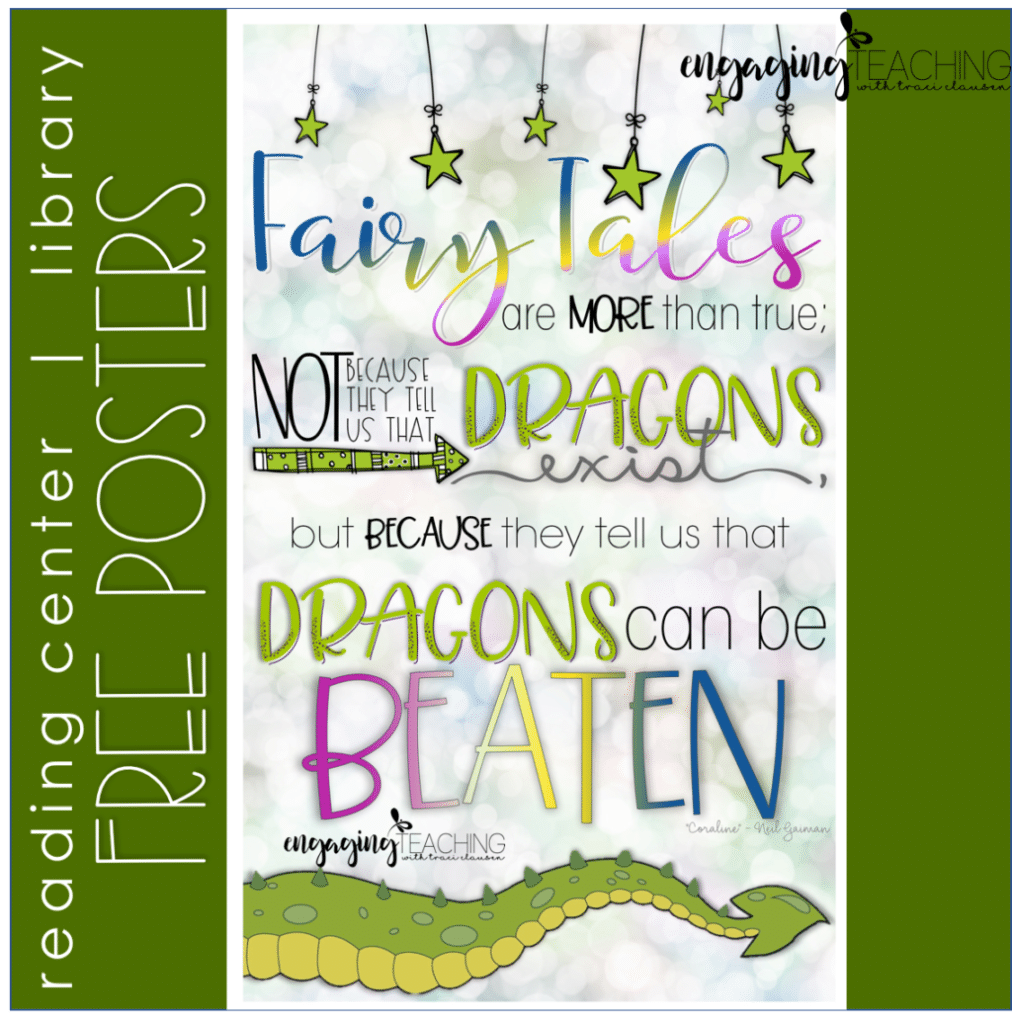 This is a quote from "Caroline" by Neil Gaimon.
ANOTHER FREEBIE!!! If you want it, let me know below!!
IKEA to the Rescue – AGAIN!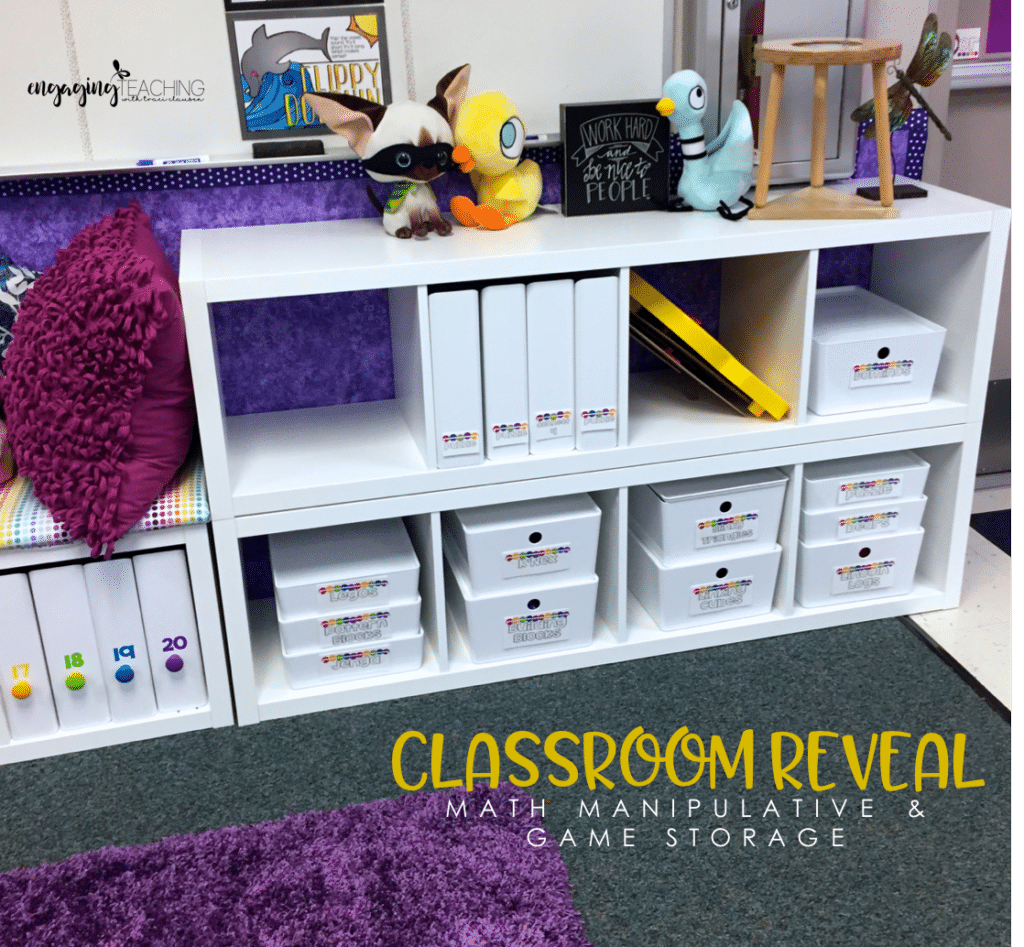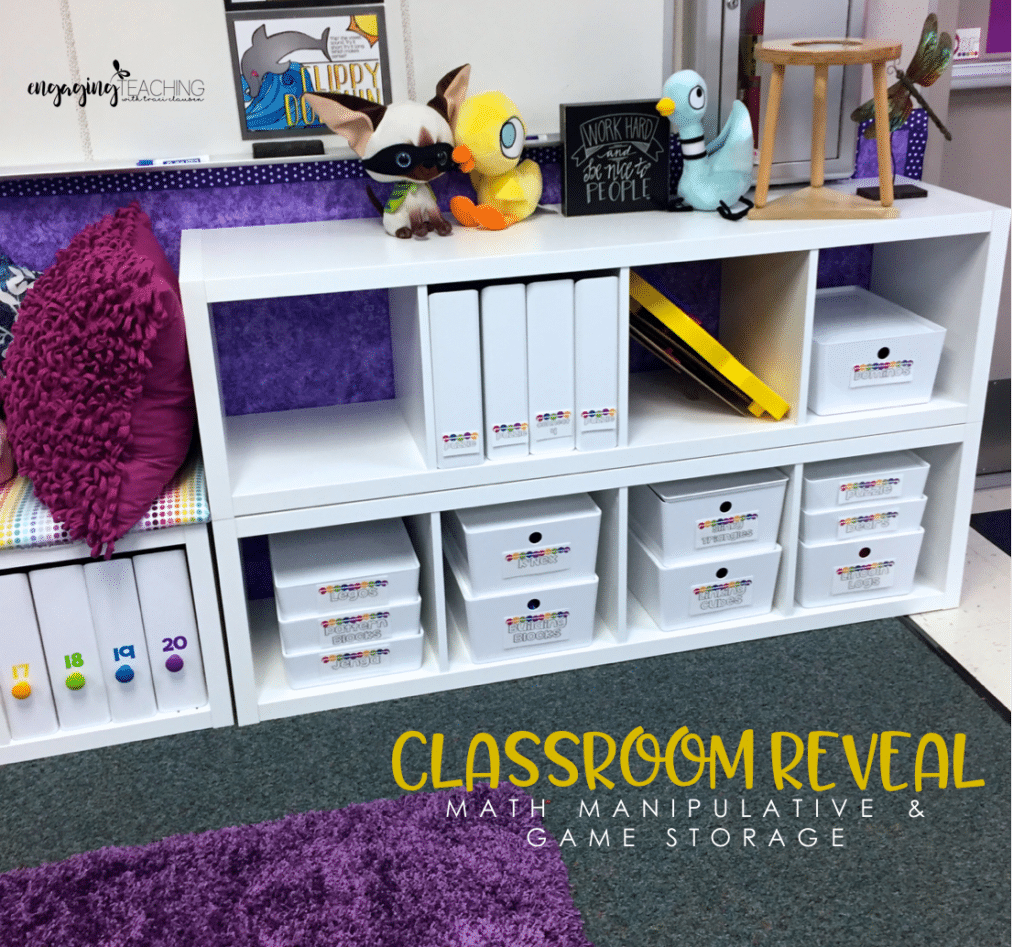 These are bookshelves from IKEA (Kallax unit found here) turned on their side. The containers are also from IKEA. I used labels from the Classroom Essentials – Vanilla Sherbet line to note what is inside each of them. The containers are very sturdy and easy to open and close. I used shallow and deeper ones to hold the various items.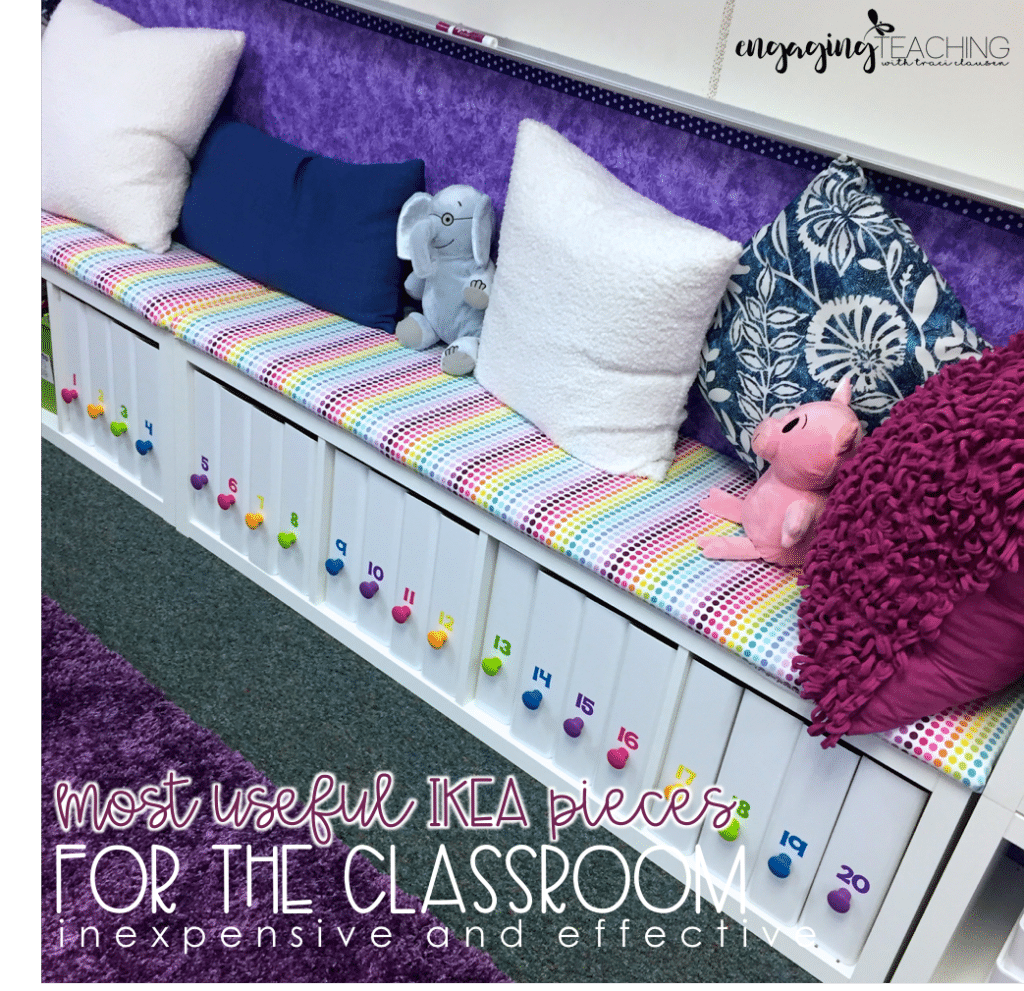 These benches are made from more of those IKEA book cases. Inside are plastic IKEA "magazine files". My husband drilled holes into each one and screwed in wooden doorknobs that I had already painted in my sherbet colors. I cut vinyl numbers using my Cricut in the same colors.
Each day the kiddos read books from their instructional reading level. This daily practice with leveled books along with our reading and phonics lessons helps them move from level to level pretty quickly. The leveled books are inside those containers. I do running records on the kids all the time, so they are constantly moving up in book box levels.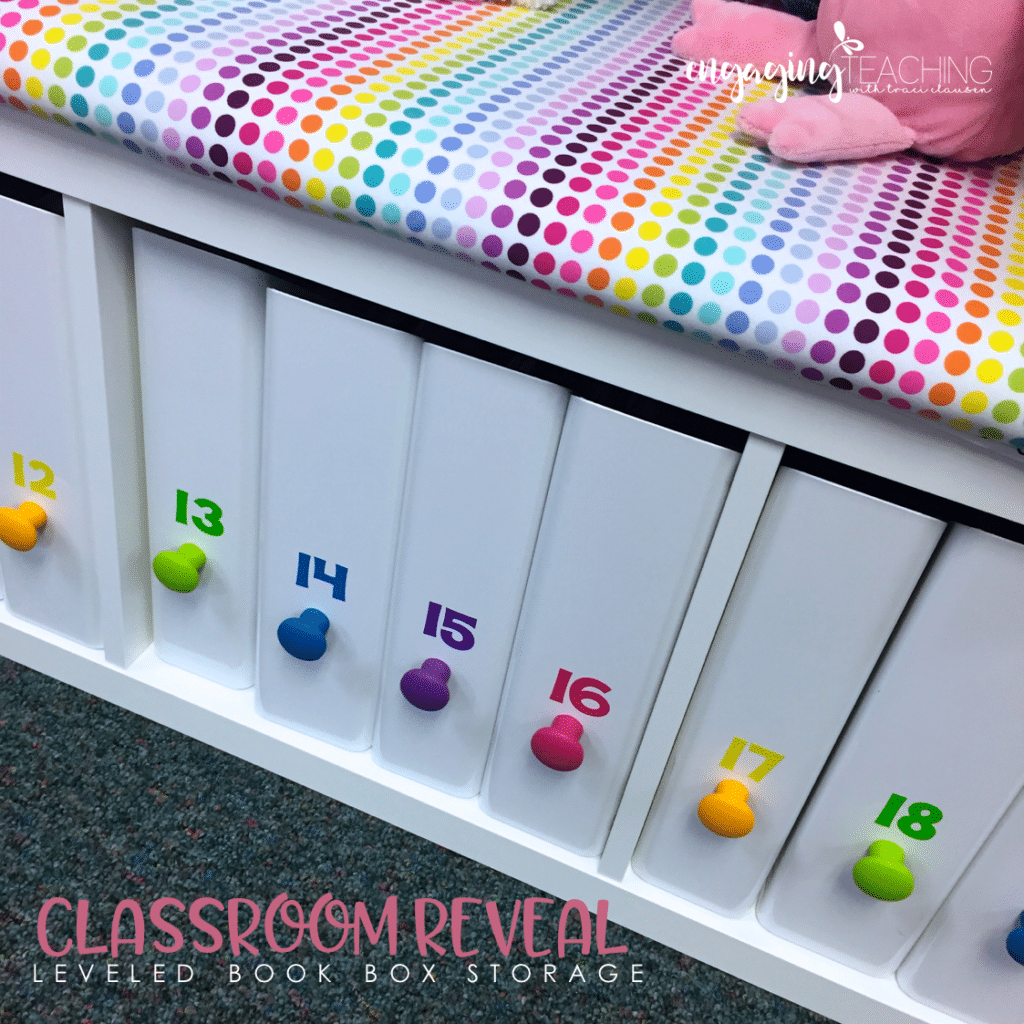 The fabric for the seat is from Joanne's Fabric. I measure the bookshelves and then asked the guy at the hardware store to cut some wood sheets to size. I covered those pieces of wood with foam and then stapled the fabric to the back of the board using a staple gun.
My Classroom Reveal
So that's it. That's my classroom reveal. I am SUPER happy here. It's so nice whenever everything has a home and is easily maintained. It makes it a lot easier to spend so many hours here!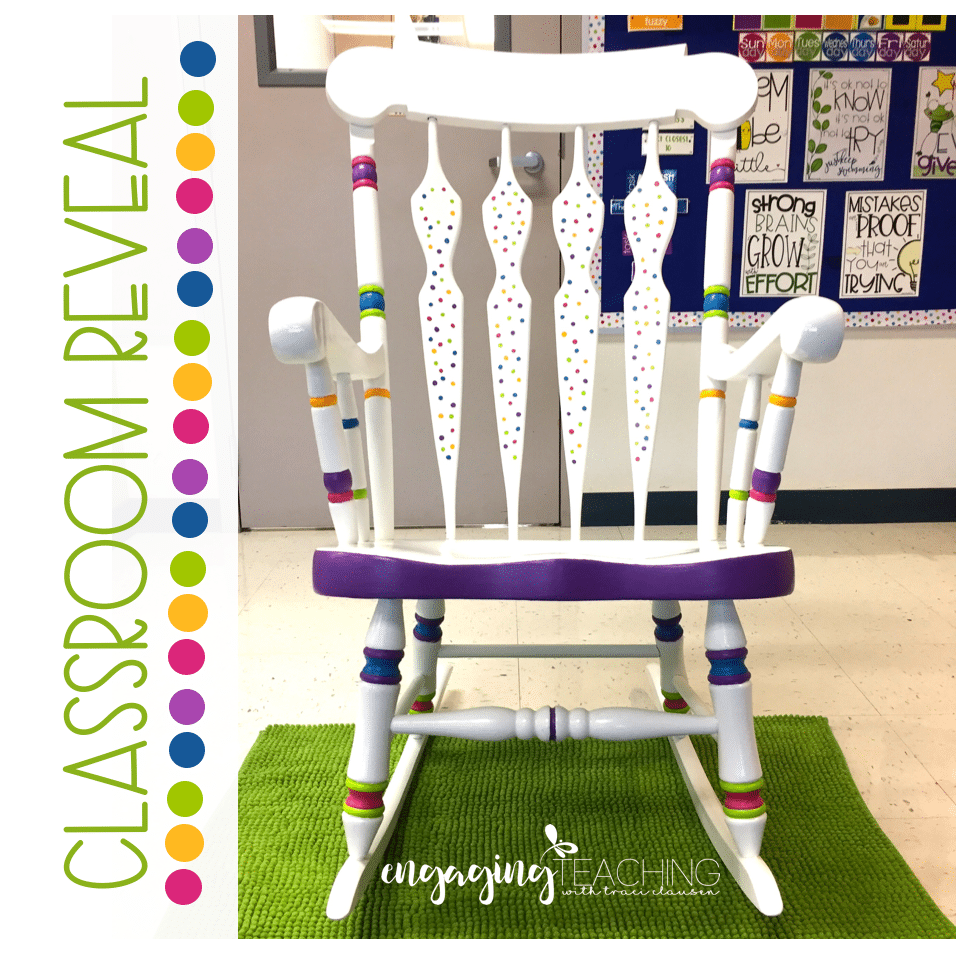 Having this beautiful chair just because it's pretty doesn't hurt either!