I love incorporating phonics and sight word practice with chunky monkey. This phonics strategy is awesome for beginning readers.
It is important, however, for beginning readers to address the strategies in realistic situations as well as in isolation.
In 7 Key Components to Effective and Engaging Instruction I stressed the importance of working on both phonics and sight words in independent and guided practice. This incorporates rigor, builds mastery, and improves fluency.
HOW TO MAKE PHONICS PRACTICE MEANINGFUL & INDEPENDENT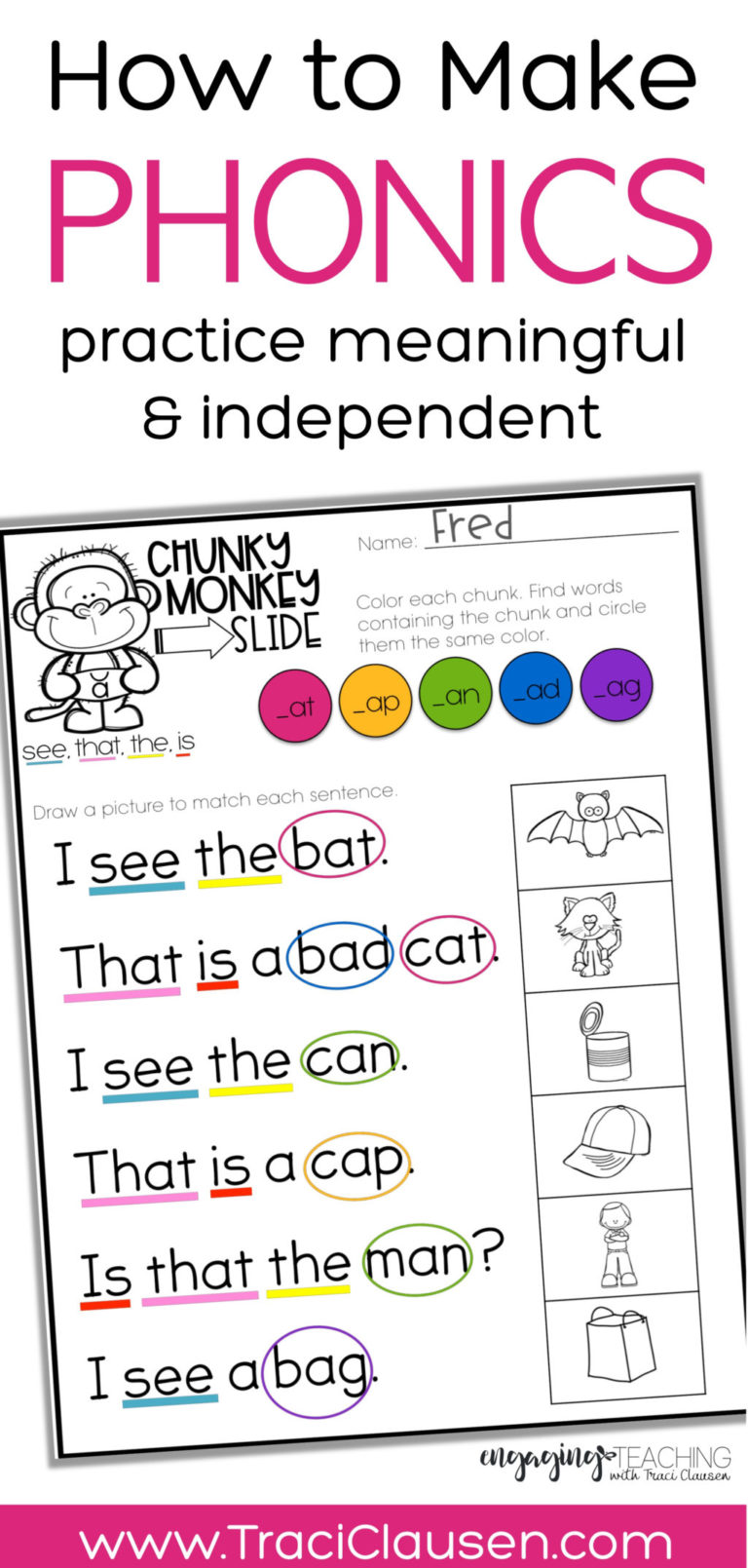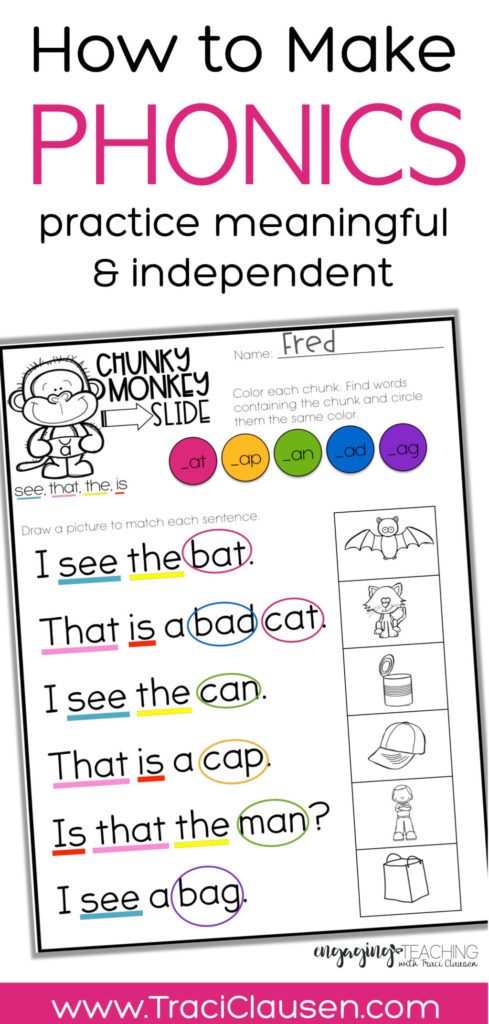 It is essential that students build confidence in working independently with phonic and sight word skills. One of the best ways to do that is by incorporating these important reading skills in as many things as possible.
I often have my students highlight or circle phonic chunks as well as the sight words we are studying for the week in worksheets and readings that we do throughout the week. Students notice the chunks of focus are not found in isolation. They are in every day text.
THIS is common core. Real life application. Understanding new learning in the context of where it is found in the real world.
THE CHUNKY MONKEY READING STRATEGY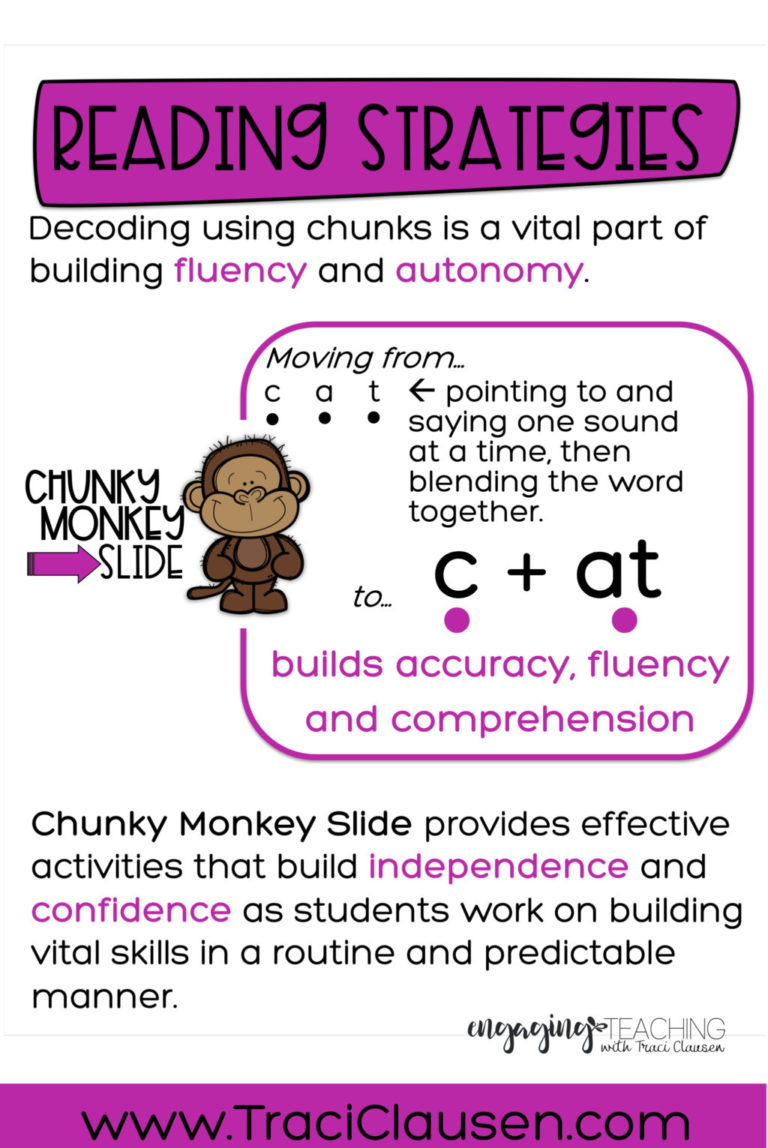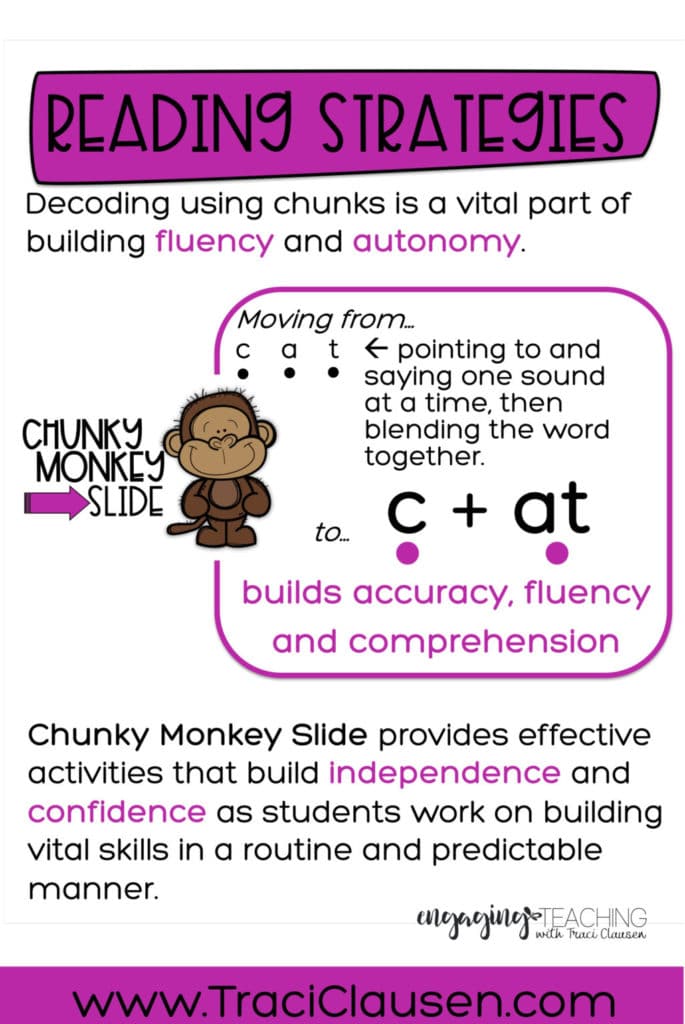 In my room we use the most important reading strategies to ensure magnificent decoding and fluency skills.
I use Chunky Monkey Slide sheets as independent practice in my first grade room. It is especially useful for my struggling students who haven't mastered chunking skills.
It is a wonderful small guided group instruction tool in mid-year Kindergarten. Chunky Monkey slide is also an excellent independent practice for older Kinders.
This type of practice can be done with ANYTHING. Simply decide what chunk you want your students to find in a text and have them highlight or circle the words containing that chunk. If you are practicing several different chunks, use different colors for each one.
Do the same for sight words. Have students search for the sight words you want to practice in any text. Have them circle the words using specific colors.
Chunky Monkey Slide makes this type of practice a little easier. The chunks are clearly defined. There are MANY opportunities to practice a large variety of chunks.
Additionally, the sight word practice remains greatly focused to ensure mastery.
CHUNKING STRATEGY IN THE REAL WORLD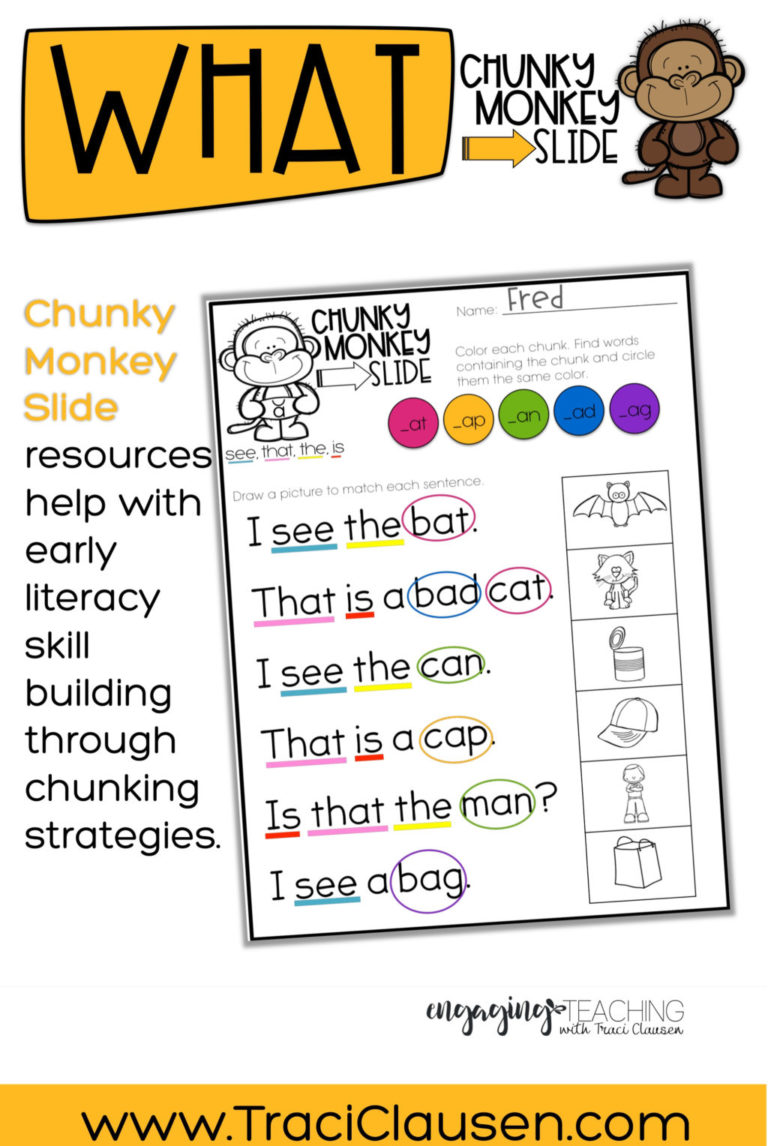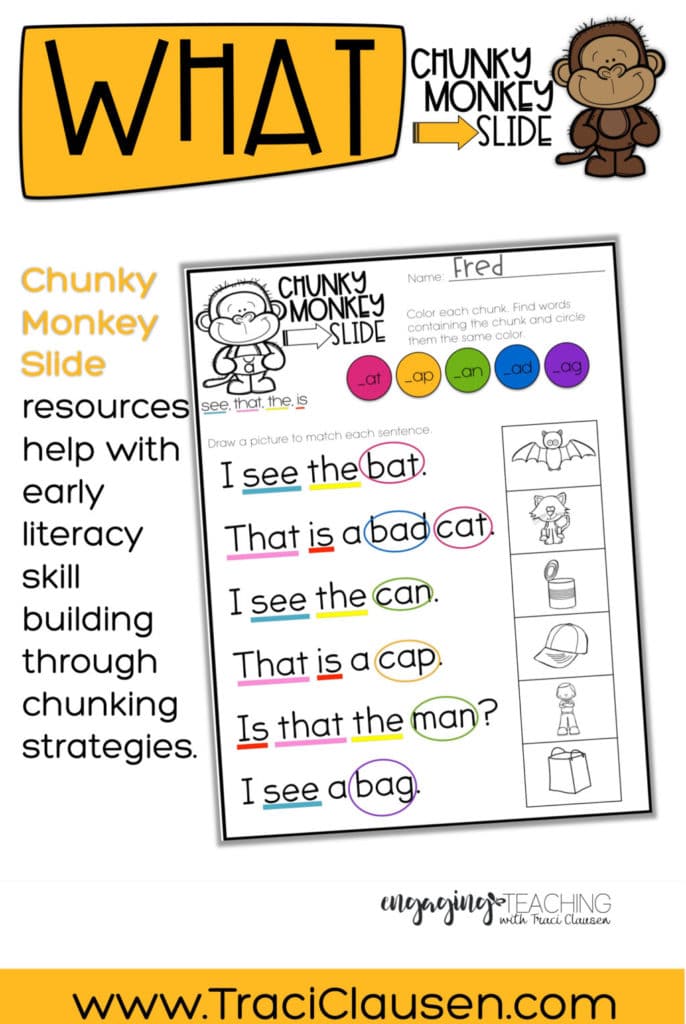 Chunking word parts based on phonics is an important and useful strategy. Although it should absolutely be introduced in isolation to make clear how it works, it is imperative that students utilize this skill in real world applications.
Reading sentences that incorporate the word chunks improves students' understanding and reading fluency. The quicker students incorporate new learning in real world applications, the more likely they are to enjoy reading and WANT to read more.
The goal is to promote the "I can do it!" enthusiasm that comes with reading independently. The simple sentences in Chunky Monkey Slide incorporate both focused chunks and sight words so that students are able to apply their new knowledge.
They can also show their reading skills by drawing a picture that exemplifies their comprehension of each sentence.
DEEPENING UNDERSTANDING THROUGH REPETITION AND FOCUS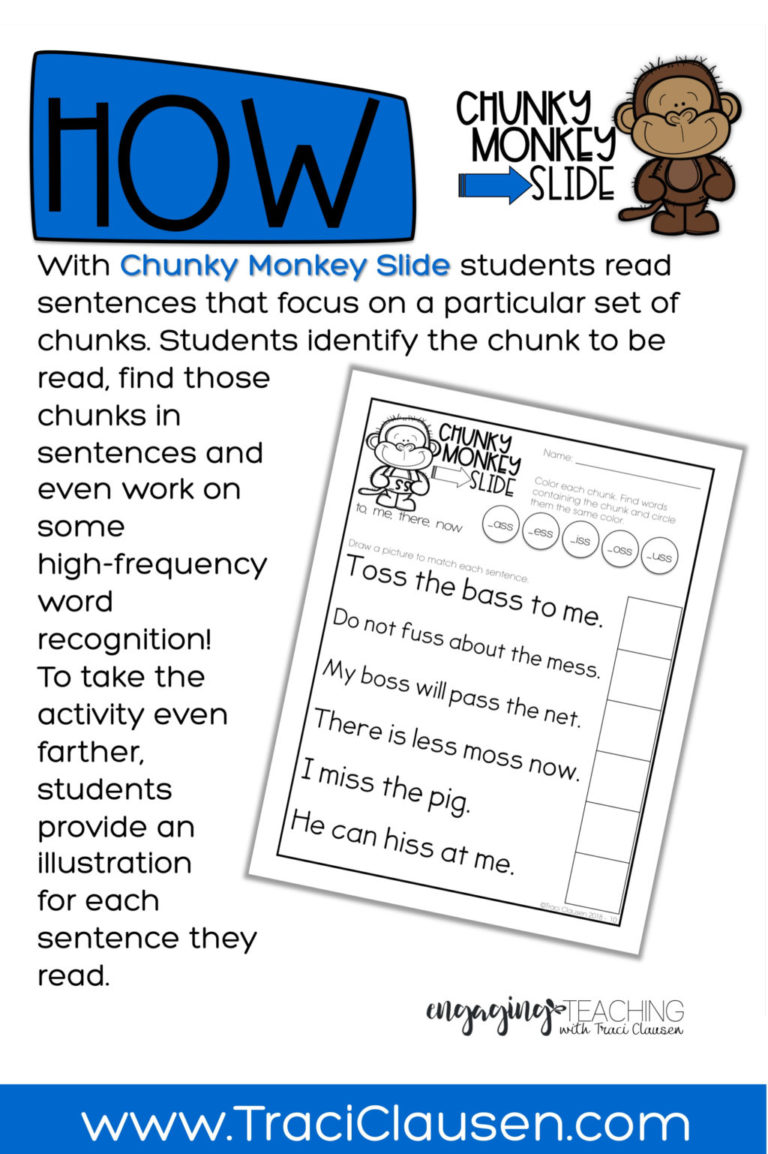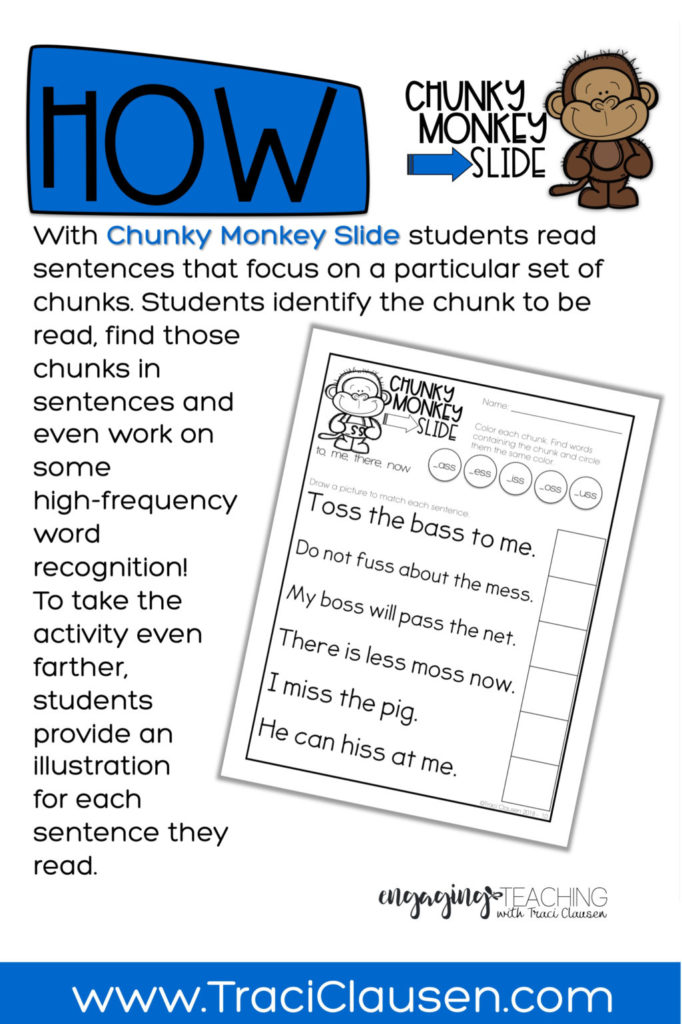 By incorporating predictable practice, students build mastery and confidence. The focus remains small and concrete. The expectation is clear and consistent.
After the initial lessons students learn the expectation and quickly begin completing these pages independently. This is a HUGE boost for student confidence.
WHEN DO YOU USE CHUNKY MONKEY SLIDE?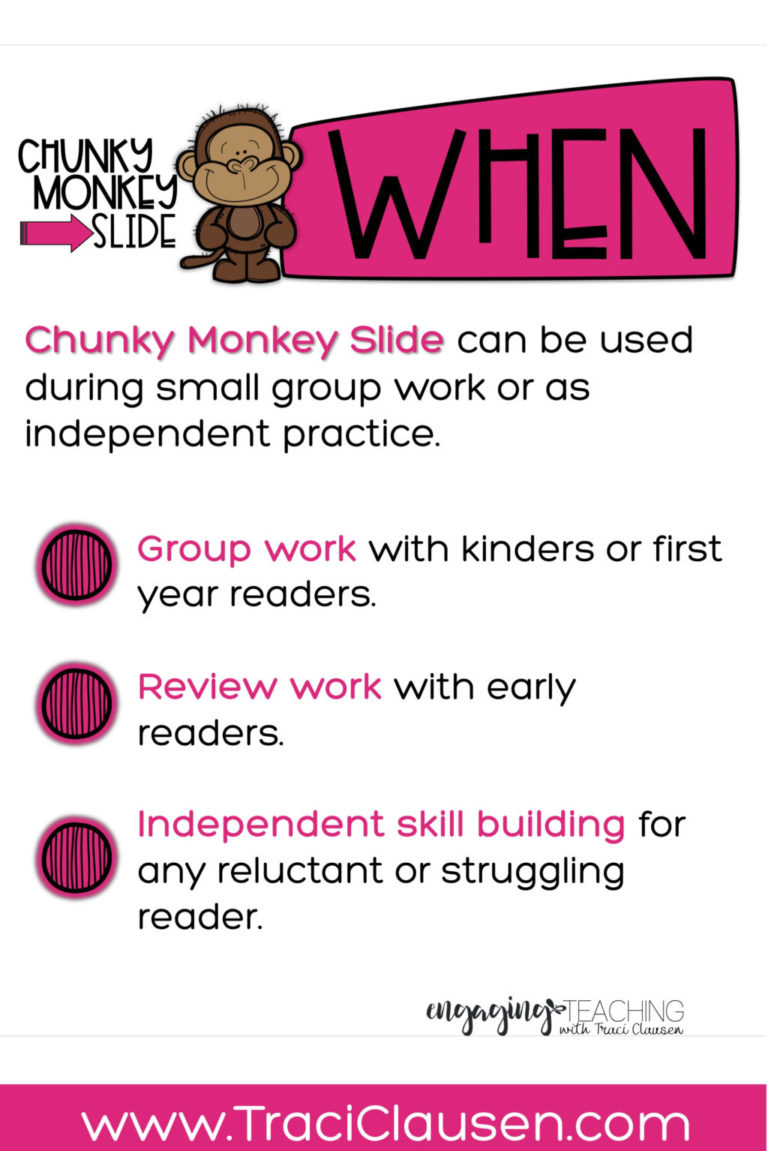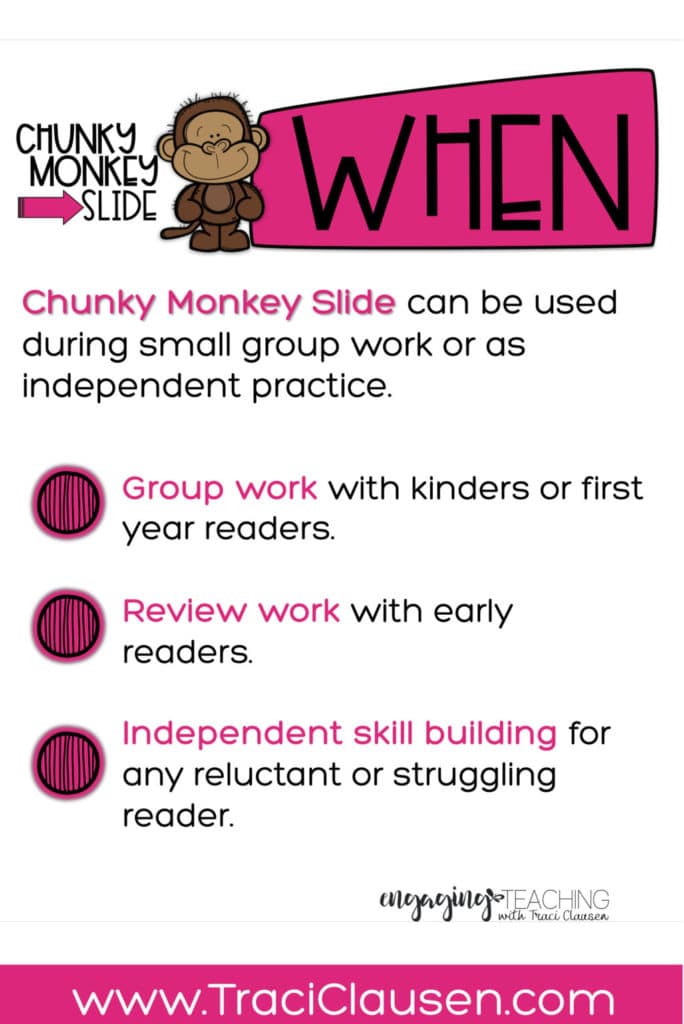 Providing phonics and sight word practice with Chunky Monkey Slide offers a few GREAT opportunities.
My struggling first graders gain confidence as they learn to read with fluency after repetitive practice with the same chunks and sight words.  After initial instruction, they quickly begin to work with Chunky Monkey Slide independently. Their confidence and excitement in reading absolutely SOARS!
Another huge plus is that my struggling students have something they can work on independently while I work with small guided groups. Sometimes it is hard to find something both engaging and meaningful for struggling students to work on independently. (This is especially challenging in classrooms without aids or paras and over 25 students! I shouldn't complain – 25 is better than the 30 a couple of years ago.). My struggling students truly look forward to doing Chunky Monkey Slide pages!
As a guided reading group activity with early readers and kinder students, these sheets promote student involvement and "buy in". They are busy trying to find the answers first rather than copying their neighbor or worrying about not understanding. It's awesome.
TEACHER SUPPORT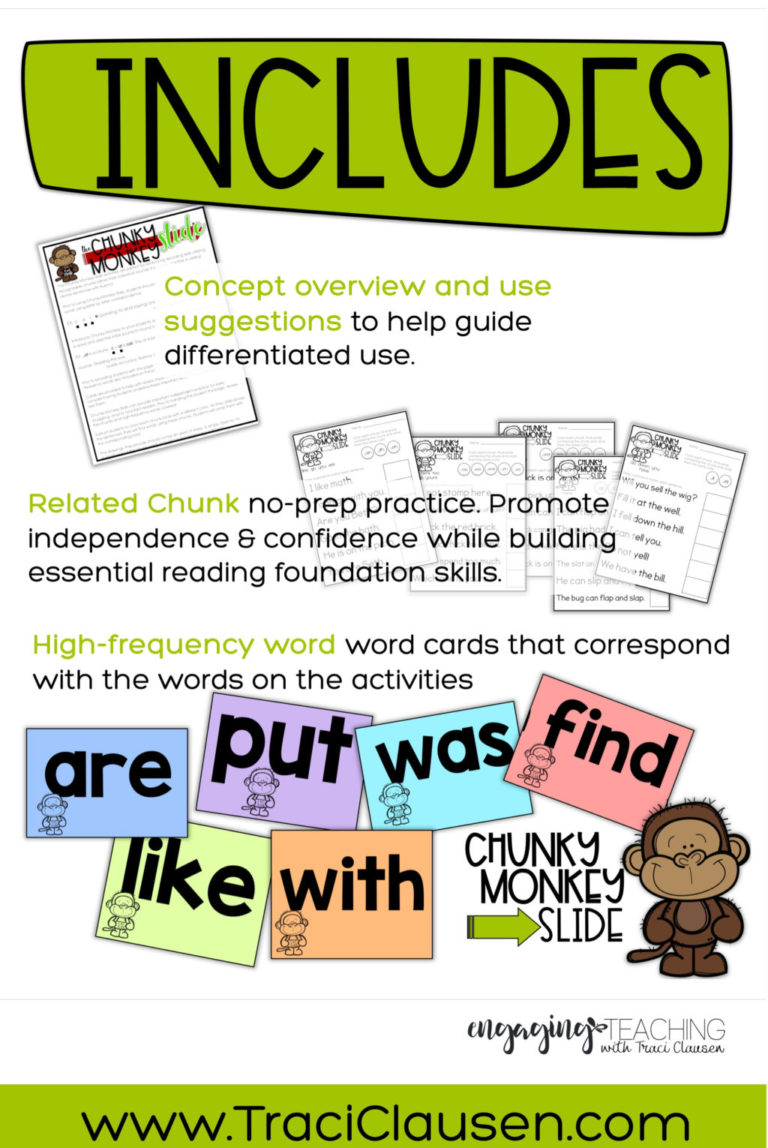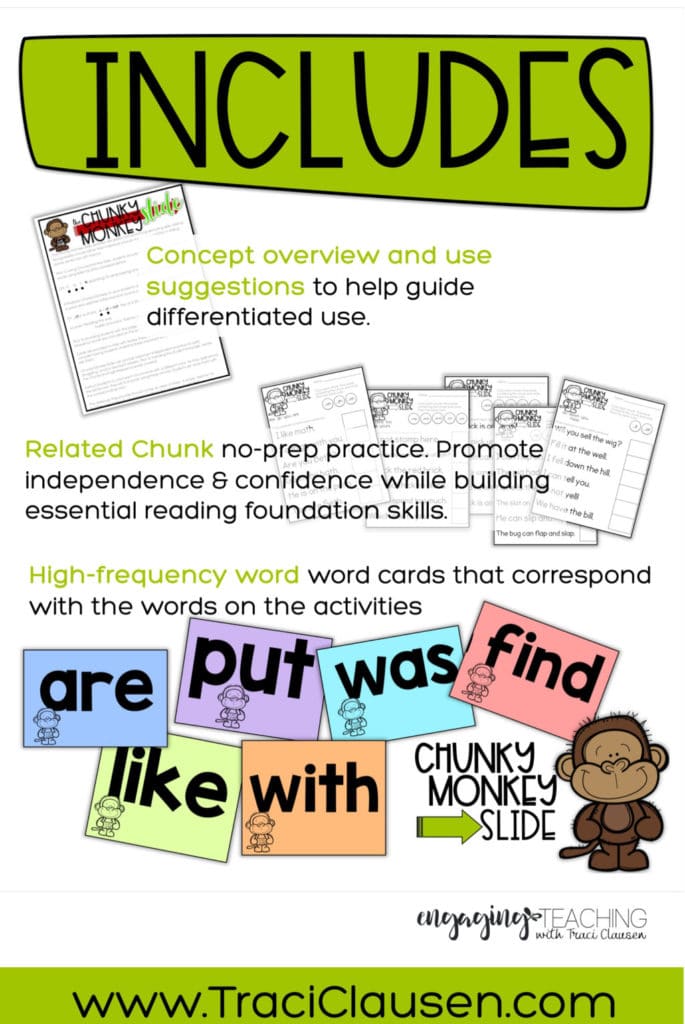 The Chunky Monkey Slide resources include everything needed to properly introduce the concepts of chunking as well as the sight words covered in each resource. It is important the early readers include this whole word practice (high-frequency word identification) as often as possible. (Check out Sight Word Hero for more high-frequency word practice!)
Chunky Monkey Slide is designed to provide opportunity for a variety of differentiated learners. It includes an overview and lesson suggestions to meet the needs of all of your students.
It also includes sight word cards for all of the words covered by the pages. These cards are fantastic resources for small group instruction, focus wall display, and whole group reminders.
The entire resource is ink friendly. The sight word cards are black and white. Print them on colored paper to add interest, divide into groupings and provide as other word work resources. Place a practice sheet in wipe off sleeves (Amazon affiliate link below) for ease of use as a word work center activity. Just provide colored wipe off markers.

 BUILD PHONICS DECODING SKILLS WHILE BUILDING FLUENCY


Using Chunky Monkey Slide to practice decoding also builds fluency as students work in a manner that grows in-depth. The CVC unit incorporates simple chunks and beginning sight words. These are the first 28 most commonly used high-frequency words.
The CVCC, CCVC & CCVCC unit takes fluency building a step farther by incorporating blends with the chunks. With 45 sight words, students include another large amount of high-frequency words in their reading skill mastery practice.
The CVe unit introduces long vowels spelled with a silent e and another 40 high-frequency words.


Please stop by my store to check out the Chunky Monkey Slide series. Help your kiddos build confidence and ability with both rigor and engagement!