I have some super simple suggestions on how to teach narrative writing to primary students. But first, here's a little background…
Hi. My name is Traci. I hate Writer's Workshop.
As in loathe it…greatly…with passion. I know. I'm sorry. But it's true.
Don't read that as I hate teaching writing. No, no. I LOVE, LOVE, LOVE teaching writing.
But that hasn't always been the case.
Trying to Make it Work
I spent my first few teaching years trying to do Writer's Workshop. It frustrated me to no end! I couldn't figure out how to manage it well with ALL of my kiddos. Those "blocks" had me pulling my hair out. I had a hard time finding the consistency, clarity and simplicity that I needed.
I came to the conclusion that I just simply couldn't do it as successfully as I'd like with 6-year olds. They were not all churning out work that was truly filled with quality. They weren't all "getting it". AND, it took for.ev.er! It wasn't working for me, so in turn, it wasn't working for my kiddos.
I sucked at it. Avoiding my writing block quickly became a daily routine, just so I could steer clear of Writer's Workshop. I started collecting books on teaching writing in a desperate search for something to help me with Writer's Workshop and that dreaded writing block in the middle of my day.
None of the books I found provided me with exactly what I needed. I walked away from the ties of Writer's Workshop and embarked on teaching what I know works and I enjoy teaching.
The truth is, I FIRMLY believe kids need to write everyday. In addition to writing in our journals, responding to prompts, working on sentence structure and components, we work on being authors; creating paragraphs, expressing knowledge or creative thoughts in a structured, thorough manner – constantly.
Breaking it Down to Build Understanding
I teach my kids that GOOD writing starts with a plan.
Plain and simple – you have to plan things and be consistent. Once I brought my writing instruction down to those 2 simple components, it became clear, easy and effective.
Recently we completed another narrative writing project to fill this bulletin board.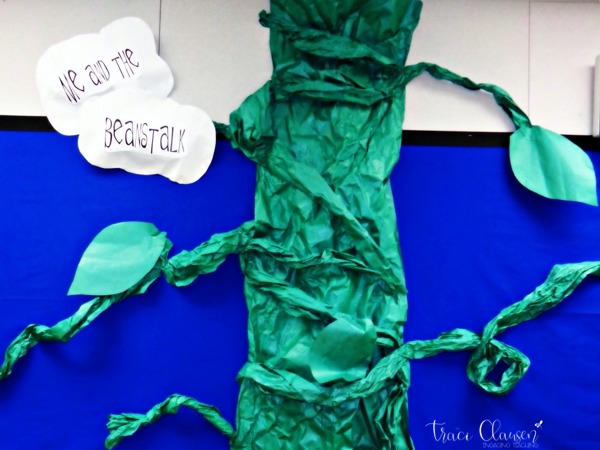 Here's a brief synopsis of my week's writing block.
Day 1 – We start with picture books, visuals, discussions – build some background.
For this project we talked about the traditional Jack and the Beanstalk story and read a couple different interpretations of the story. We also watched a video starring Mickey, Donald and Goofy called Mickey and the Beanstalk. Cute.
It Starts with a Plan
Day 2 – For narrative/creative writing stories, we complete a picture plan. An outline of the story the kids are going to create. The first few times we did this, we did it together as a class. Everyone's story was pretty much the same. Now, they don't look to me for ideas. Their creative juices are starting to flow and there is a lot of variety and entertainment pouring out of their little minds.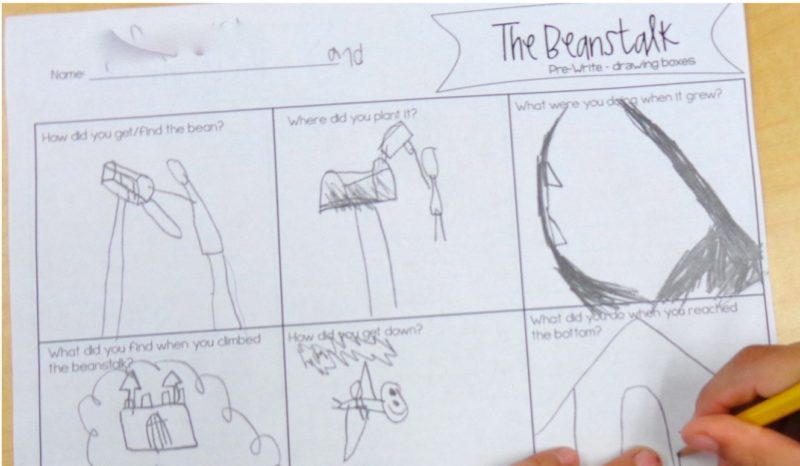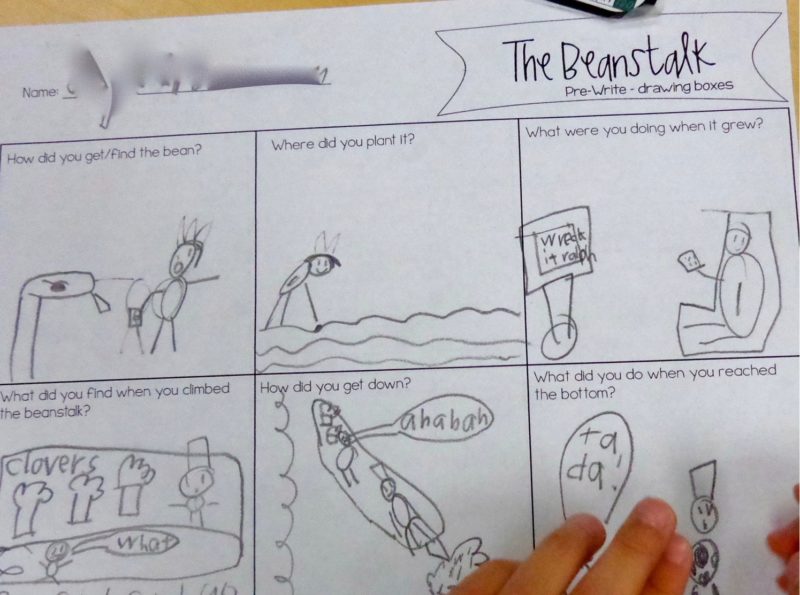 The drawing plan I provide my firsties has a guide for each aspect of their story typed into each box. As kiddos get older and more familiar with the planning technique, they will no longer need these prompts.
Day 3 – Turn your visuals into complete sentences. Check over your sentences for correct capitals and punctuation. Can your partner read it? Do you have all of your sounds in your words? VERY LITTLE, if ANY conferencing happens. It is extremely easy to walk around and check their pre-writes. The most I have to say is usually "Do you have all of your sounds in that word?" or "Don't forget your period." The routine is constant, familiar and most importantly SIMPLE. They get it and do it very well.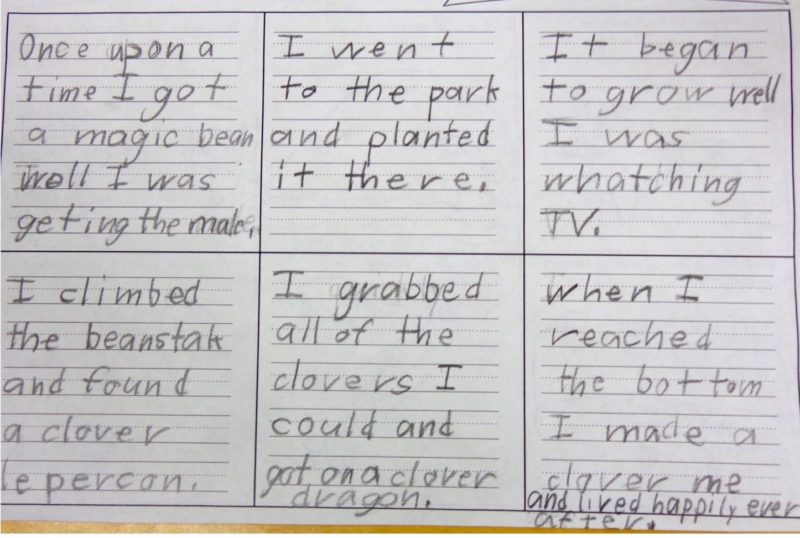 "Publishing" is a Breeze
Day 4 – Convert those sentences to a final draft paragraph.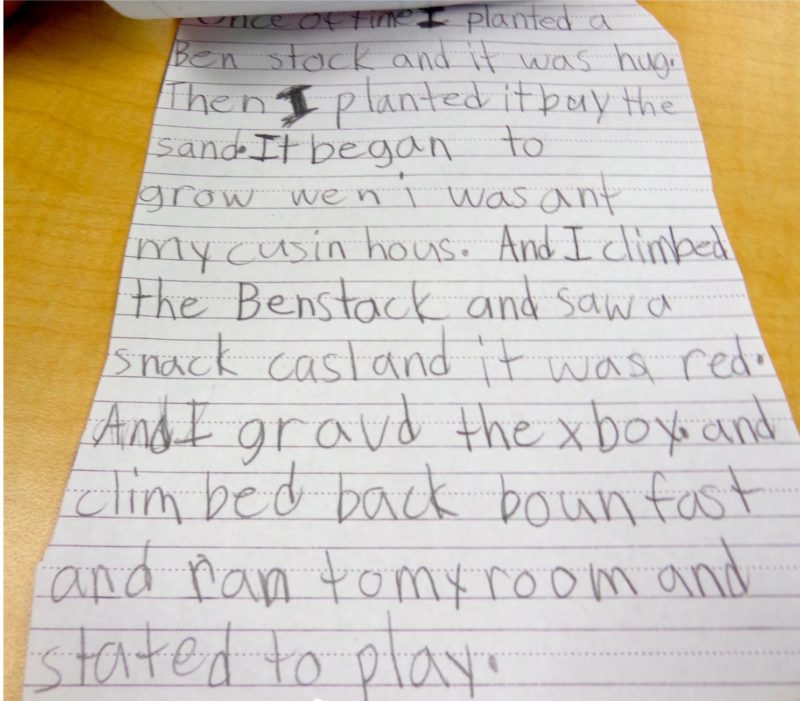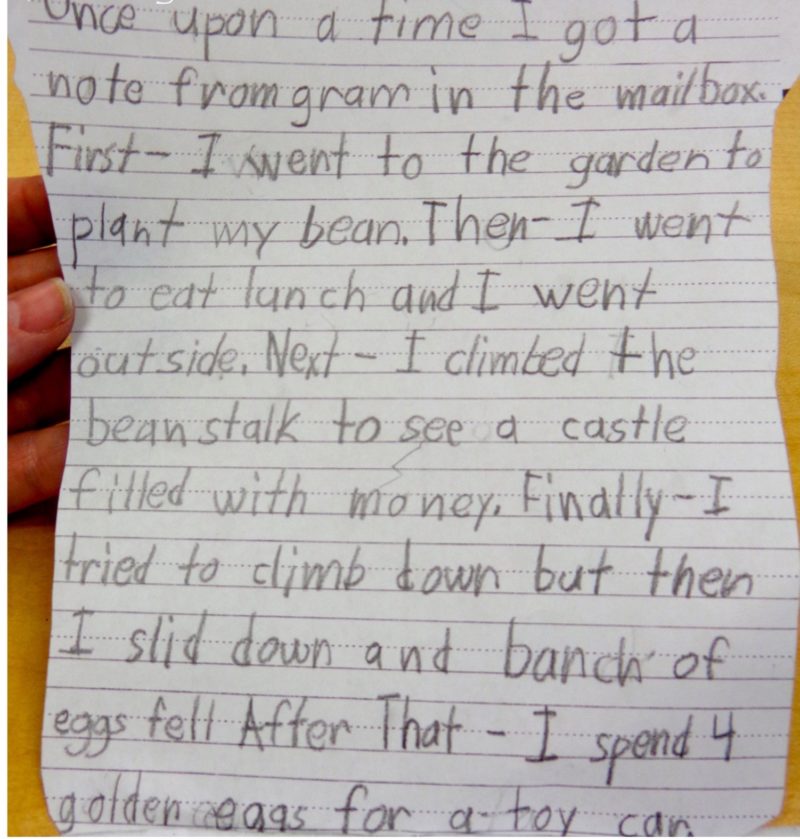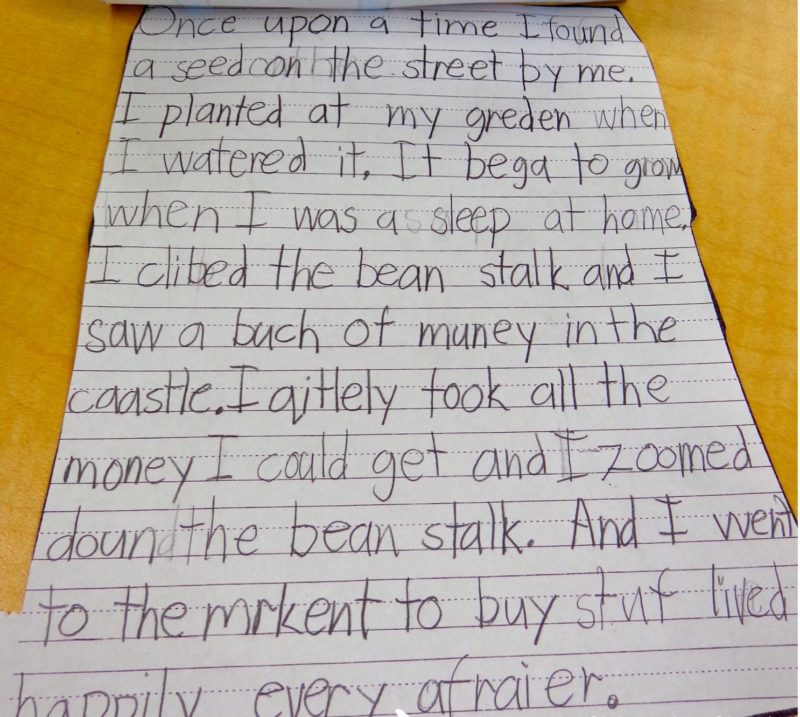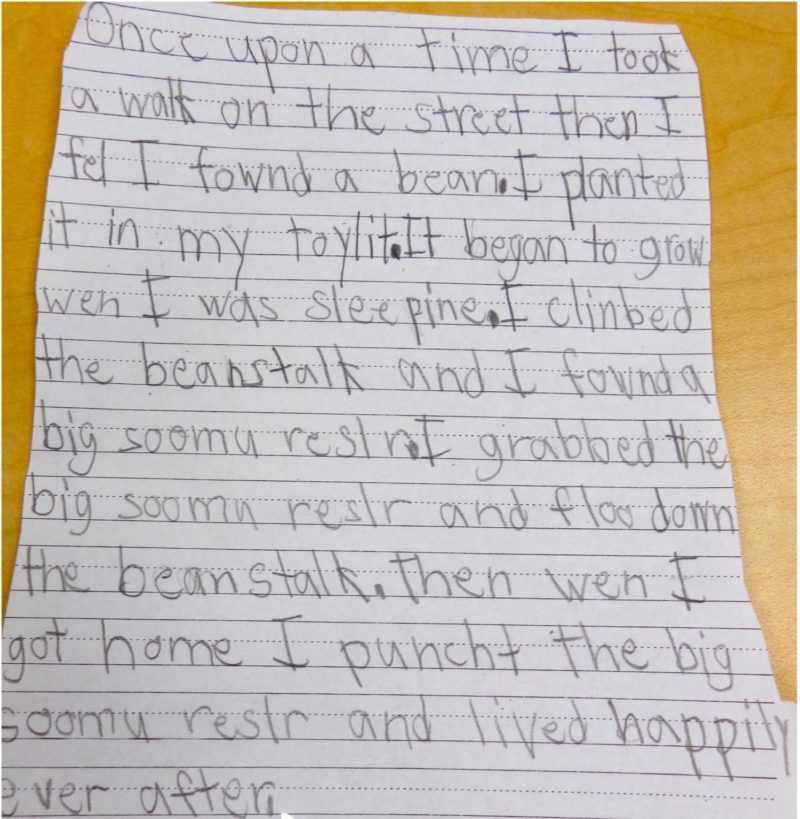 Keep in mind, we WANT kids to WANT to write. Perfect spelling is not our goal. Although students should be encouraged to use the phonic tools we've learned, I do not put major focus on precise spelling. As soon as we make the writing assignment about spelling perfection – we've removed the fun of writing. That precision WILL come. But for now, we are introducing these little ones to WRITING. We want them to look forward to it.
A Fun Reward
Day 5 – Make the adorable craft that goes with it…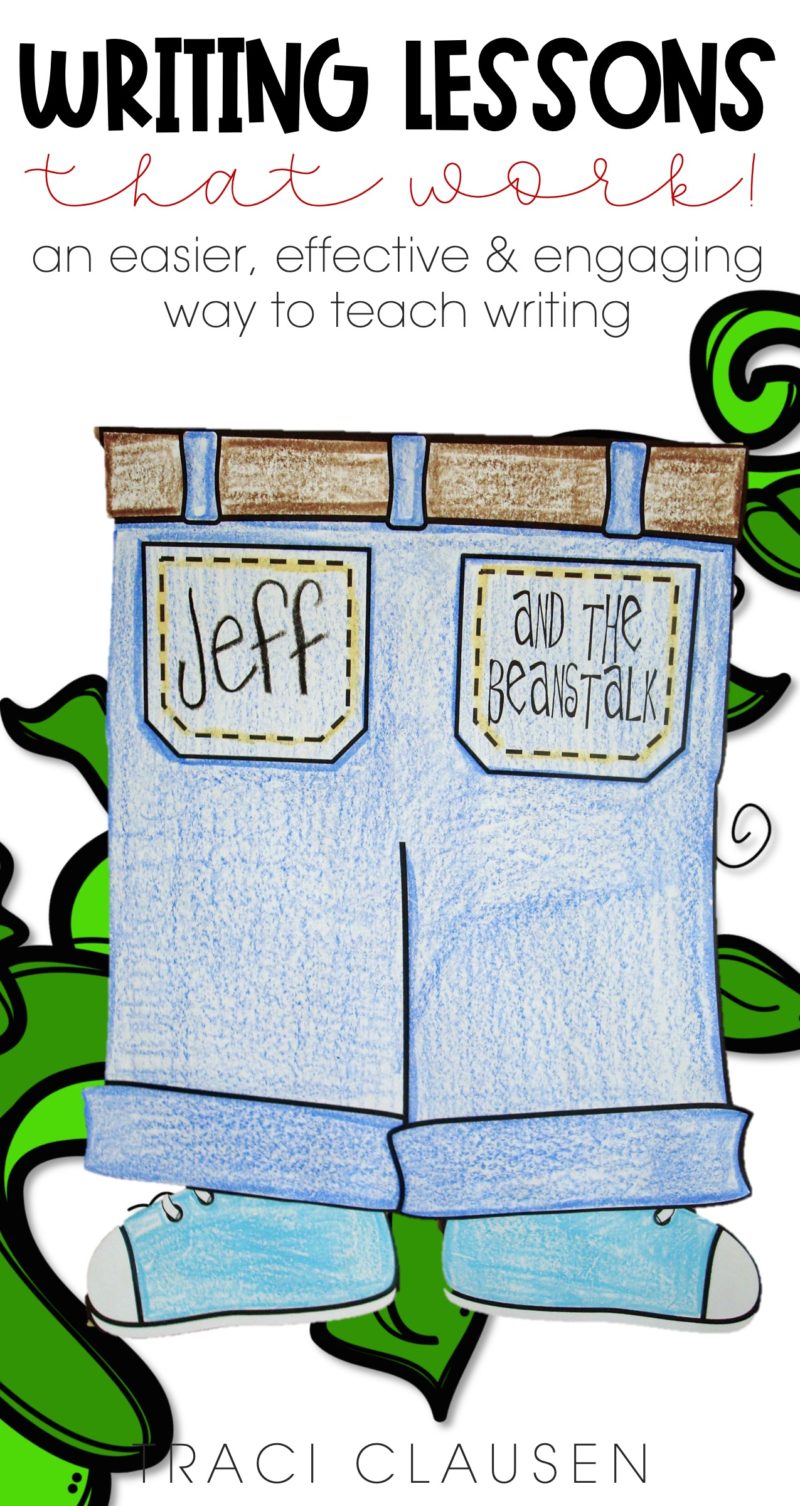 That your teacher hangs on the wall…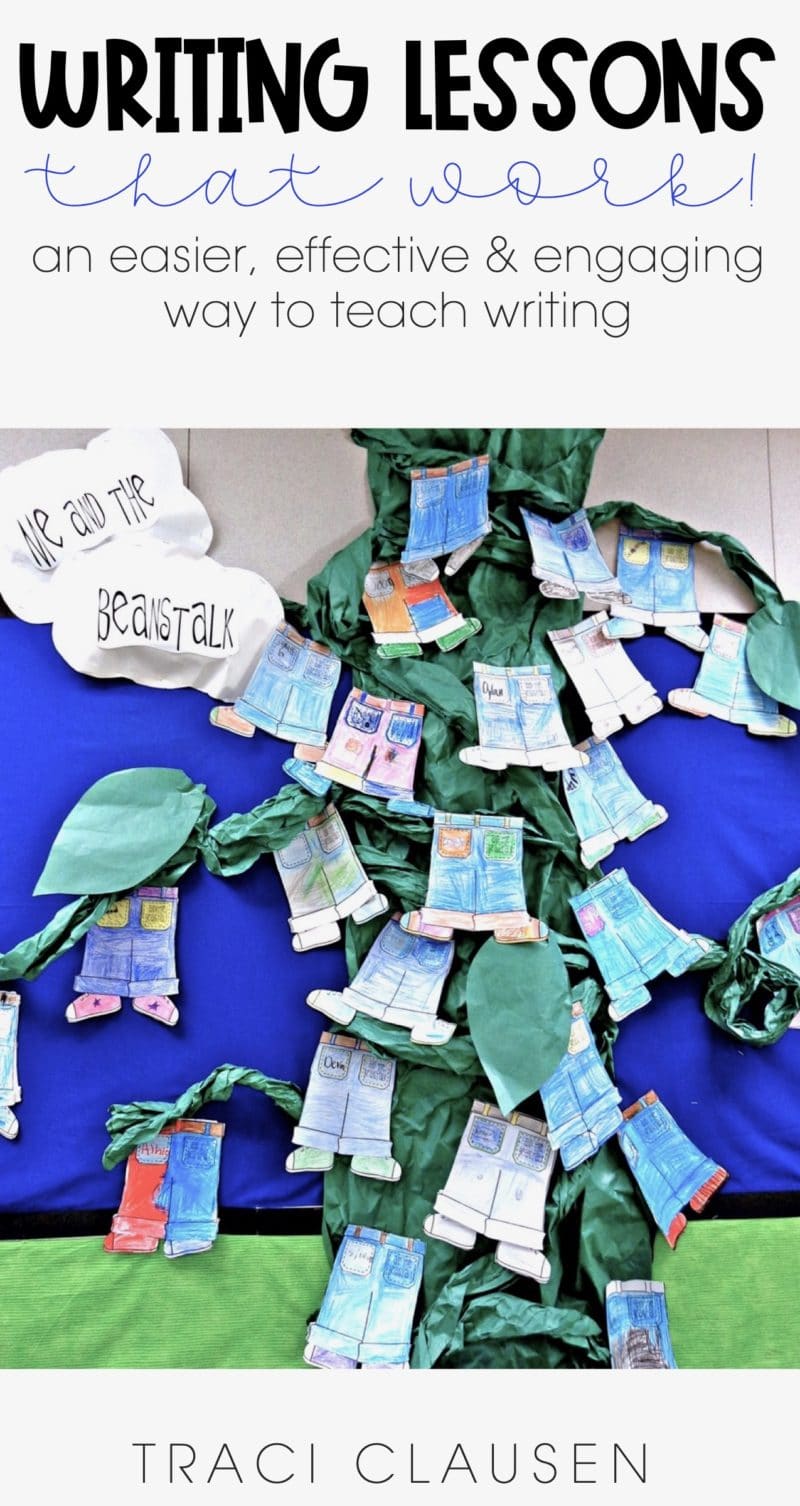 I always do my best to end our big writing lessons with a fun craft. The kiddos know it is coming and work hard to complete their writing so they an also make the craft.
Teaching writing this way makes it approachable and definitely not grueling. All of the kids find success and take ownership of the process.
Keep the Process Consistent
Consistency in the writing process is super important. This way your students are not learning a new way to do things. Each time you can increase the expectation without confusing them with a new style of writing.
This was the last narrative writing assignment of our 2nd trimester. Our 3rd trimester will be filled with more advanced writing plans, greater descriptive sentences and even more creativity. It's so much fun.
All of the writing units in my stores include detailed writing lessons and all you need to teach your kiddos a very cohesive writing lesson. My kids LOVE writing. It makes my heart sing!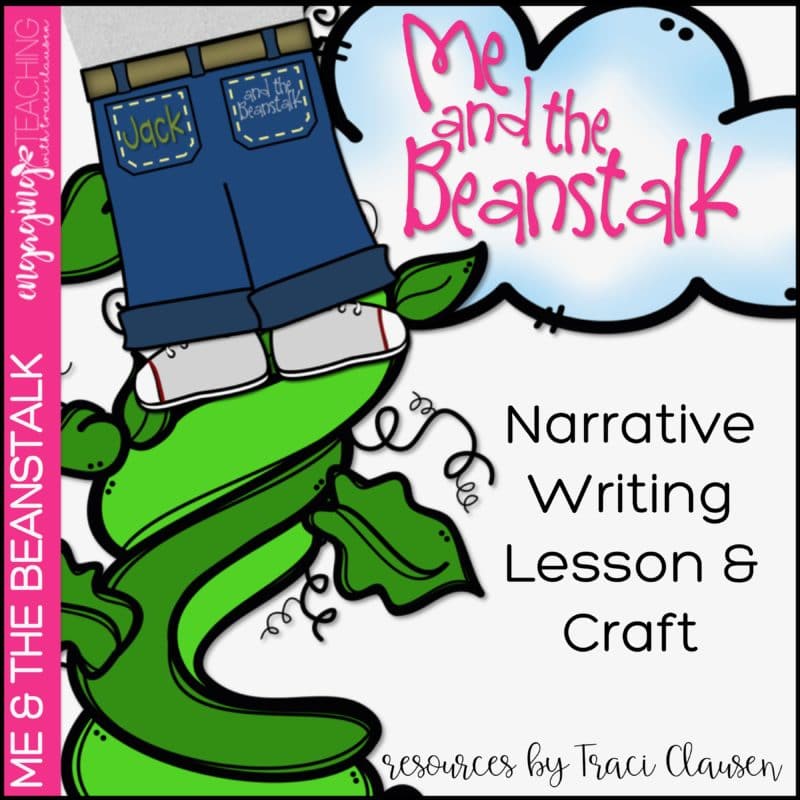 You can grab this in my store.
Do you like this type of writing instruction? If so, check out all the other writing resources in my store. I use this structure EVERY TIME we do a narrative writing lesson.
Want more fairy tale inspired writing lessons? Check out this post about Just Write!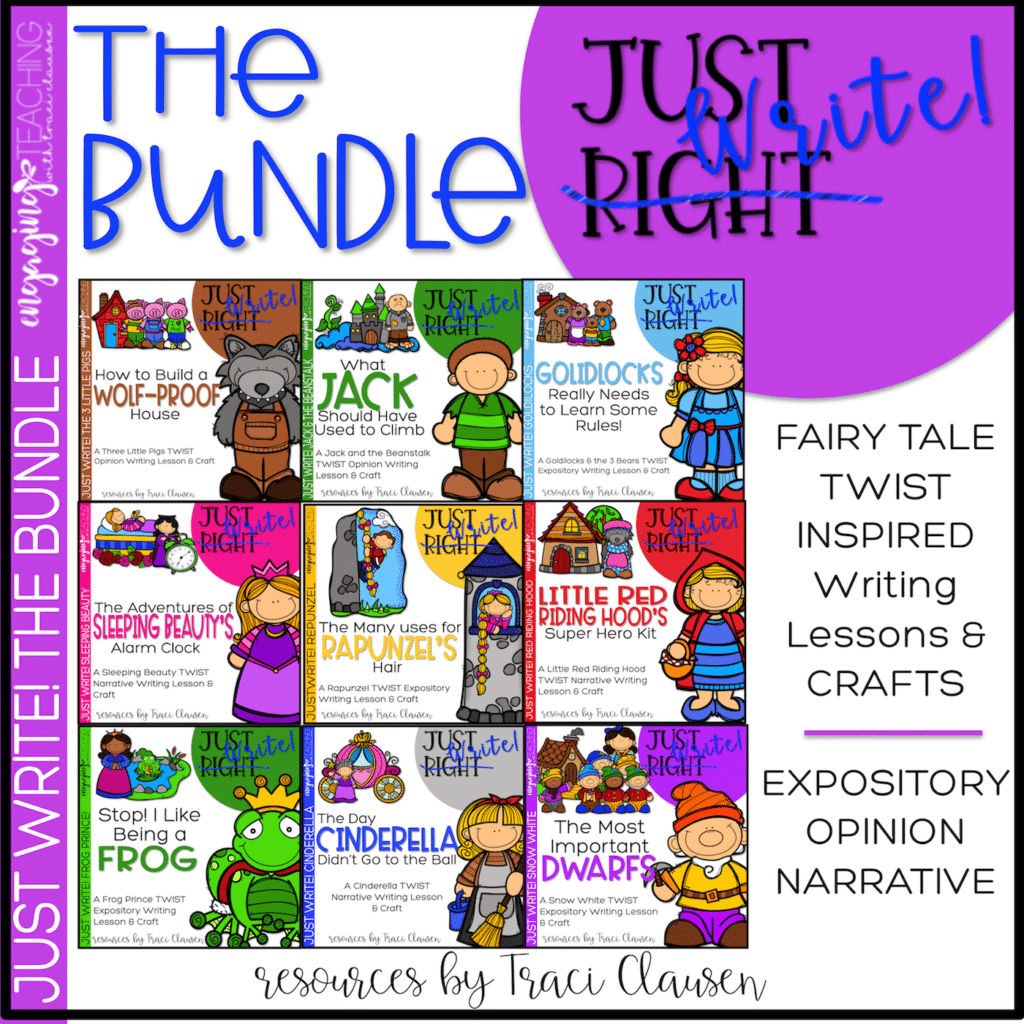 These lessons include very practical, easy to follow, simple to implement, engaging and effective narrative, opinion and expository writing lessons.
Are you in need of in-depth writing instruction/curriculum? Check out Engaging Writing. It is the best for thorough, in-depth but super easy to implement writing instruction.