These holiday crafts are fun and easy student gifts for parents. The clipboard sign is perfect teacher gift for students as a holiday gift AND as a classroom decor item. I've packed a few FREEBIES into this for you, too!
Holiday Wreath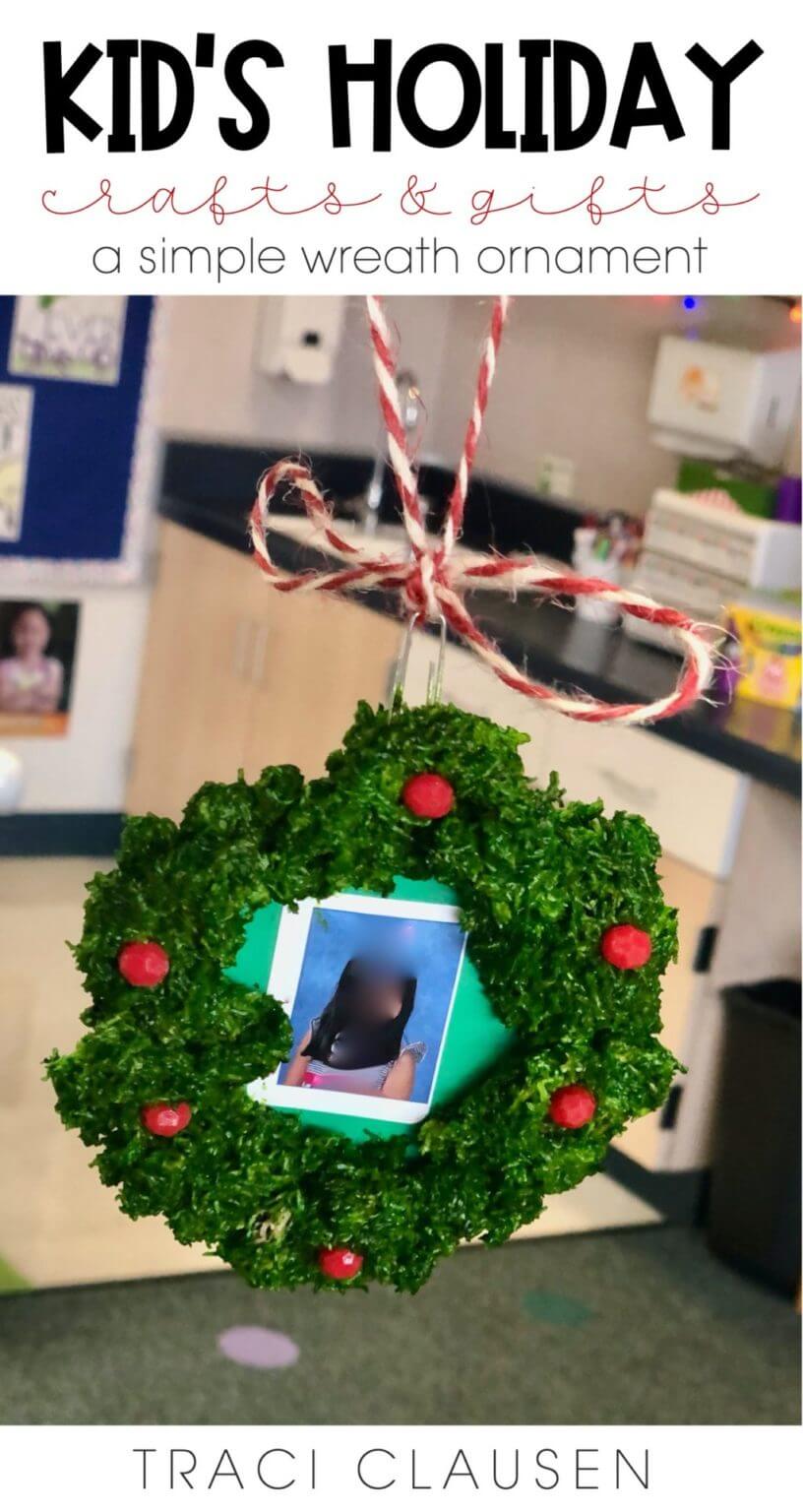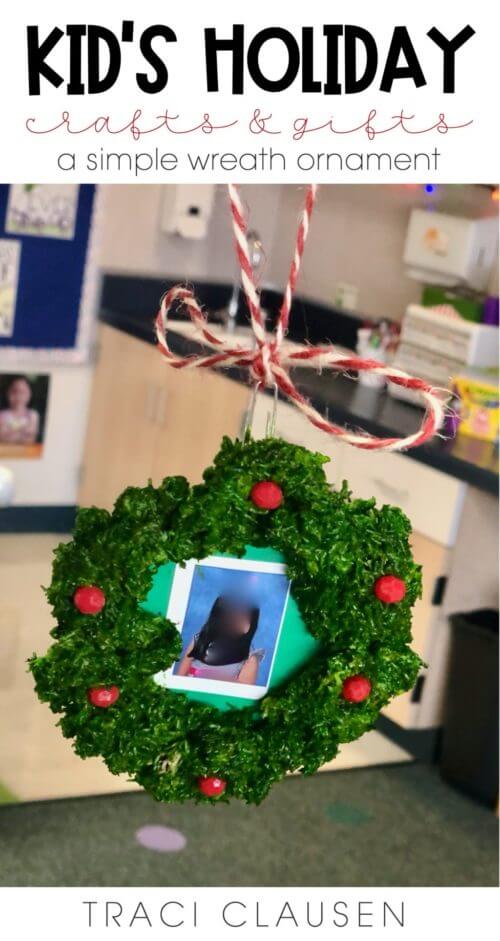 My team and I have been making these wreaths forever. The cool thing about them is they always turn out perfect! You really can't mess them up!
How to Make Student Gift for Parents Wreath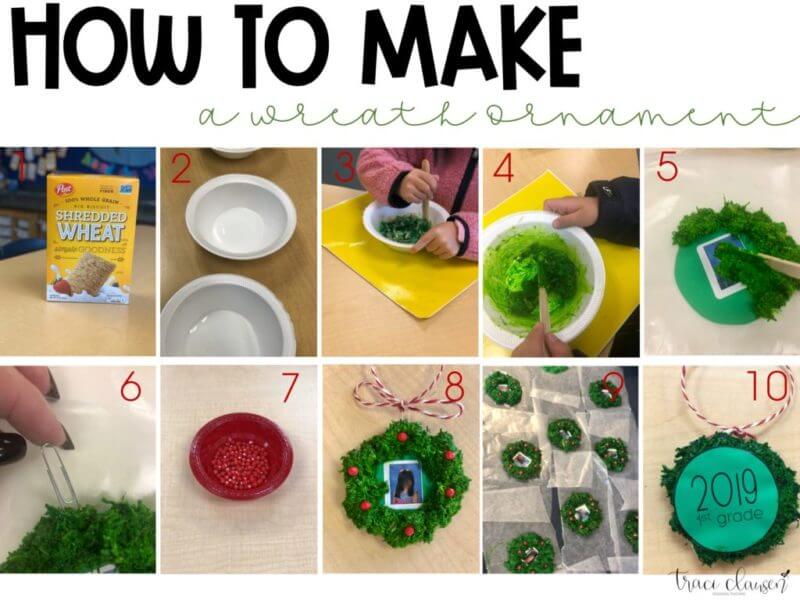 Before you begin, you will need green construction paper circles about 2.75″ in diameter. I like to put the year and grade on the back.
You will also need a small photo of each student. I use a small copy of their school picture. Adhere the photo to the center of the green circle.
Assembly Steps
Shredded Wheat

You'll need one "biscuit" of shredded wheat per student. (Do not get the mini-wheats. You need the large ones.) Place each biscuit into a small baggie for the students to crush.

Glue and Food Coloring

Put about 1/4 cup white glue into a bowl with approximately 1/4 tsp of green food coloring. I've found that green gel food coloring results in the darkest color but you could use liquid coloring, too.

Stir

Pour the crushed Shredded Wheat biscuit with the glue and food coloring. I give my kids tongue depressors for stirring.

Stir Some More

Stir until everything is green.

Make the Wreath

Place the green circle with the student's picture on it on a piece of wax paper. Teacher uses a popsicle stick to place small groups of the now sticky material around the student's picture onto the green paper. Some will be off the paper and on the wax paper. Keep adding the material in a circle until all of it is placed.

The Hook

Slide a small paperclip into the top portion to serve as a hook for the ribbon. Once dried, the glue will hold the paperclip in place.

The Beads

Use any kids of beads or sequins you like to adorn the wreath.

Students Place the Beads

Students place the beads as they wish. I have them place 6 of them just so I make sure I have enough for everyone.

Dry

Leave the wreaths on the waxed paper to dry. Once the front is dry, turn them over so the back side gets dry as well. In all, it usually takes about 2 days to dry.

Add Ribbon

Add a piece of ribbon through the paperclip and tie a bow then knot at the top to make a hanging loop.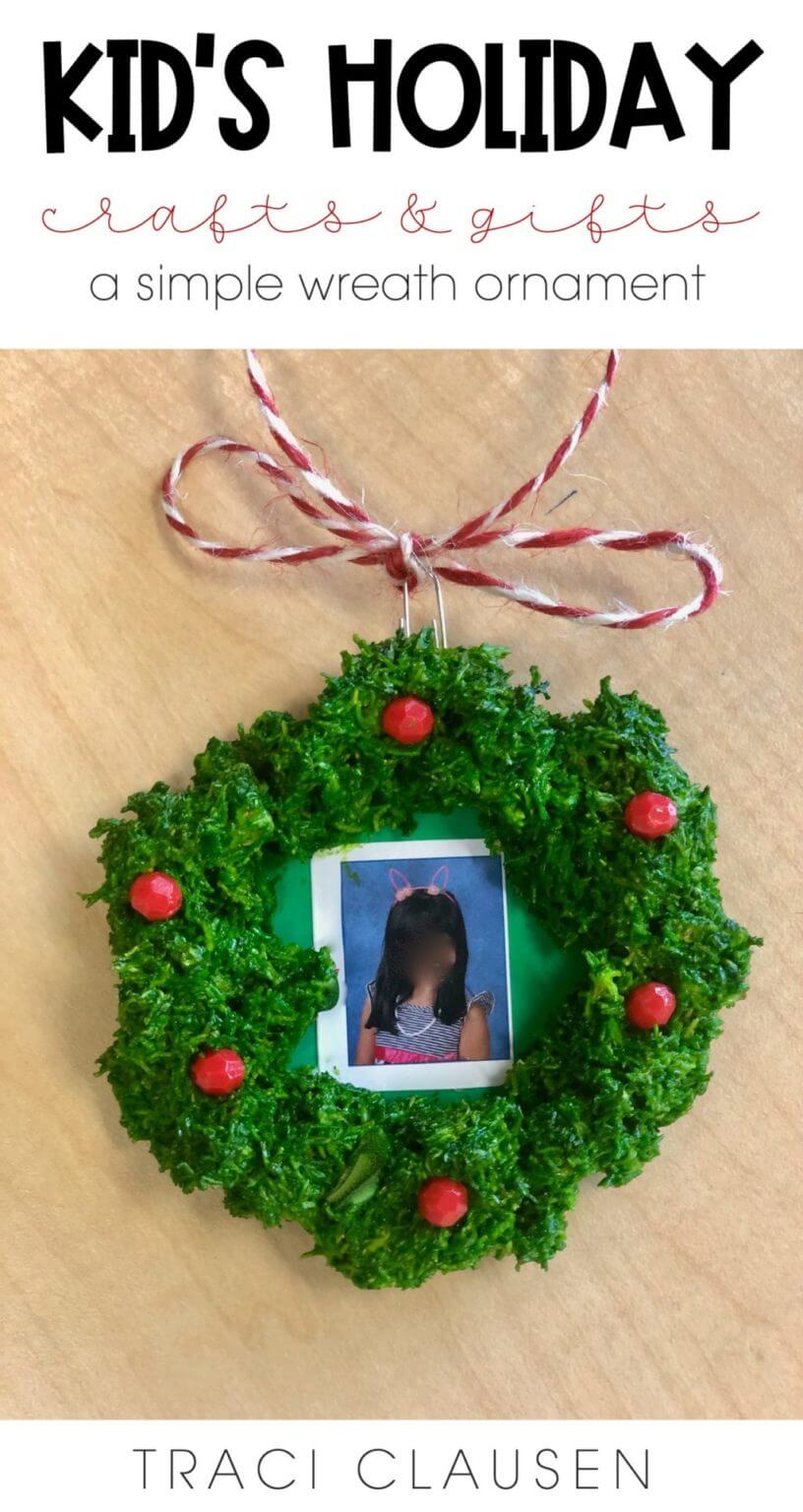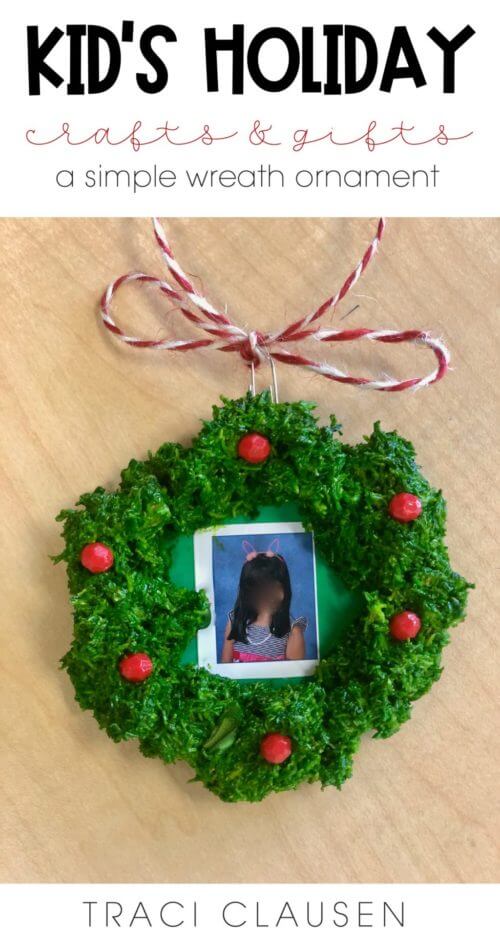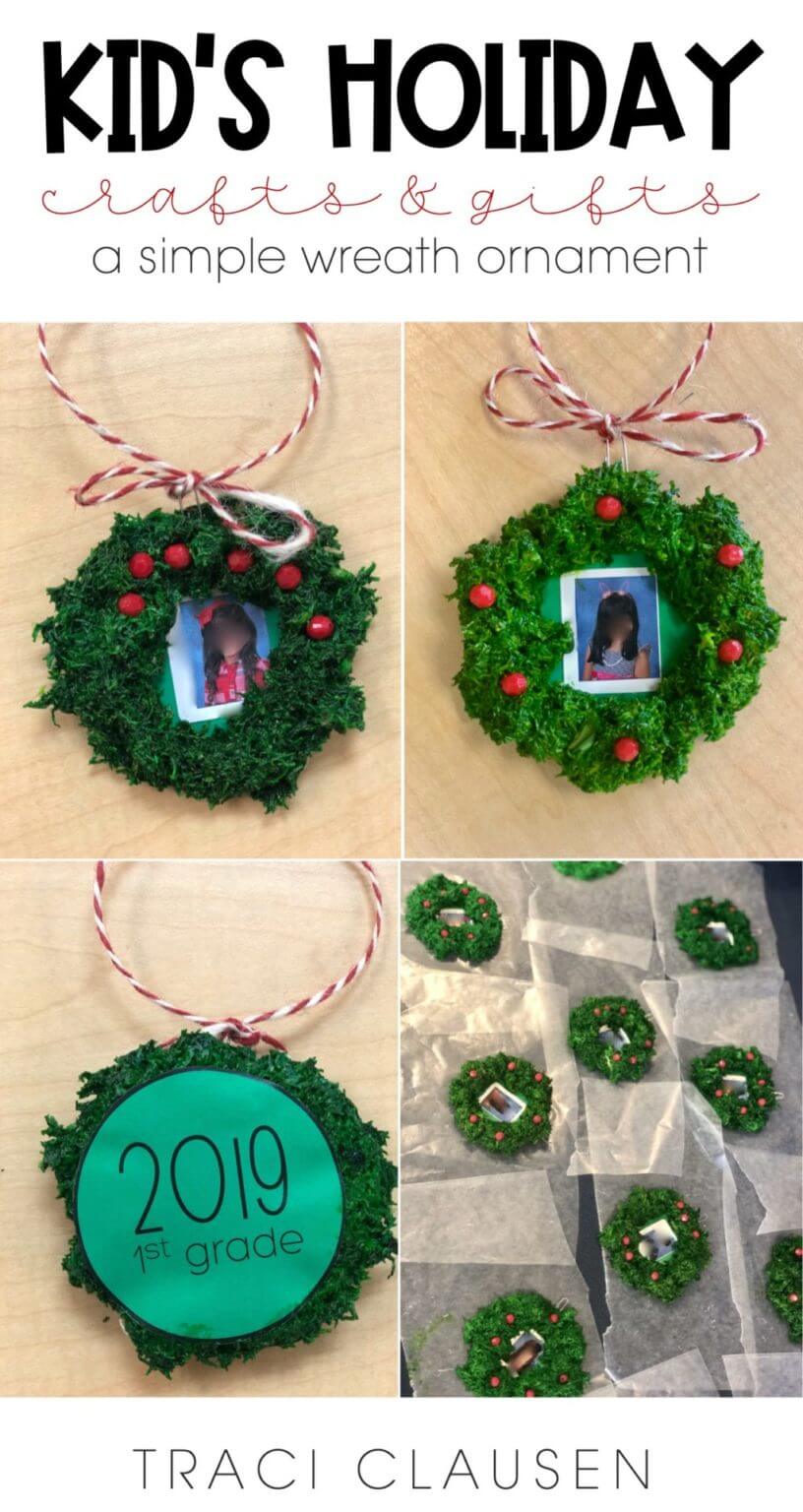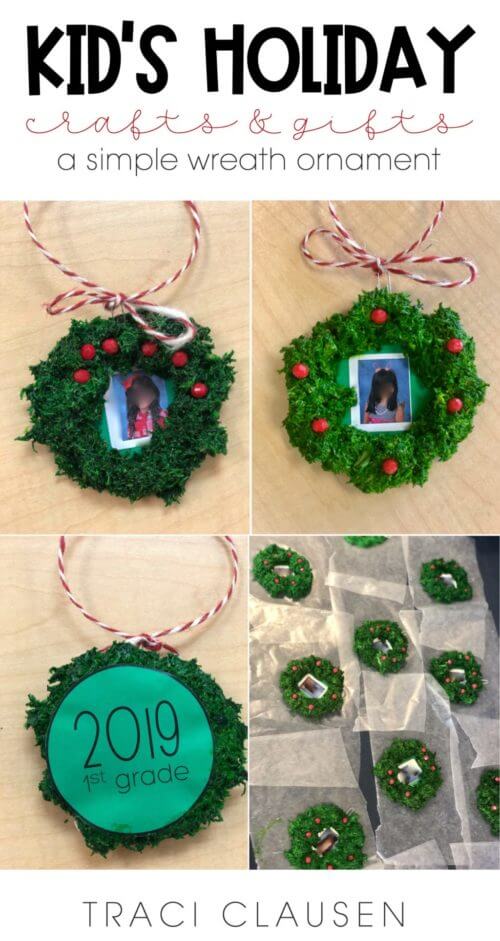 Snow Globe Student Gift for Parents
Another sweet parent gift we made this year are these "snow globes". My teammate decided we should add it to our repertoire this year. It's so cute and EASY!!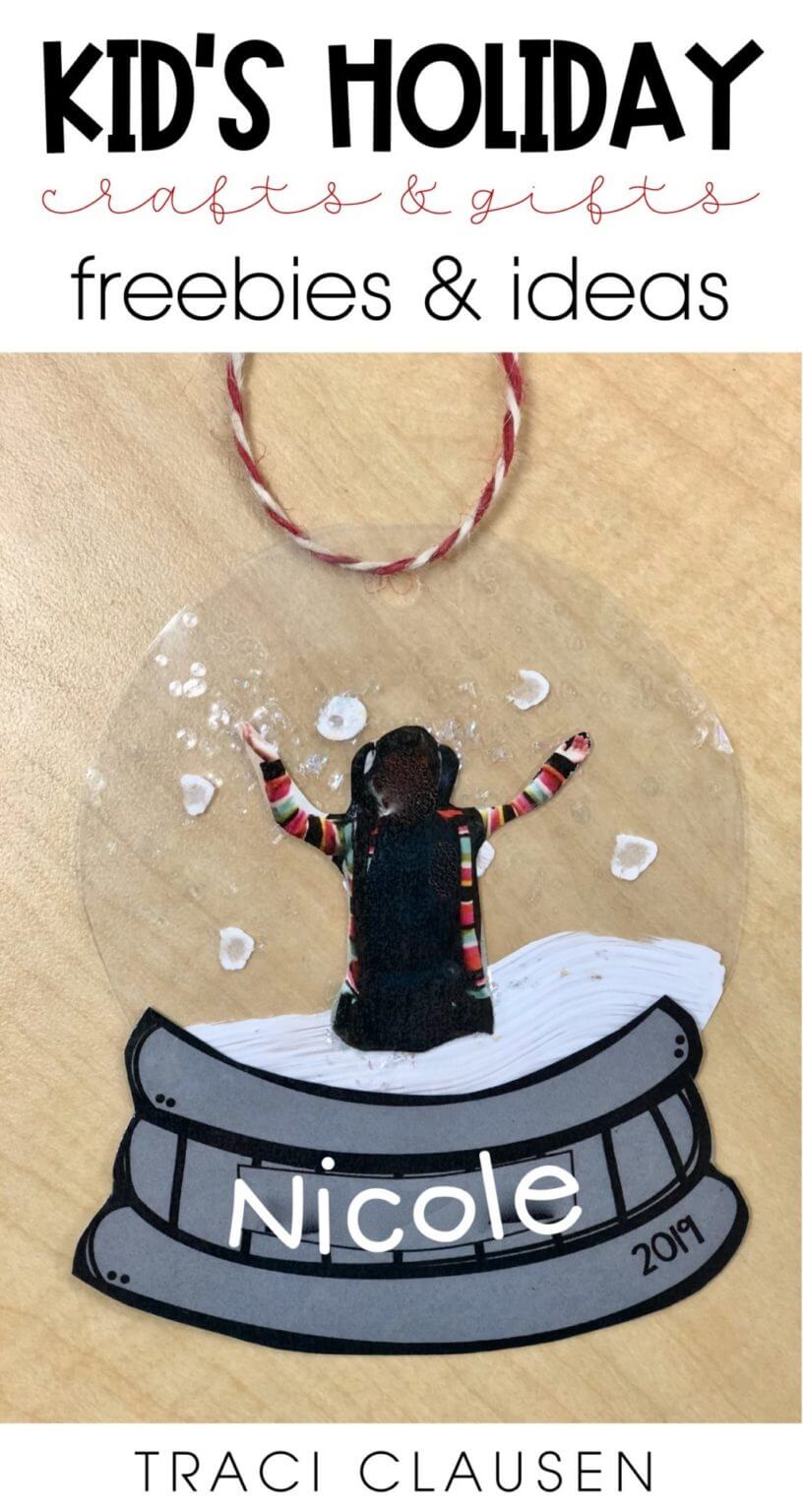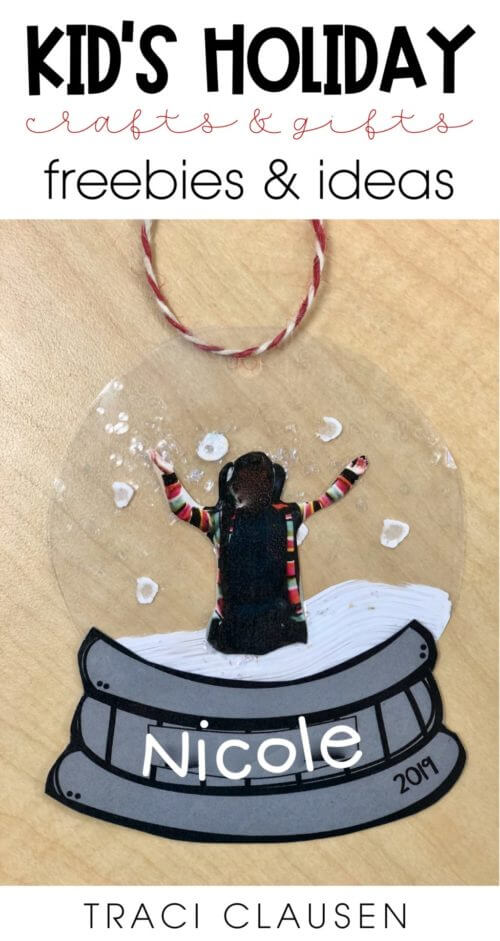 The way we made this is very quick and simple.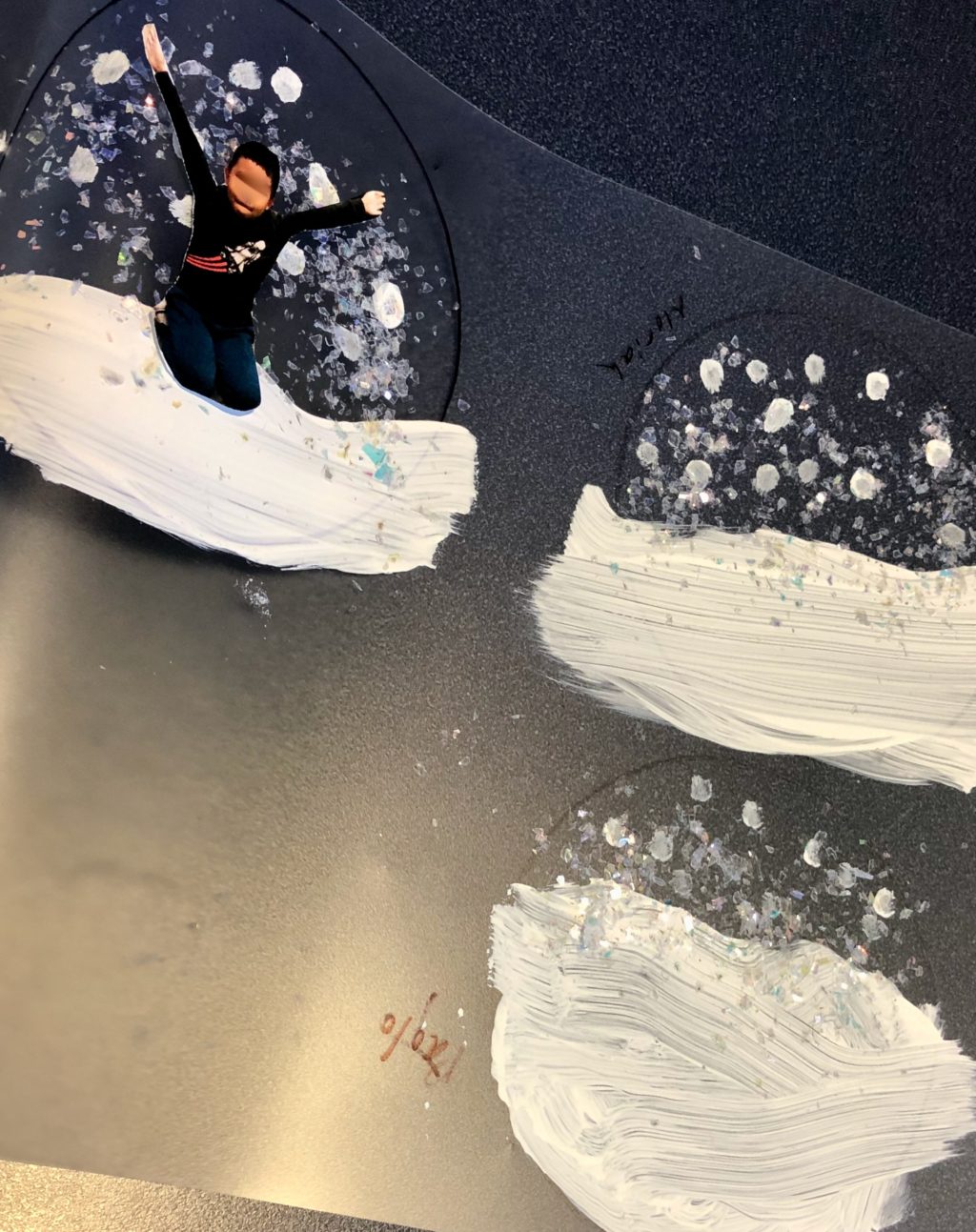 Use laminating sheets, a little white paint, card stock or construction paper and a photo to make this easy craft.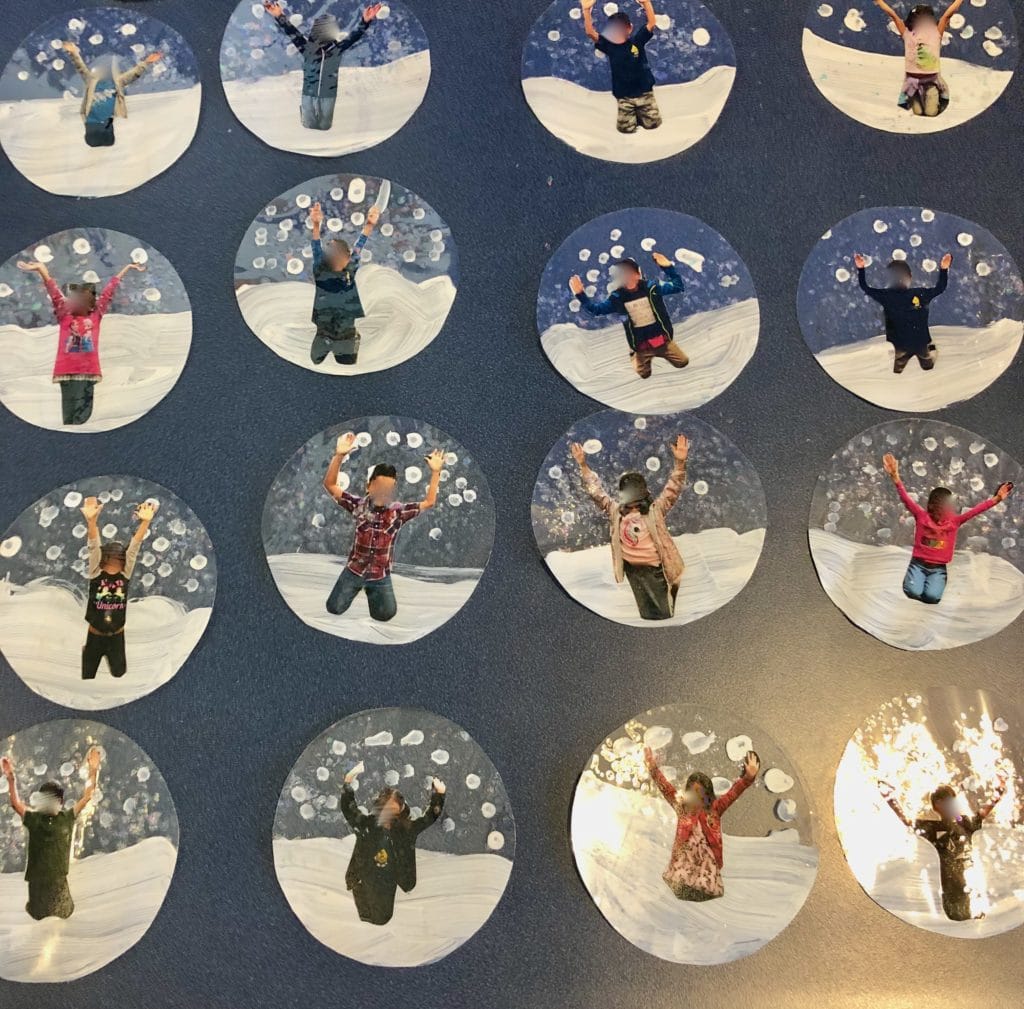 If you'd like the instructions and printables I used to make this craft, just fill out the info below and I'll email the file to you!
Teacher Gift for Students
Usually, I give my kiddos a book from Scholastic for home, new crayons, pencils and PlayDoh for school for the holidays.
This year my teammate wanted to try making some decoupaged clipboards.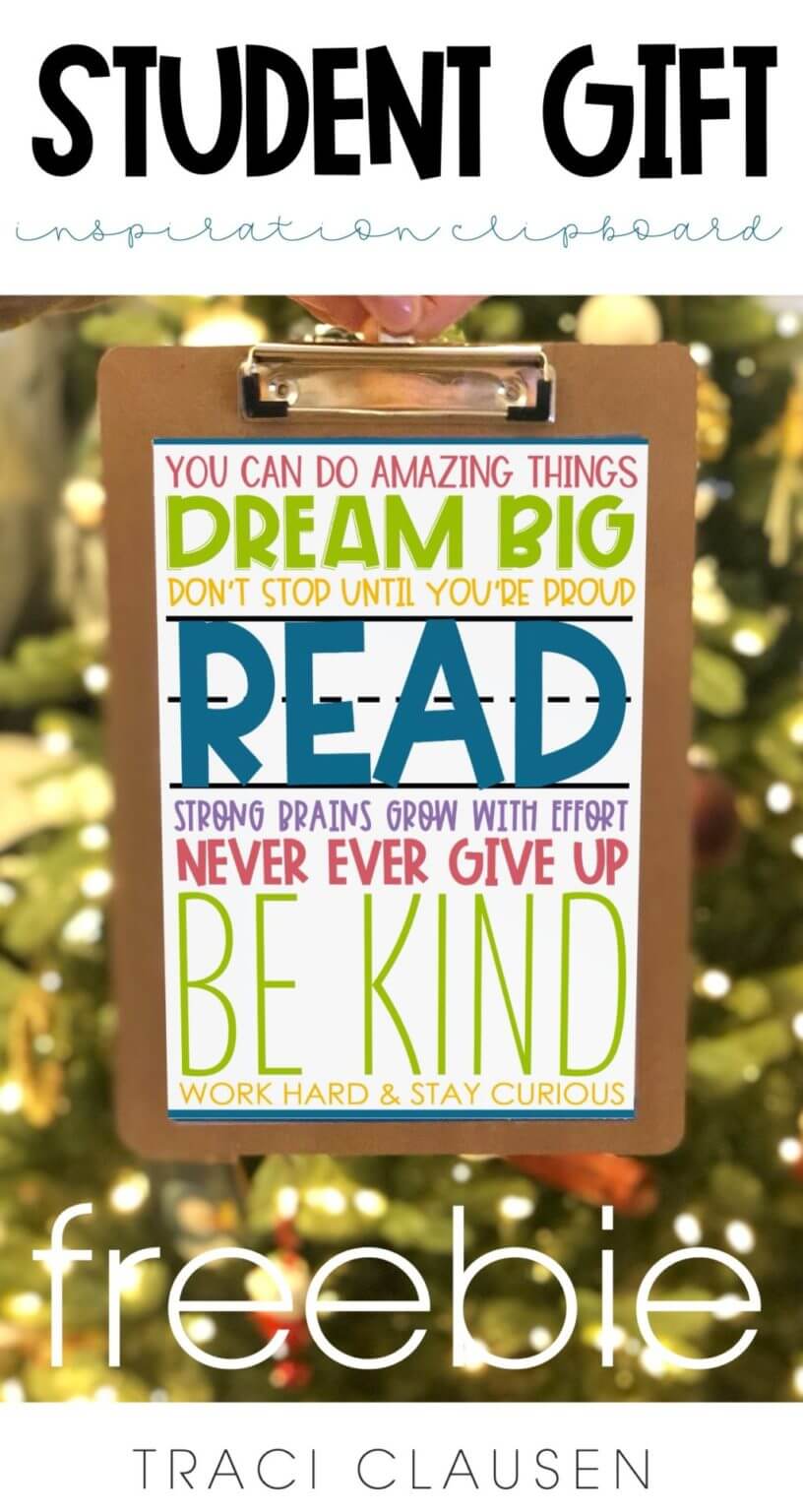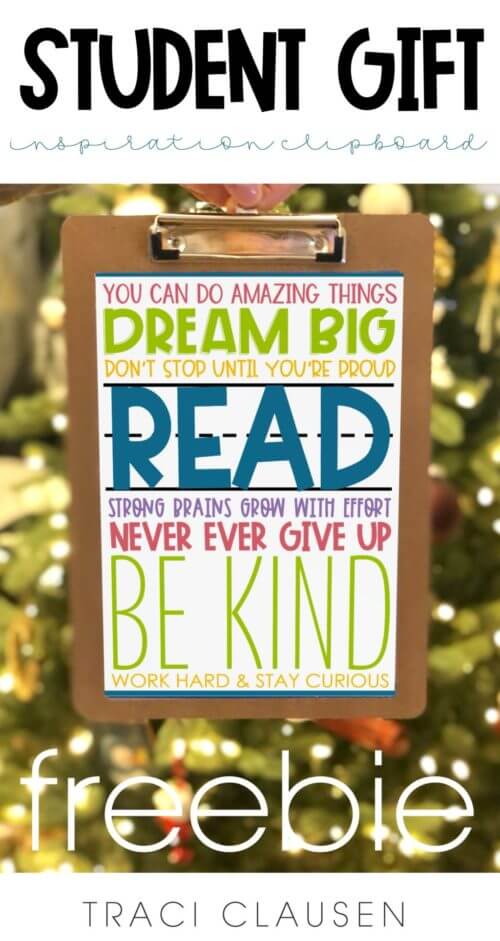 They turned out really cute! All you need is to LIGHTLY coat the back of the paper with some Mod Podge (this hard-coat Mod Podge is my favorite) then apply 2-3 more coats to the top after placing it on the clipboard. Be careful to smooth out any wrinkles and bubbles as you go. The paper settles and smooths even more as it dries.
I added the student names on the back of each one. The little poster on the front contains a lot of the things we say in class OFTEN. As in every.single.day. As in… they are our mantras.
This would be a great poster for the classroom, too!
If you'd like a copy of this file, just fill out the info below and I'll email it to you!
And… if you are looking for gift tags for these or any other gifts… I've got you covered!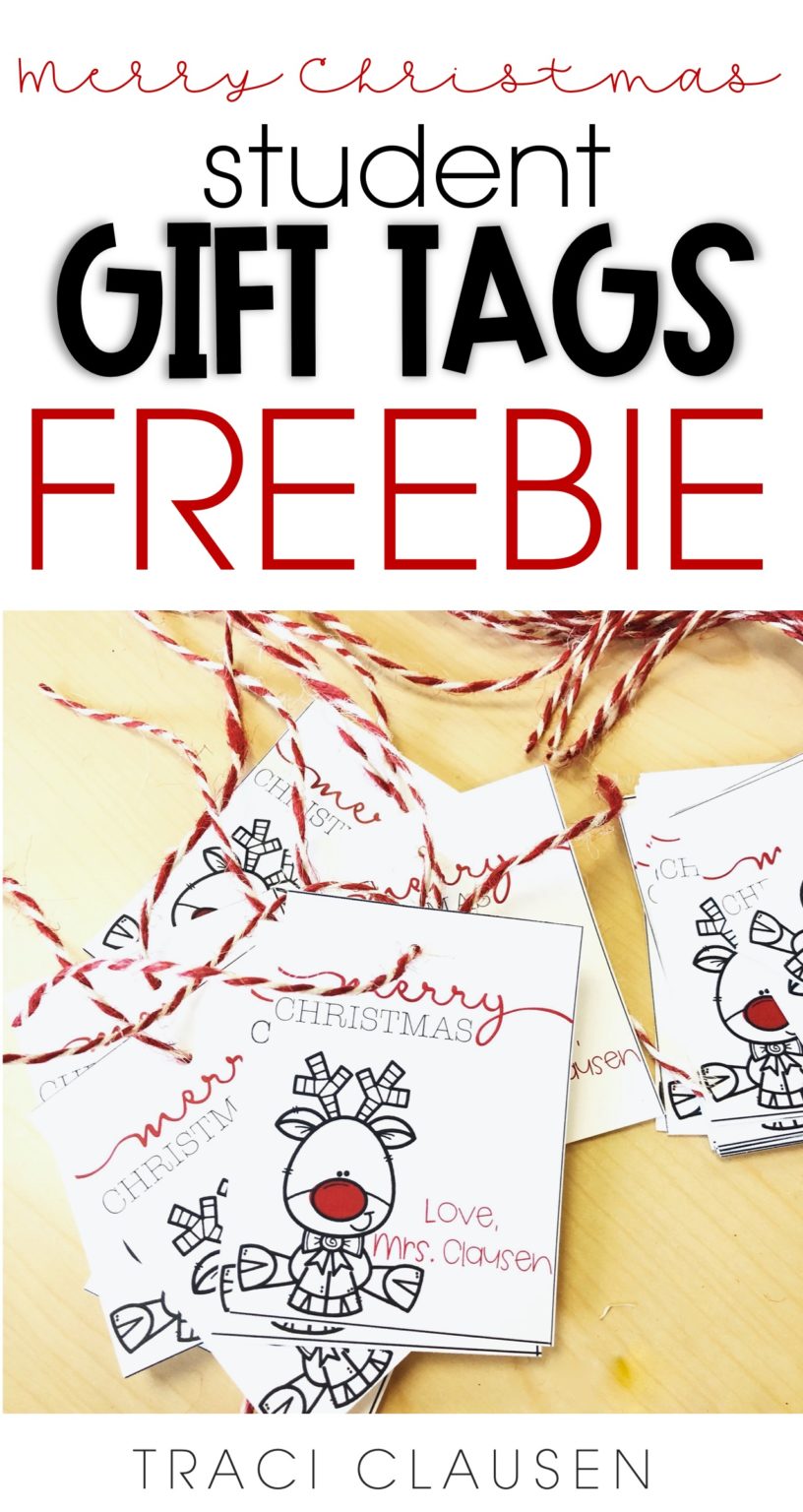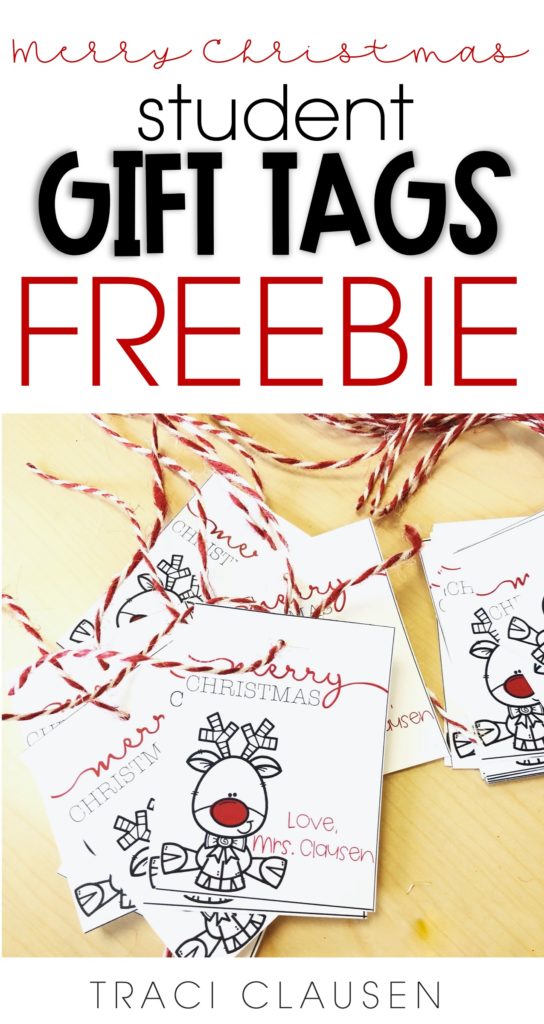 Looking for more holiday crafty fun? Check out the elves!

Who can resist ridiculously tall elves?! NOT ME!
Have a fabulous week peeps!