One more week. 1 more week One more week! just.one.more. December in a primary classroom can be hard! That last week before winter break is, in a word, exhausting!
I LOVE my kiddos, but they are so overbuilding schema at this point. Glitter, lights, elves, poinsettia flowers, fanciful songs and all other things Christmas have invaded their teeny heads and they are OVER school.
And… making me tired.
Here's what I have planned for my little peeps this week. It should be a fun week and will probably just whizz by!
The Happy Elf
I am renting "The Happy Elf" from Amazon and watch it as a lead-in to the Elf Glyph in the afternoon. This is one of my favorite December classroom activities!
In an effort to keep it a bit "academic" I will have the kiddos complete a story element chart as they watch the movie. This Holiday Classroom Idea FREEBIE is included in my plans download this week.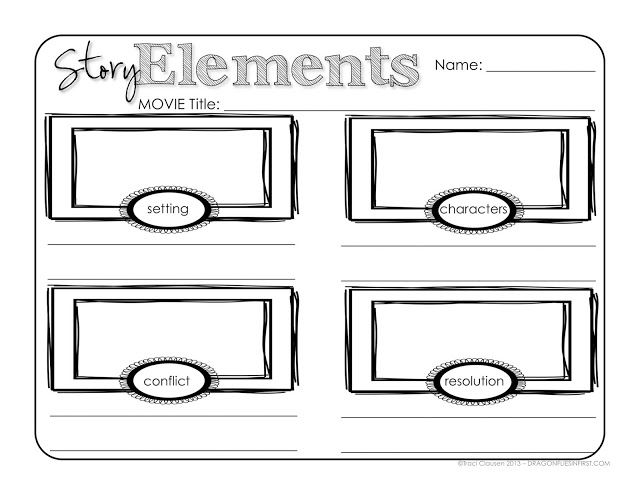 Root Beer Drinking Reindeer
I'll be bringing in some root beer for the kiddos. My experience has been that many children haven't tried root beer. We'll be making these: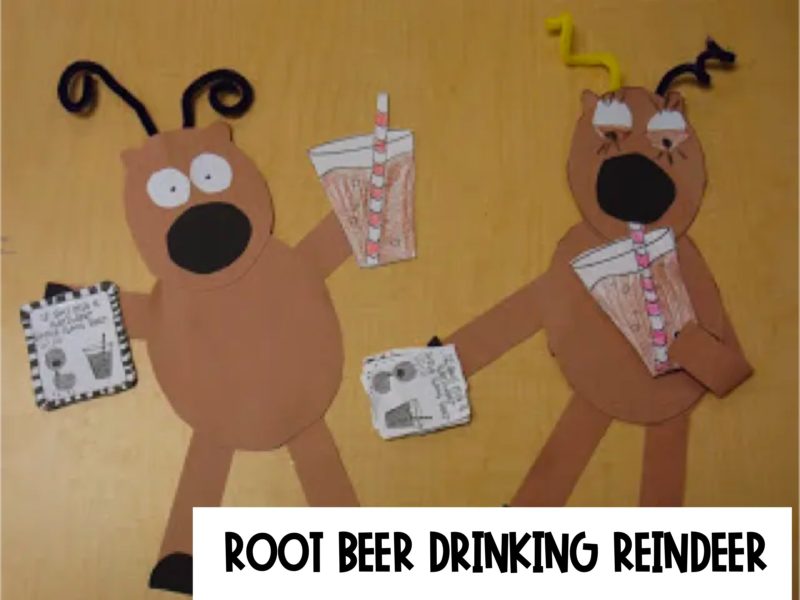 The idea and little booklet for these cuties are from Sarah Cooley from First Grader at Last. I LOVE them. I wrote about them (and shared the reindeer black lines) before HERE. You can grab a Holiday Classroom Idea FREEBIE for this while you are reading the post. 🙂
A Minute to Win It Morning – December Classroom Activities to Bring Good Cheer!
We will spend Wednesday morning playing "Minute to Win It" games. Here's a list of what our first-grade classrooms will be playing:
The Balls and Bells Shake
This game is also called "Junk in the Trunk". 🙂 Place a few ping-pong balls and bells in an empty tissue box. Put slits into the bottom portion of the box so that you can slip a long piece of wide ribbon through it. Wrap this around your student's waist with the tissue box in back (like a fanny pack). Students compete to wiggle, bounce, and dance those balls and bells out of their tissue box until it is empty.
Snowball Toss
Students toss marshmallows into buckets a few feet away. The one with the most "snowballs" collected in the bucket after a minute wins!
Ornaments in the Wind
Place several round ornaments on the ground. Students use decorates gift box covers (or wrapping paper covered cardboard) to "blow" the ornaments across the room (a few feet) and onto the finish line (colorful construction). The one with the most ornaments on the finish line at the end wins!
Red Ice Castles
Give students a large stack of large red plastic cups. They race to be the first to complete the largest, tallest castle using all of their cups. The students will need to figure out how to make the base large enough to allow them to add all of the cups vertically.
Suck it Up
Place a few M&Ms into a shallow bowl or on a paper plate. Students use a straw to suck one M&M and hold it against the straw. They then take that M&M (using only their breath – and not dropping it) across a short distance to another bowl or plate. The one who sucks up the most M&Ms is the winner. (I'll be honest, this one isn't my favorite and I usually "run out of time" for it. Even though they each have their own straw, something about it grosses me out. I'm a wimp. But the kids do love it.)
A Pajama Day
Our first-grade team decided to make Thursday a "pajama day" for our firsties. Our plan was to show "The Grinch" but we needed permission from all of our parents to show it. We each had one student come back with "does NOT have permission" – SO we are showing "Polar Express" instead. I LOVE, LOVE, LOVE that makes me bawl my eyes out the book, but am not a fan of the movie. But, ya gotta do what you gotta do.
Click here for a copy of the permission to show The Grinch form.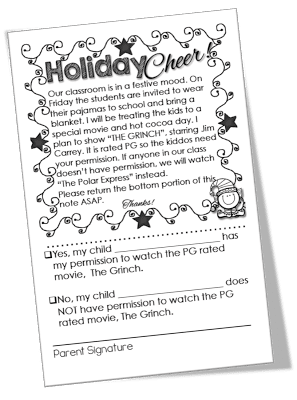 Here are my plans for the week. We call it week 17.5 because this final week before winter break is always a review, keep 'em busy, keep it together, you can do it kind of week. Sometimes it is a full week, sometimes it is a short week. It kinda "doesn't count" when it comes to our curriculum planning. When we plan the curriculum when don't really count this week.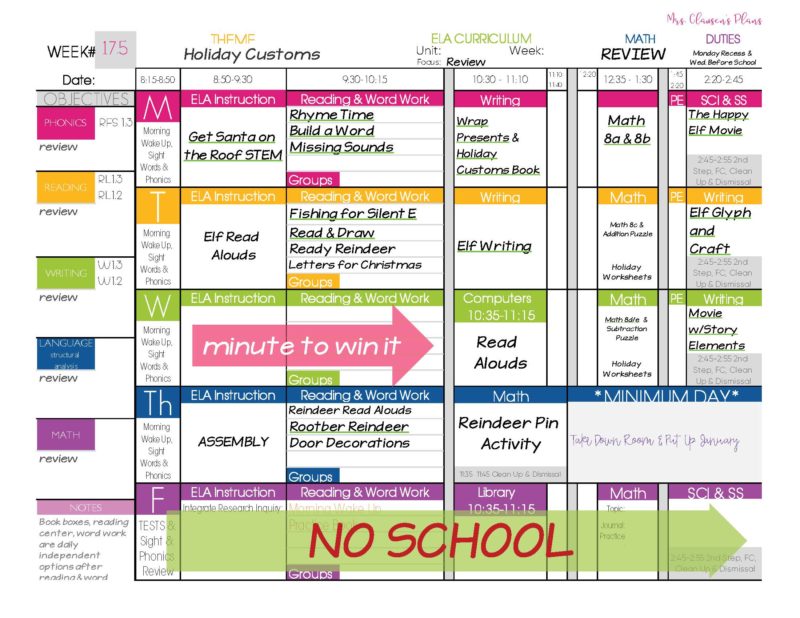 Click HERE to download a .pdf of my plan and a bunch of FREEBIES. I've included MANY clickable links on the plans for the activities we are doing as well.
A Little Gift
My last December in the primary classroom idea is a FREEBIE! I give my kiddos a little gift to send them off on their winter break. Each year I grab a class set of $1 books from Scholastic. After wrapping those books along with a holiday pencil, I add these sweet, adorable tags.
I even use these on my family gifts! I'd love to send you this editable file. Just leave me your info and I'll email them to you.
December in the primary classroom can be rough! I hope these activities add some cheer to your workday!