School year curriculum mapping and planning for school year success is an essential part of being organized and making your teacher life easier. This is the 3rd part in an informative 3-part series on backwards planning.
PART 3
Ok. So now you've got a handle on your standards (or you understand how you WILL have one). You know more about them now than ever and realize you were over doing it in some areas and totally missing it in some others. Don't beat yourself up – it's the nature of the beast. Until you have the time to fully immerse yourself in the standards, it is kind of foggy.
The good news is, now that you have gone over the standards with a fine toothed comb, you are ready to plan the year in ALL curricular areas. AND, as long as you aren't moving grade levels any time soon, the hard part is done for a very long time. All you will need to do in the following years is tweak things here and there. You will only get better and faster at year curriculum mapping and planning.
If we want room for spontaneity and creativity, we need to make a plan for all of the underlying factors that cannot be ignored.

AVOID THE OBSTACLES
Get your district's calendar. Identify required assessment dates, grading period end dates, professional development/non-student days, etc. Note anything that will impede or affect your teaching.
Do the same with your school's calendar. Do you have school-wide events that will take away from teaching time? Note the week or day those take place so you can plan less complex skills around them.
Planning for these obstacles WAY ahead of time will lighten your stress load.

THEMATIC COHESION
I honestly believe that teaching around themes makes for easy planning, in-depth knowledge, access to cross-curricular connections and student buy in. Grade level doesn't matter here. Humans like connections.
Think of it this way. You're home, watching TV – let's say it's The Notebook. You haven't seen it before and you are about 20 minutes into the movie and loving it when your husband changes the channel to the hockey playoffs. About 15 minutes into the 1st period of the game you had just started to get interested in, the channel is changed again to The Housewives of Beverly Hills. By the time the second set of commercials start to air, the cooking channel is vibrating through your television.
Stressful. Hard to follow. It demands you don't get too invested in any one of those programs.
Now. Imagine you are not an adult who can actually control all of these things.
Basing your lessons around a theme helps bring cohesion to the day. The kiddos (regardless of grade) are able to make connections with the various concepts through a unifying theme.
Thematic planning blocks that last about a month are ideal. Lengthy enough to delve deep, but short enough to keep things moving, avoid boredom, and allow you to cover a wide range of material. Although not a mandatory thing, I feel thematic blocks built around social studies and science standards for your grade level are the best way to bring unification to your teaching day.  It enriches and supports effective lessons and student interest while addressing standards that are often overlooked due to time constraints.
Block Planning for Ease of Year Curriculum Mapping and Planning
Most of what you do here is derived from the standards mastery maps you created for every single standard.
Make a 9 block grid labeled for each month of instruction.
Take a look at your social studies and science standards. Assign these to the blocks. Creating themes from these standards will help ensure harmony and cohesiveness to your teaching and enable you to cover these standards that are often set aside due to lack of time. Texts covering these standards are perfect for reading informational text standards.
Indicate any obstacles (district/school/holiday, etc.) in the appropriate box.
Using those science and social studies concepts and you standards mastery maps as guides, determine the writing lessons and standards you can address during those months. There are very few writing standards, so this is a quick and easy place to start. I nearly always do a craft with my writing lessons so both the writing and the crafts lend well to my theme for the month and provide a cohesive look to my bulletin boards.
Fill in the scope and sequence you determined appropriate for phonics/reading foundational skills (see the standards mastery maps). Take into account the number of weeks you are in school each month (December is a crazy month – don't over fill it!) as well as the abilities of your students that time of year.
The CCSS for Language is quite extensive. Plug in where those standards are most appropriate for your grade level (again, see the mastery maps). Take into account any assessments you plan to give regarding that standard. Are you required to give an assessment during a particular month? Be sure you note which standards are covered by that assessment.
Add in the pacing you will use for your provided ELA and Math Curriculum. Which chapters will you do when? (These should be written on your mastery maps.)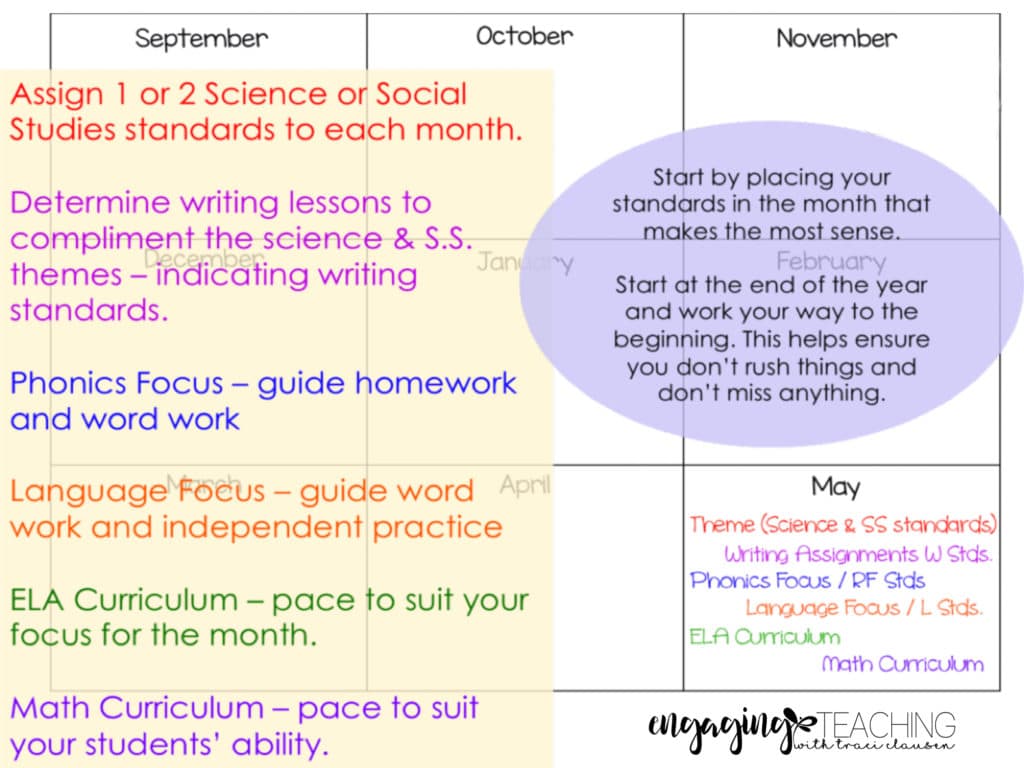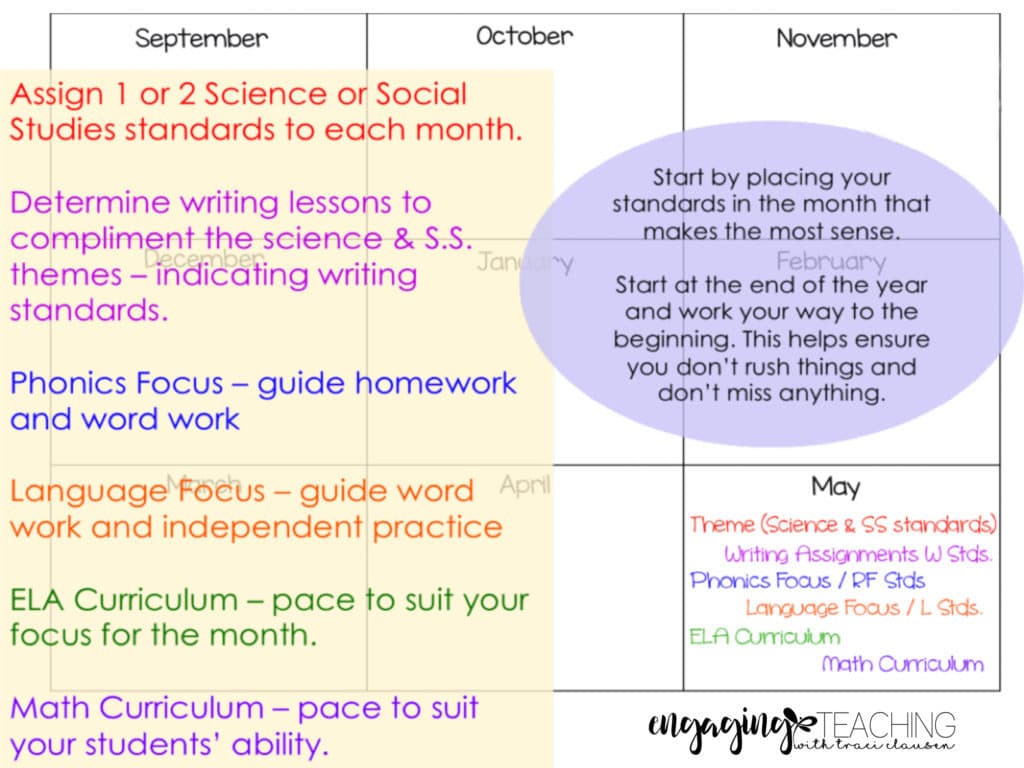 See May's box for a sample. Color code your theme, writing, phonics/reading foundational skills, language, ELA curriculum and math curriculum. This is a "sketch" that you and your team will rework, write notes on, erase and manipulate until you get it "just right".

SIMPLIFY
Creating that 9 block grid gives a fabulous overview of content and standards. It also ensures you've spread it all out in a logical, doable way.
After you've tweaked and adjusted it, that grid could easily be your year plan. However, I find this isn't detailed enough. It's hard to get all of the standards, chapters, units, and lesson ideas into those big boxes and make sense of it all (although color coding helps a lot). I like a linear view much more than a "cluster".
To that end I make a detailed year plan that includes week numbers, dates and holidays. This plan indicates all the requirements, every standard, curriculum support and each assessment. It is the directing force.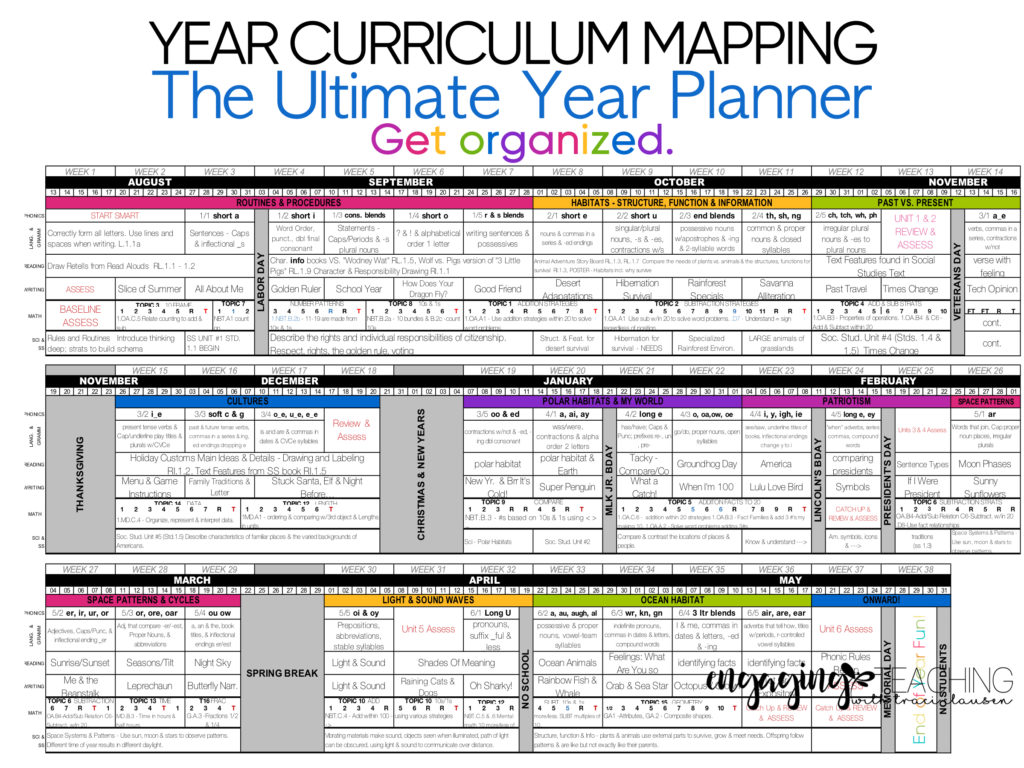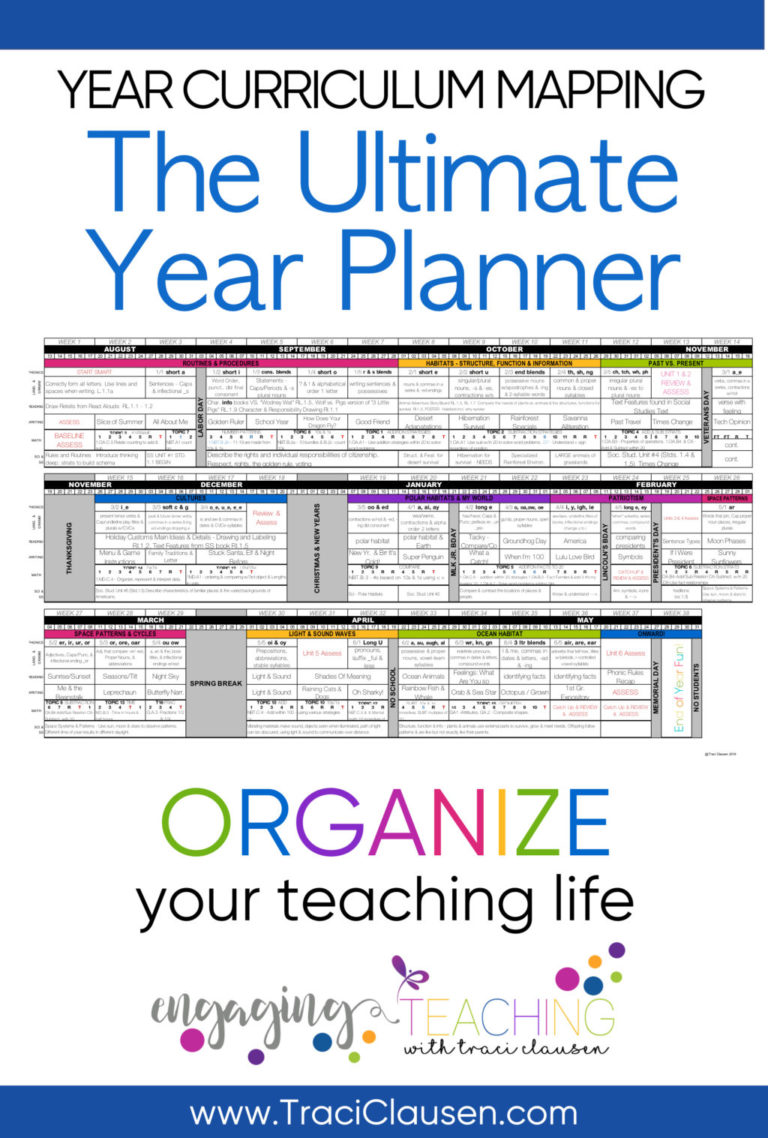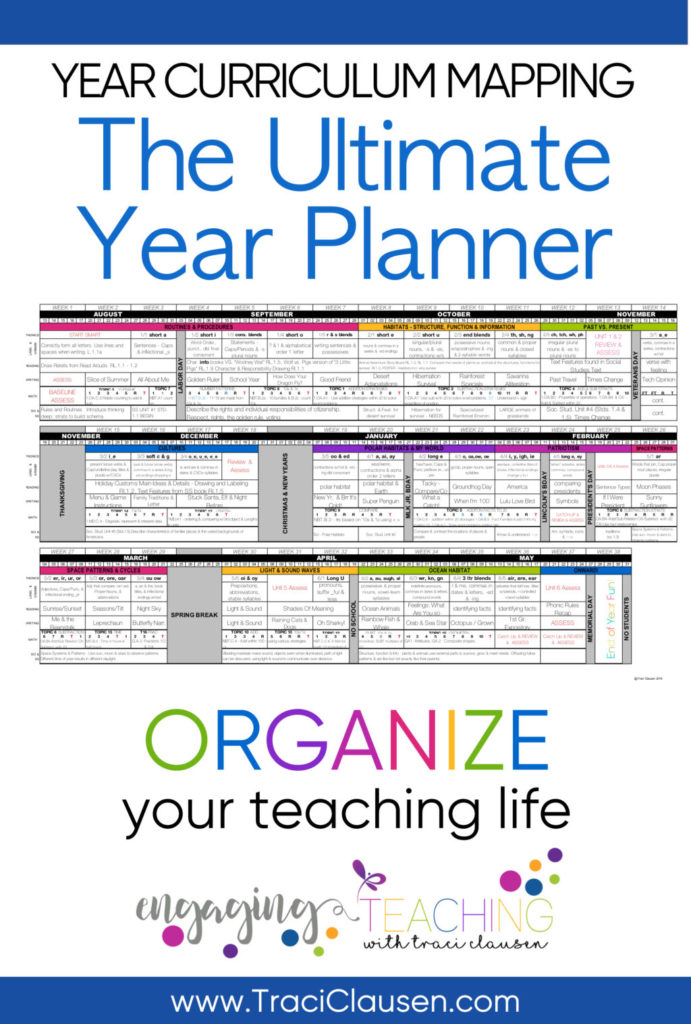 The Details
Top row indicates the number of the week in the school year. I label everything according to week number; homework, weekly plans, stacks of copied resources, etc.
Below the month header are the individual dates of the month.
Under the colorful theme headers are the units of study in our ELA curriculum as well as the phonic rule(s) addressed that week in instruction, word work & independent practice, and homework.
Below that are the sections that note the language, reading and writing standards addressed and covered in a 2 to 3 weeks span. They also note any assessments done.
The numbered areas that begin with 14/5, 14/6 etc are our "topics" or chapters and lessons in math. We do not cover them in order because the publishers order simply did not make sense to the needs of our students. Some of those lessons appear twice, once in black and another time in blue. That is because the lessons provided in the curriculum materials is lacking and we have to spend more time working on those standards.
Finally, the last blocks outline the social studies and science standards associated with the monthly themes.
Here's a close up.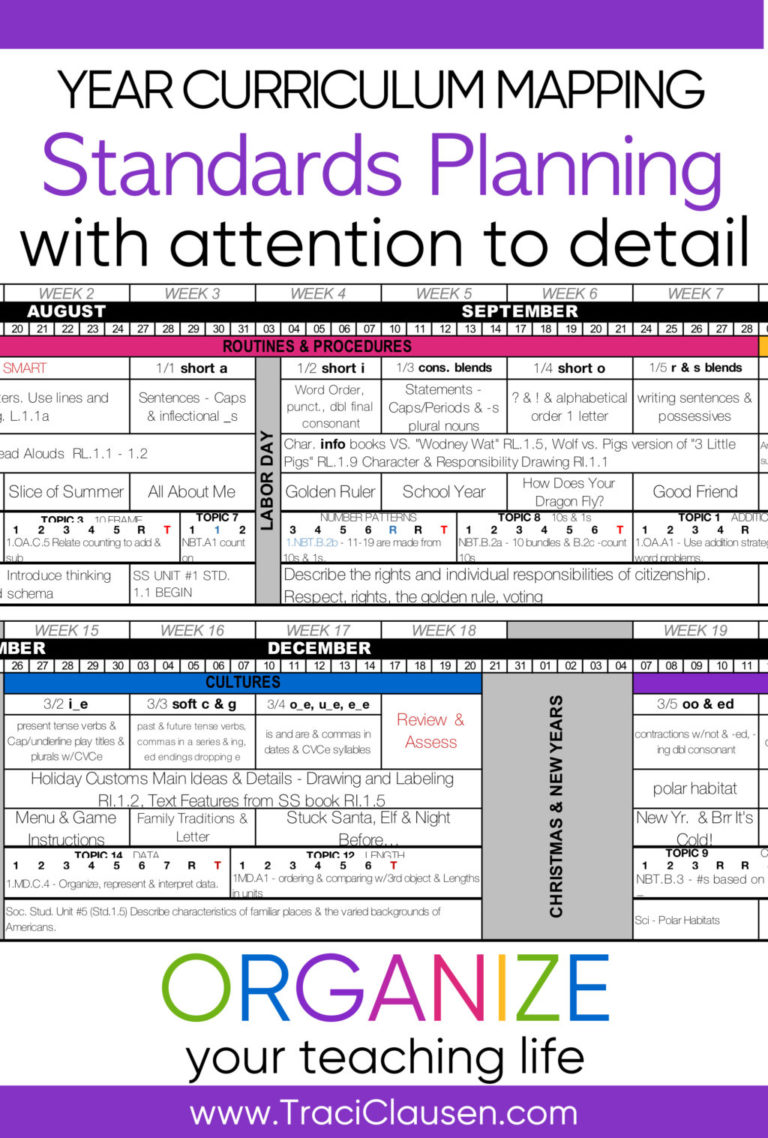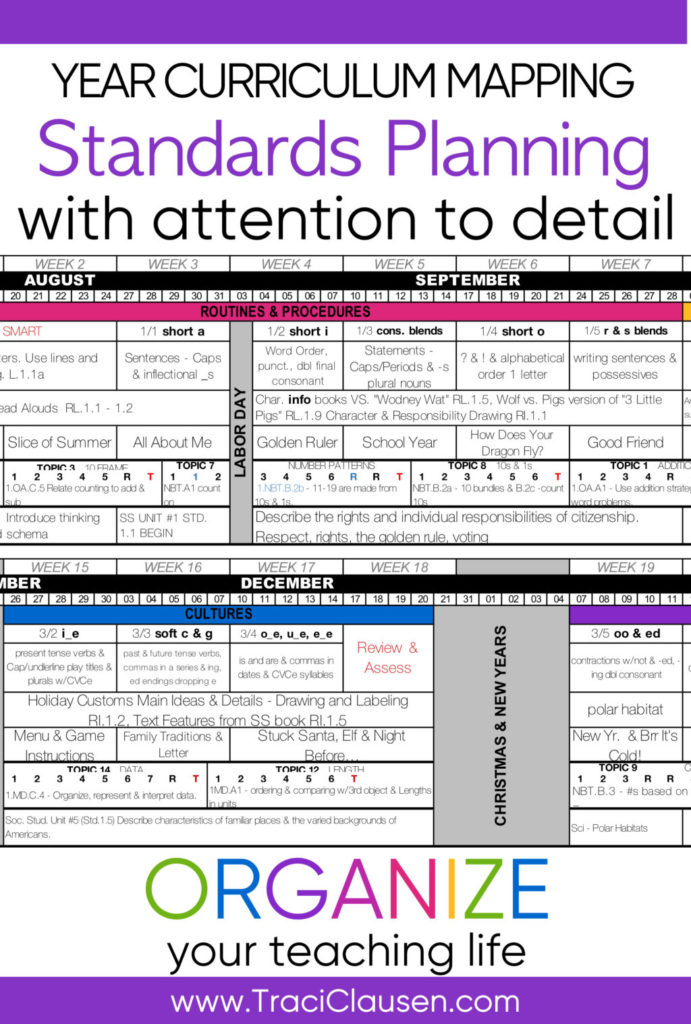 Life Changing
And that's it! I promise. It's a life changer!
Honestly, the time investment is great the first time you do this. Working with a team will help it go quicker. BUT IT IS WORTH EVERY SECOND OF YOUR TIME! You will spend far less time planning throughout the year. You will no longer be chasing your tail – trying to get to the assessments for content and standards you may or may not have covered. Your plan with ensure you meet those assessment deadlines and most importantly, ensure you are addressing ALL of the standards required.
Don't assume your district's assessments are doing this for you. Definitely don't assume the curriculum purchased for you to use in your classroom is doing this for you. Districts leave things out, suggest strange pacing, or are simply weak in effectiveness. Put yourself in charge of those standards and you will see so much success in your students and enjoy less stress in your teaching life. YOU will truly be the expert.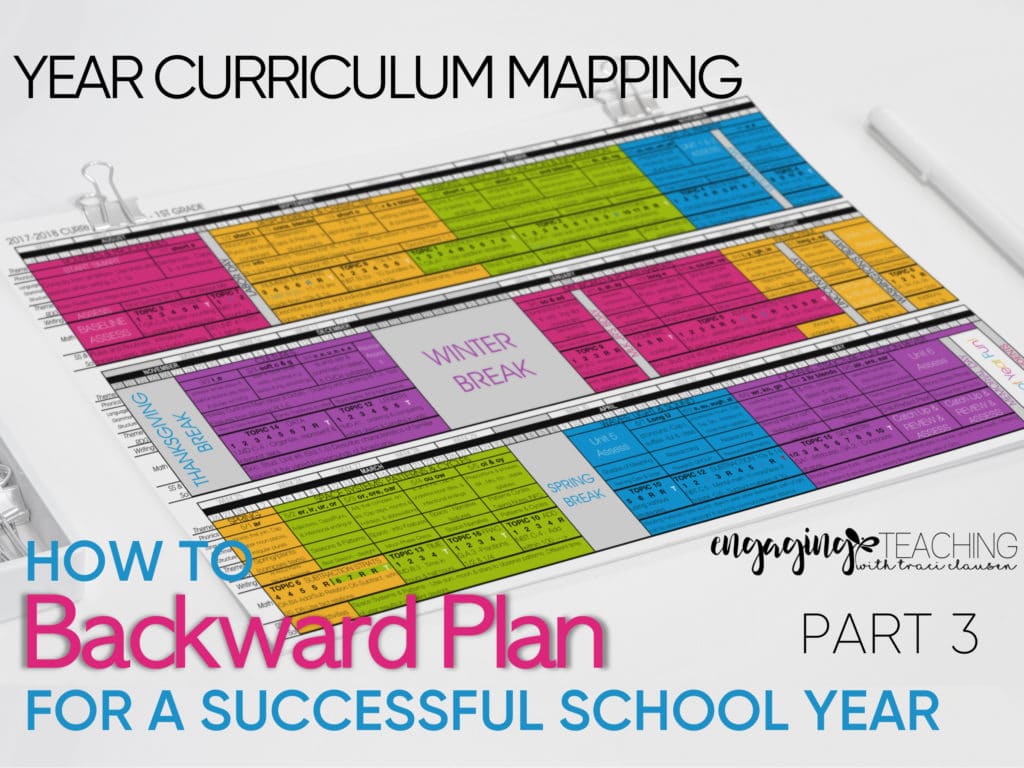 The Ultimate Year Planner – School Year Curriculum Mapping and Planning
NOW is the best time to plan for next year. Before this school year ends. Everything is still fresh in your mind. You know what worked and what didn't. You can remember what the kiddos are ready (or not ready) for during certain times of the year.
Click below to check out The Ultimate Year Curriculum Planner and its 100's of templates!
The templates are customizable and include the following features:
Set to print on one page, but you can print them poster-sized as I do for our team, or make adjustments to print them to 2 pages or on legal-sized paper.
A variety of color options
Variety of year types (year-round, standard, American with holidays, no holidays, Australian year). There are planners to suit any need. AND you can customize any one of them to make it suit your needs precisely.
Variety of subject row options for single subject and multiple subjects.
BONUS Standards Mapping & Tracking Data Logs for all CCSS grades K-6 in digital-editable as well as .pdf versions for both Trimester and Quarterly tracking!
FREE Yearly updates included – no need to purchase another one each year. It is a forever planner.
There are templates for all classroom situations. AND, since they are completely customizable, you can use your own fonts, color, add rows, change row size, delete rows.
The Ultimate Year Planner is available for computers running with Microsoft Excel, Google Sheets and Apple Numbers.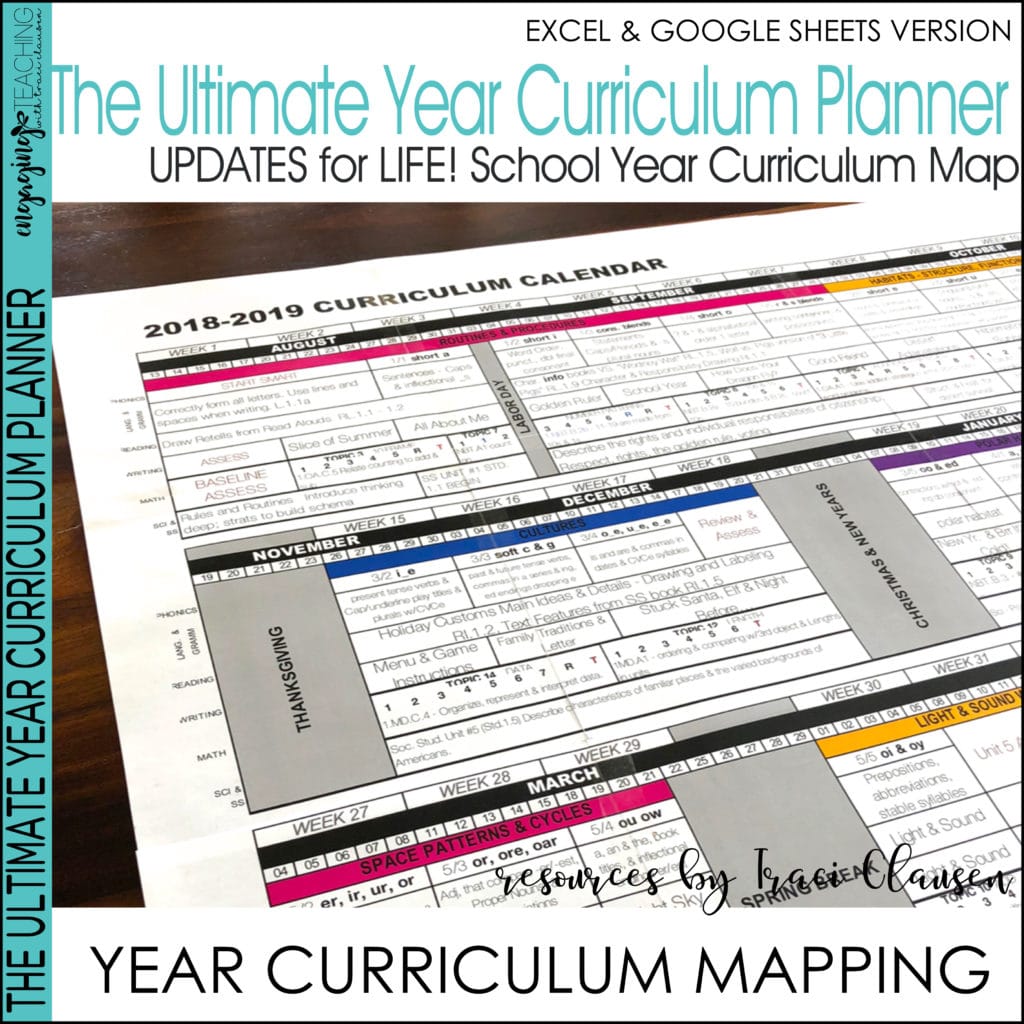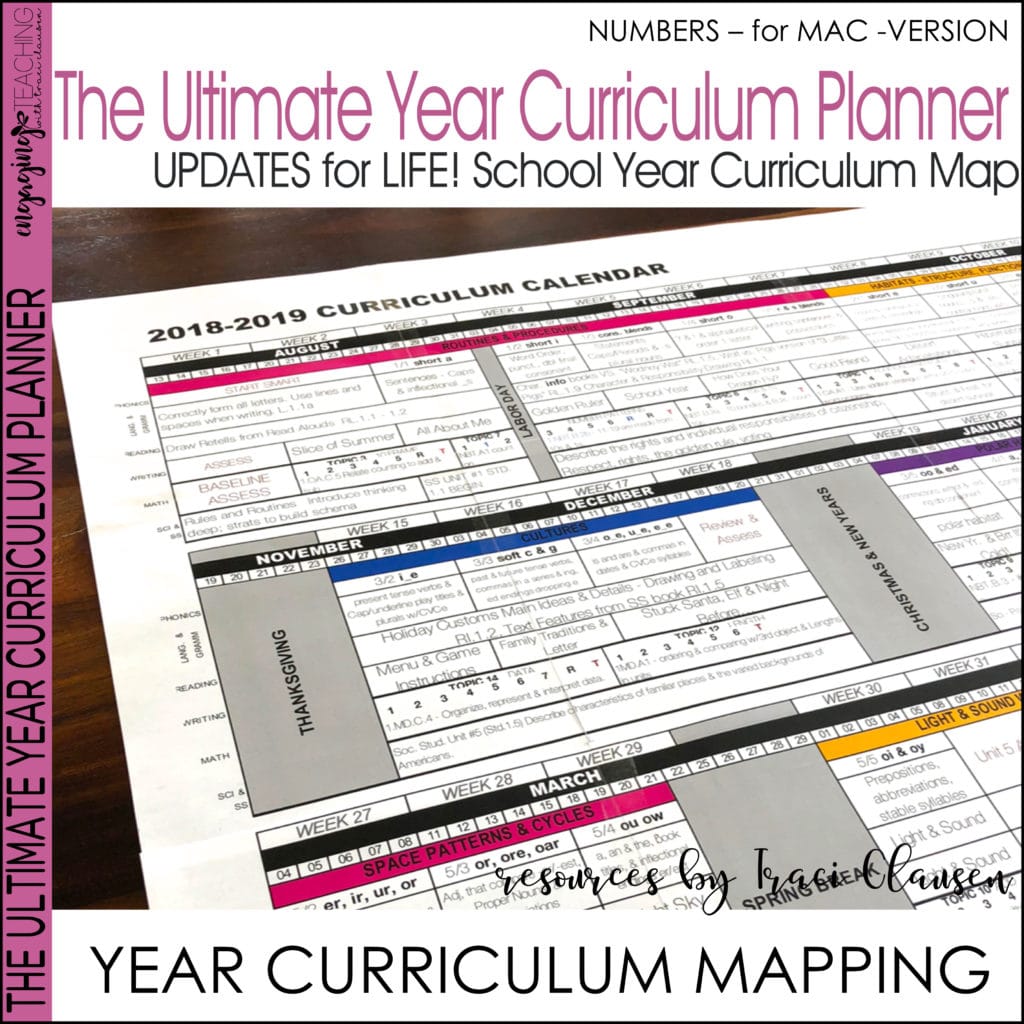 How about being SUPER ORGANIZED? Check out the Year AND Weekly Planner Bundle! It includes the ULTIMATE teacher binder with everything you need to organize and plan your school year.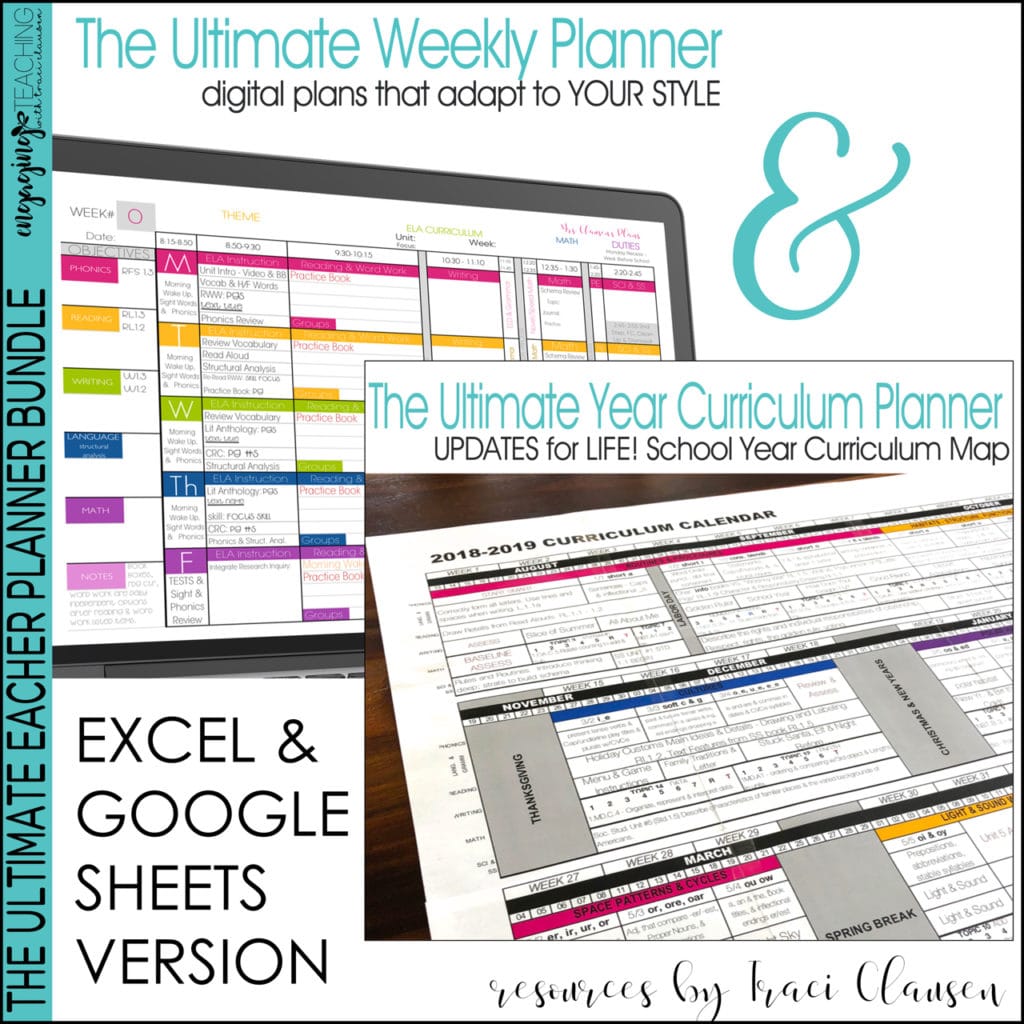 Are you ready to plan your year? What questions do you have about year planning/mapping?