Today I am going to share with you some of my first-grade first-day activities that we do with The First Grade Measuring Stick. I hope you love it as much as my kiddos' parents and I do!
I cannot believe the first day of school is only a day away. The summers just keep getting shorter.
Our first day of school is all about Open House… which is held in May.
Wait………………WHAT?!
Yeah, truly – it is all about Open House. We spend the day doing things we will be doing again in May… and I LOVE it.
It all leads to our "Sea How I've Grown" keepsake.
I start putting together this keepsake on the very first day of school. The first thing I do is take my kiddos' pictures. I will take a picture in the same place, the same way at the end of the year, too. Here's an example: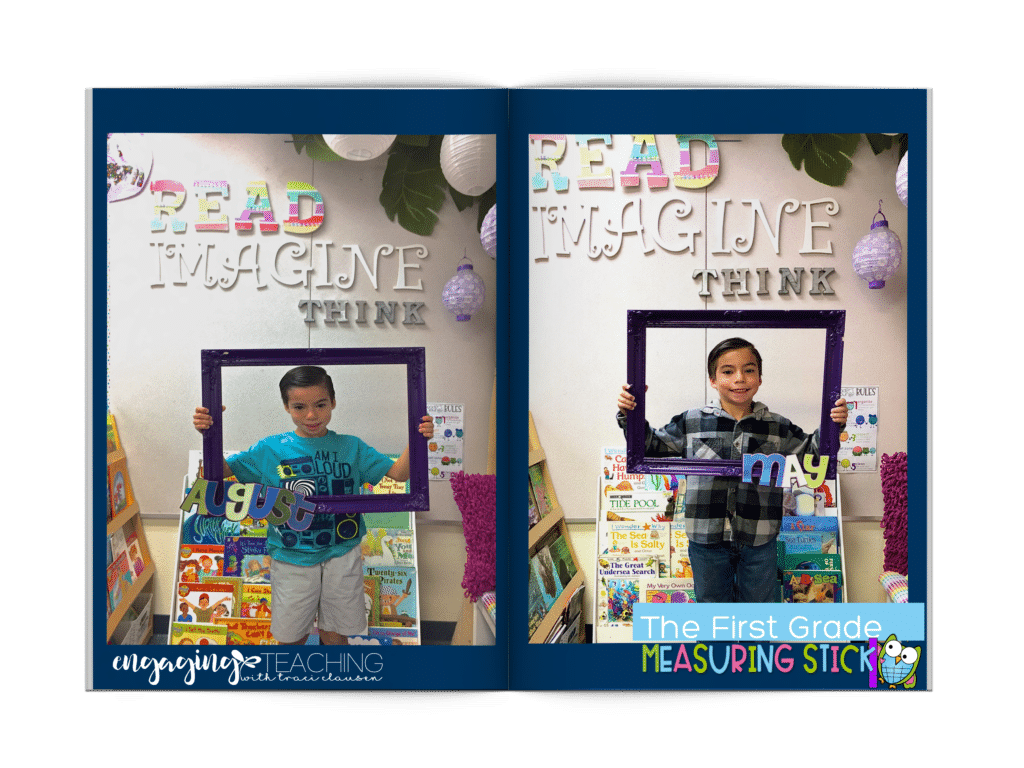 These photos are great indicators as to how much they have actually PHYSICALLY grown. 1st grade is an amazing time of change! I also add in their entry and exiting reading level on this sheet. It serves as the cover for their work that is stapled behind each photo.
They do the exact same assignments on the few days of school, and then again in May. Stapled beside each other, they offer a side-by-side comparison exhibition of a year's growth.
SELF PORTRAITS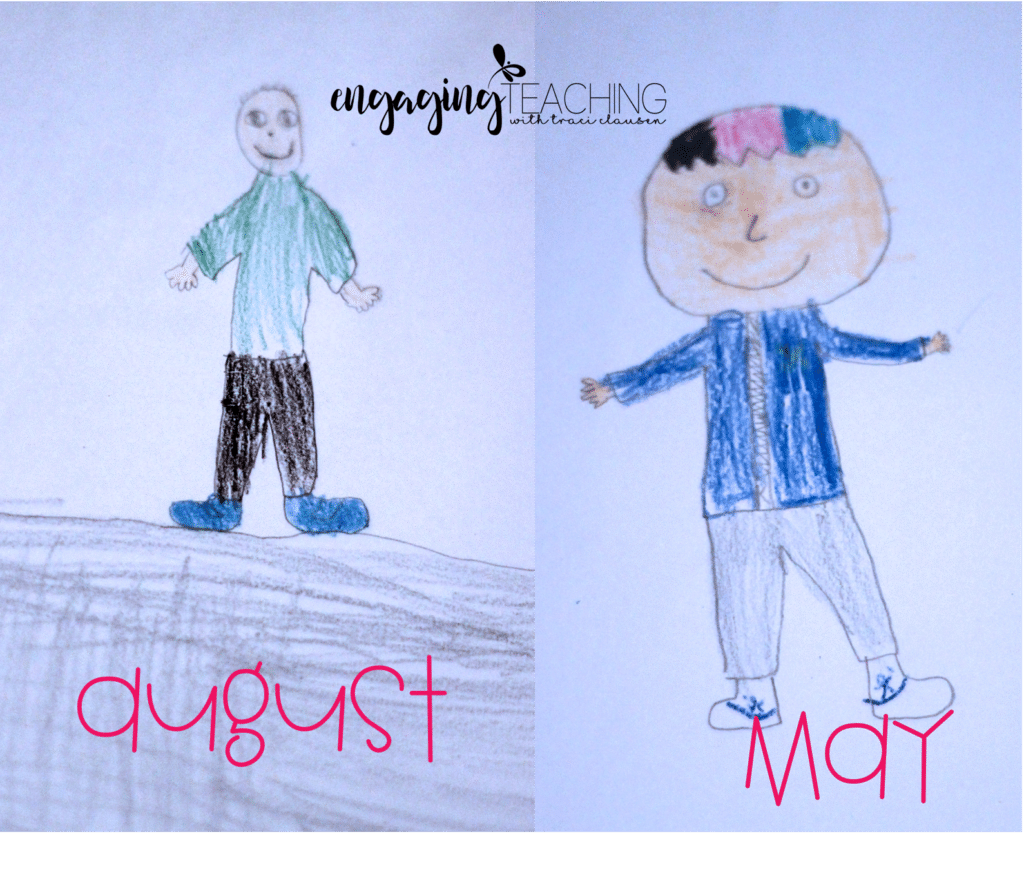 This is the VERY first first-grade first-day activity that we do.
This kiddo did pretty good in August. most tend to draw stick figures or bodies without clothing. Not only do they grow physically and academically, but creatively as well!
NEATEST PRINTING & WRITING PROMPT
Behind those pages, I add their "Neatest Printing" and writing prompt.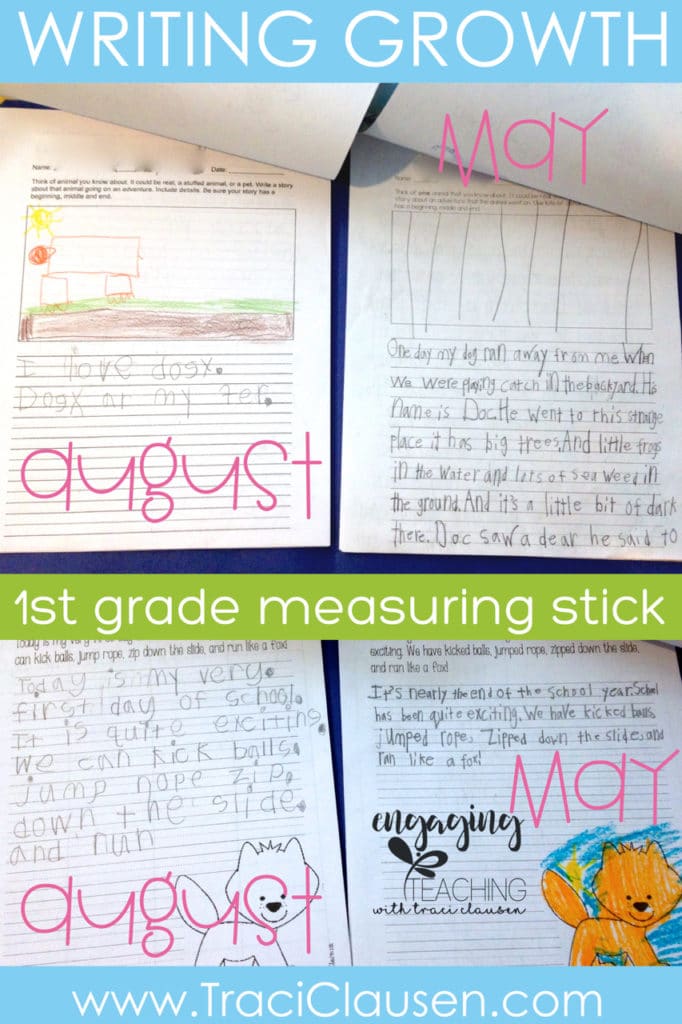 The pages in The First Grade Measuring Stick have been updated since these photos were taken, but the concept remains the same. Copy some pre-written text (that includes all of the letters of the alphabet) in your neatest possible handwriting. This is always a huge hit. The growth is amazing.
Usually, the thing that I am most over the moon about, though, is their writing prompt. About 95% of the class writes a sentence maybe two in August. It's a tough first-grade first-day activity for sure! Many just a word or two. But in May?! Oh my goodness it's incredible. That same 95% usually write a two-page story with adjectives, direction, and creativity in May! We do a lot of writing in our classroom. I am always impressed with their growth.
WORDS & NUMBERS I KNOW
Also included are the Words and Numbers I Know pages!
The kiddos write as many words as they can think of on the Words I Know page. It's 2-sided. Usually, a line or two is completed in August and both sides are completed in May.
Often, the kids can complete most of the numbers on the 120 Chart when they enter, but with a few mistakes. By the end, they whiz through it AND complete the skip-counting portion on the back!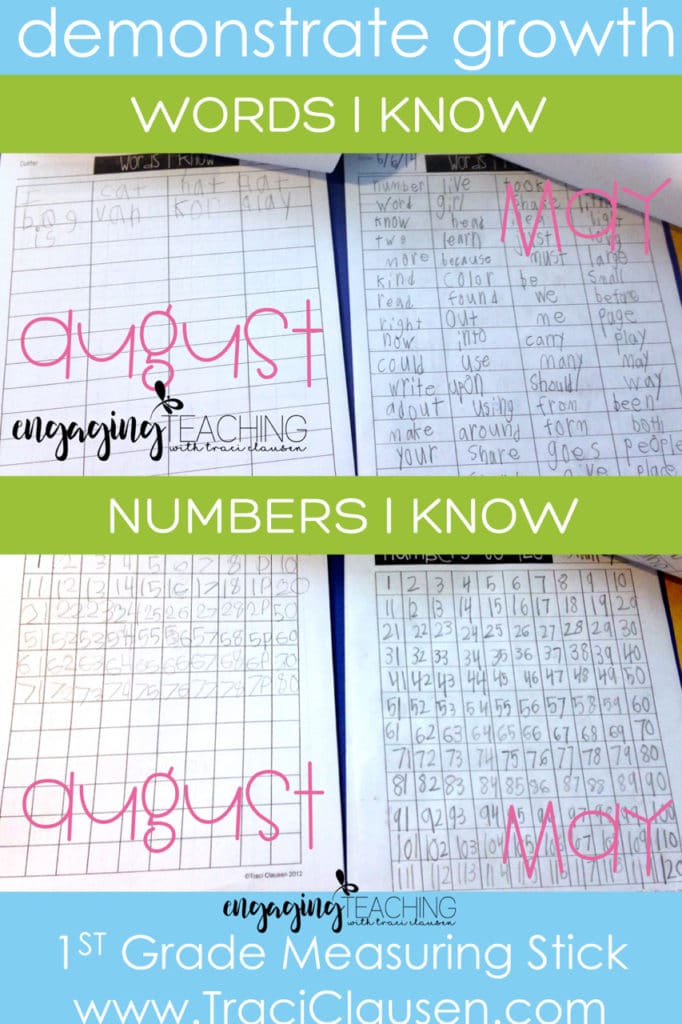 Additionally, there is a math assessment that I include. It covers all of the 1st grade standards. For the most part, the kiddos leave it blank in August. A few of the kiddos attempt to answer some of the questions, but skip most. I tell them that it is completely ok to skip any of the questions because they haven't been taught it yet.
In May, however, I tell them that these pages encompass everything they have learned so it is time to really show off how much schema is in those fabulous brains of theirs! They never disappoint and always do a fantastic job on all of the pages. I usually encourage it by showing an example or two of how little they did when they first arrived (no names, of course) so they know how well they can demonstrate their knowledge.
"SEA HOW I'VE GROWN" FOLDER
The kids color the cover sheet for their "SEA How I've Grown" folder. Our open house theme is oceans so this folder works perfectly displayed on their desks. I fold a piece of blue construction paper. Glue their cover sheet to the front. Staple the pages in the same order on the inside (August on the left, and May on the right.)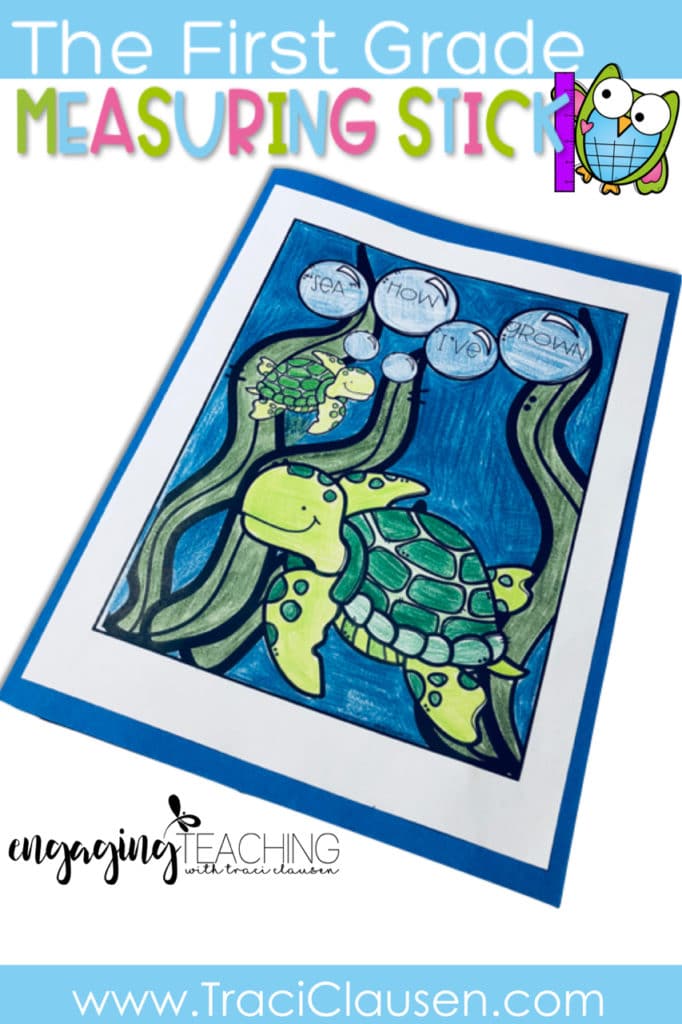 I only have to save this one set of work in their folder for this end of the year powerful growth exhibit. It's easy and makes evident all of the tremendous growth. It is also an amazing testimony that all children do indeed grow. Even the folder for my most challenged, struggling students shows incredible growth. It's amazing to see how far we've come since those first-grade first-day activities.
When the parents flip through those pages and compare where their child was to where their child wound up they get the full appreciation for what we know as teachers to be the phenomenal grade level that is first grade.
The photos above are from before The First Grade Measuring Stick's update. Here is what the resource now includes: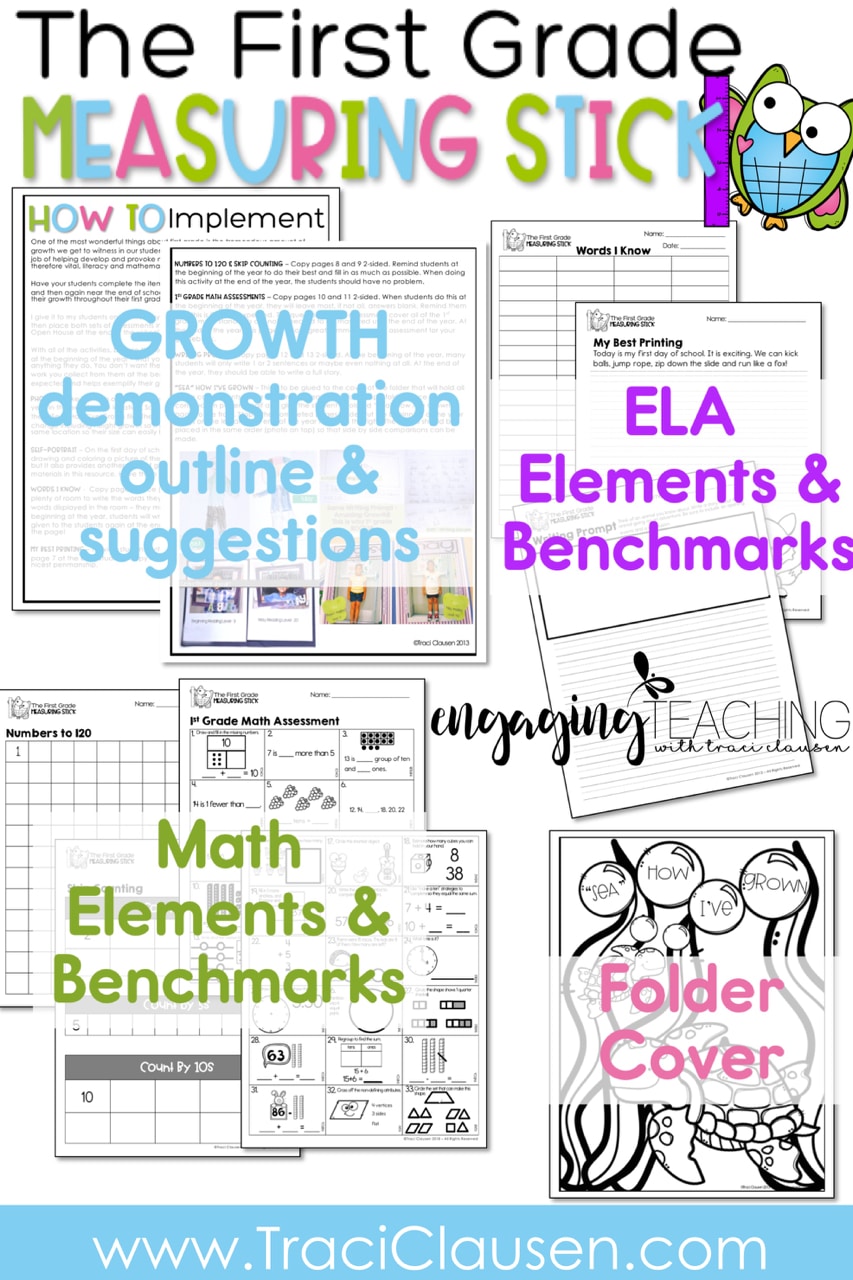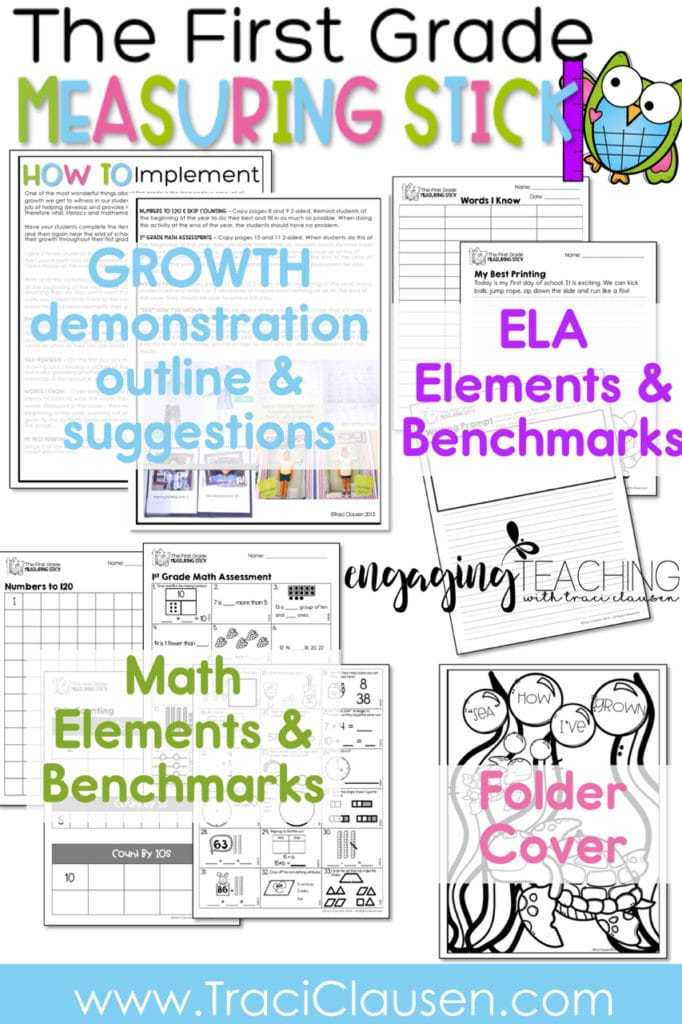 The First Grade Measuring stick includes detailed instructions and a description of how I implement it in my room.  These first-grade first-day activities also make easing back into school a little easier, too! The assessments are quick and provide a whole lot of starting data.
I just love having such clear and demonstrative data about my students' growth throughout the year. When you pull out the beginning of the year samples and lay them beside the end of year samples, it is such an uplifting moment.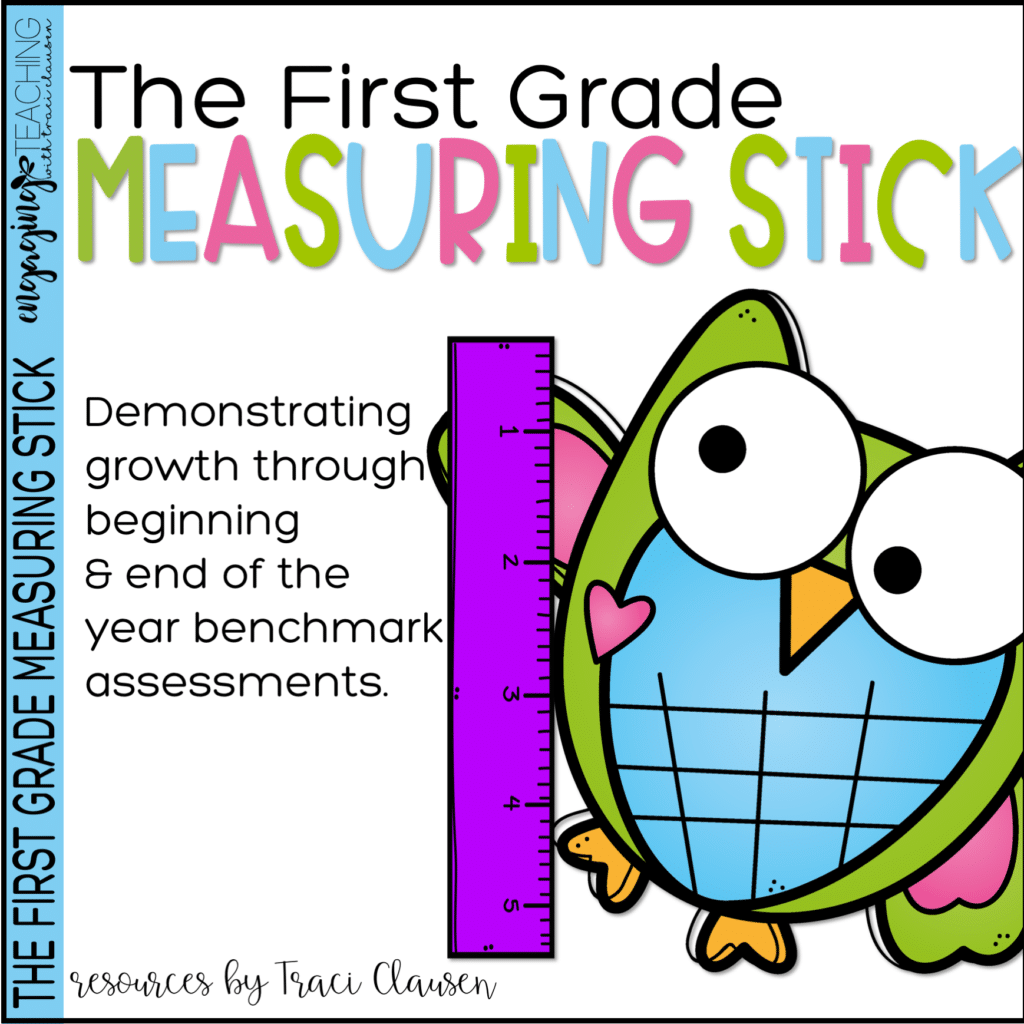 You can grab 1st Grade Measuring Stick in my store.
I'm excited to meet my 30 new little peeps tomorrow – but I sure would have loved just one more week of no schedule and no alarm. Morning is going to come WAY too soon.
Have a great Monday, peeps!